Google Search Web Scraper- Now extract data with ease
Our prebuilt Google Search web scraper lets you extract data like SEO keywords, marketing insights, competitive sales analytics, from numerous listings and webpages, quickly and easily, without having to write any code.
Why should you consider scraping Google Search?
Google is the most used search engine in the world.
The term, 'just Google it,' has become synonyms with searching and obtaining information on the internet.
At any given point in time, millions of search results are popping for millions of people. Now, this makes google one of the biggest storehouses of internet data on this Earth.
Be is customer profiling, competition monitoring or market trend analysis; web scraping google search can give you a massive advantage.
But why choose us?
As easy as it might be to search Google for your desired information, it's equally difficult to scrape it to extract information. Being one of the most technologically advanced companies in the world, scraping Google is no child's play.
And that's where our predefined web scrapes come into play. These web scrapers have been designed to extract data from Google search pages within minutes.
With just a click of a button, you can have a plethora of information at your disposal.
And the best part? Our Google Search web scraper is completely free to try!
What can our data help you with?
Google search can yield a plethora of data, all of which can give you a competitive edge in the market.
For eg. SEO optimization is an integral part of any business. Web scraping Google Search can not only tell how high a company's website ranks on the Google result page, but it can also shed light on how many keywords a website is using on any given page.
Web scraping Google Search can help you collect data about your competitor's marketing strategy. You will be able to tell how your competitors are advertising their products, which products they are advertising and how customers are responding to those ads.
The more data you have, the more you will be able to tell you about your audience.
How to use it.
Firstly you will need to sign up for a FREE TRIAL account or be signed in. All our web scrapers are easy to use and free to try.
Step 1: Click on "Use For Free"
Step 2: Click the Activate button
Step 3: Enter your search criteria in the variables tab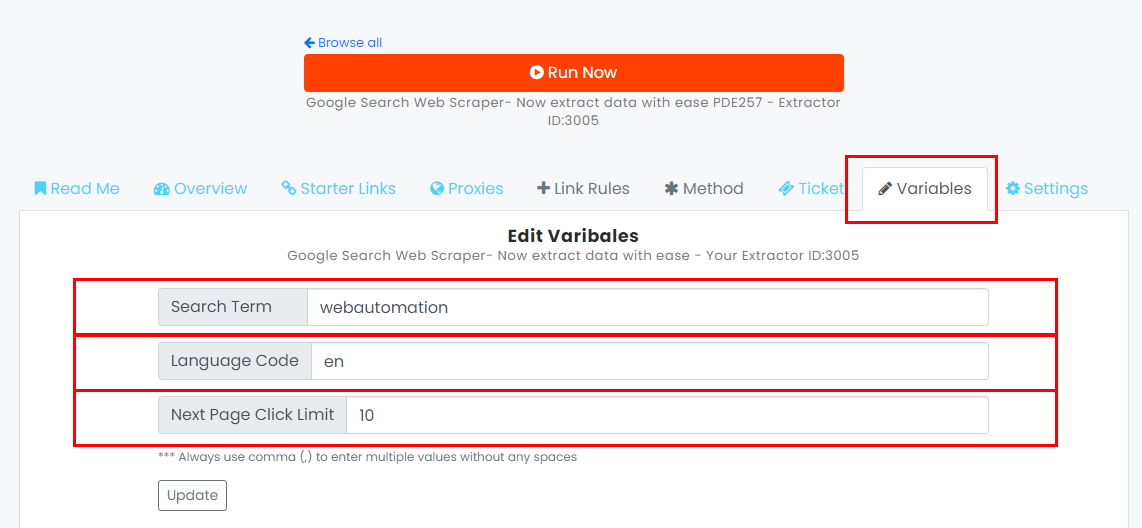 Step 4: Click "Run Now".
Example Search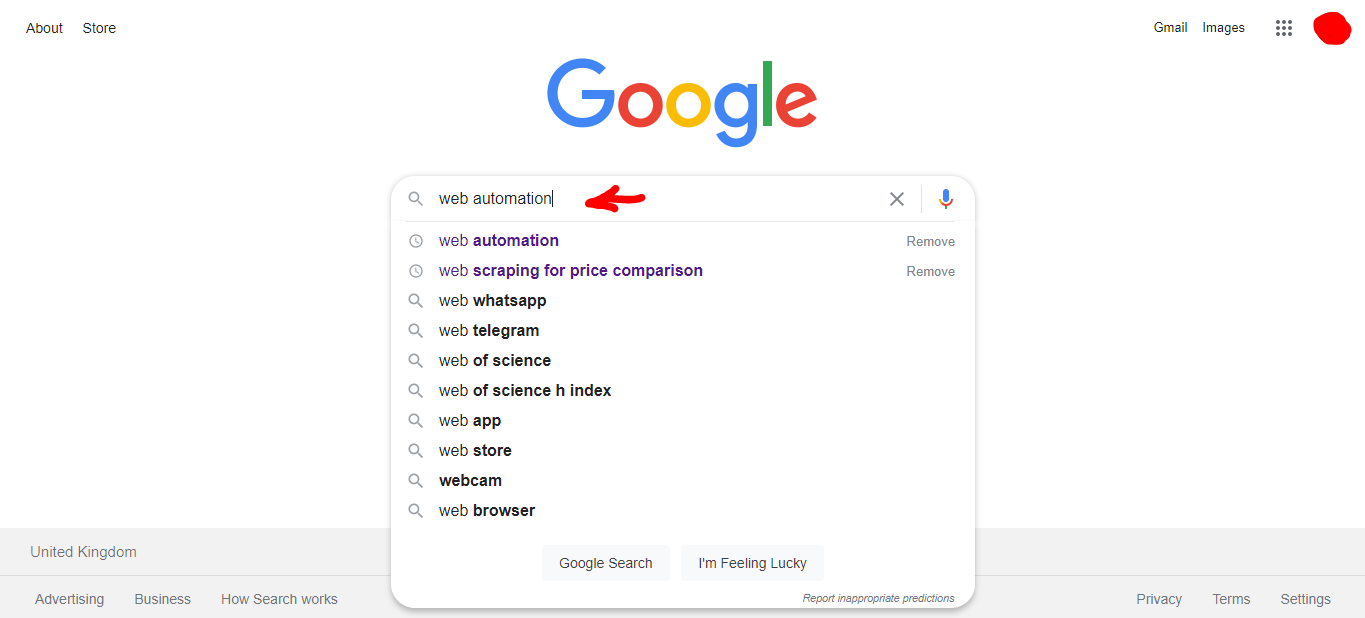 Results in Json

{
  'cached': 'https://webcache.googleusercontent.com/search?q=cache:ByNgquNW...',
  'date': '',
  'description': 'Automatically extract Data from websites without coding...',
  'link_domain': 'webautomation.io',
  'link_result': 'https://www.google.com/url?sa=t&source=web&rct=j&url=htt...',
  'link_website': 'https://webautomation.io/',
  'peeople_also_ask': [
    {
      'links': [
        'https://www.leapwork.com/web-automation',
        '#',
        'https://webcache.googleusercontent.com/search?q=cach...'
      ],
      'question': 'What is web automation?'
    },
    {
      'links': [
        'https://www.helpsystems.com/resources/articles/b...',
        '/search?hl=en&q=How+do+I+automate+my+browser%3F&sa=...'
      ],
      'question': 'How do I automate my browser?'
    },
    {
      'links': [
        'https://medium.com/swlh/how-to-automate-clicks-using-javascri...',
        '/search?hl=en&q=How+do+I+automate+clicks+on+a+Web+page%3F&sa=X&v...'
      ],
      'question': 'How do I automate clicks on a Web page?'
    },
    {
      'links': [
        'https://www.youtube.com/watch?v=xHGPBX5_lhw',
        'https://www.youtube.com/watch?v=xHGPBX5_lhw',
        'https://www.youtube.com/watch?v=xHGPBX5_lhw',
        '/search?hl=en&q=How+do+you+automate+Javascript%3F...'
      ],
      'question': 'How do you automate Javascript?'
    }
  ],
  'rank': 11,
  'rating': '',
  'reviews_votes': '',
  'search_starts': 'About 419,000 results',
  'search_suggestions': [
    {
      'link': 'https://www.google.com/search?hl=en&q=video+scra...',
      'search_term': 'video scraper'
    },
    {
      'link': 'https://www.google.com/search?hl=en&q=web+automa...',
      'search_term': 'web automation examples'
    },
    {
      'link': 'https://www.google.com/search?hl=en&q=data+scrap...',
      'search_term': 'data scraping'
    },
    {
      'link': 'https://www.google.com/search?hl=en&q=web+scrapi...',
      'search_term': 'web scraping too'
    },
    {
      'link': 'https://www.google.com/search?hl=en&q=what+is+oct...',
      'search_term': 'what is octoparse'
    },
    {
      'link': 'https://www.google.com/search?hl=en&q=web+scraper...',
      'search_term': 'web scraper'
    },
    {
      'link': 'https://www.google.com/search?hl=en&q=web+scrapin...',
      'search_term': 'web scraping tools'
    },
    {
      'link': 'https://www.google.com/search?hl=en&q=web+automatio...',
      'search_term': 'web automation python'
    }
  ],
  'search_term': 'webautomation',
  'title': 'WebAutomation.io',
  'url': 'https://www.google.com/search?hl=en&source=hp&ei=5dwCYKGSHLab...'
}
Formats available
You can download the extracted data in the following file formats:
CSV
XML
XLSX
JSON
Upon downloading you can see all extracted elements.
What does the output data look like?
When it is available this data will have rows which represent a single page's information such as its search_term, rank, search_starts, title, link_result, link_website, link_domain, cached, description, date, rating, reviews_votes, search_suggestions, peeople_also_ask, url, timestamp, etc from google.com.
*** Data below was extracted on Sep 24, 2023 @09:45
Sorry we are unable to show you data for a while. Data would be ready today please visit this page later.