Our prebuilt Monster web scraper lets you extract job-related data, like vacancies, location, applicant profiles etc. quickly and easily, from numerous listings without having to write any code.
Why should you consider scraping Monster.com?
Job scraping is the latest trend in the market. There are numerous jobs available in the market, and these openings are ever-changing as employees are hired. Finding relevant data, which is up to date, is a challenging task. Hence, it's much easier to collect that data yourself by scraping it.
And Monster.com being one of the leading portals for finding jobs in the market, it's the perfect place to start. Job trending has many different uses and depending on what you are looking for, It can help you make the right choice and boost your business considerably.
Whether you are looking for a job yourself, you are an HR looking to recruit people, or a headhunting agency, scraping monster.com is where you should start.
But why choose Web Automation?
With the number of job listings generated every day on Moster.com, it's impossible to go through each of them manually. The data is constantly evolving and changing at a rapid pace.
And if you want to keep tabs on the changing trends in the industry, you need to scrape it regularly.
And that's where our predefined web scrapers come into play.
These web scrapers have been designed specially to extract data from Monster.com. Our simple yet powerful tool automates the whole process of extracting data, without having to write any code.
Our advanced scraping method works like a real user, allowing you to extract all the data you need without being blocked.
With just a click of a button, you can have a plethora of information at your disposal.
And the best part? Our Monster.com web scraper is completely free to try!
What can our data help you with?
If you are an individual who is looking for a job, scraping a website like Monster.com can provide you with a plethora of information about the industry or sector you are looking for a job in. You can get a hold of numerous listings and apply to them simultaneously rather than going through them manually.
If you are an HR professional, it can help you pick the right candidate to fill the role much faster and quicker. Within minutes you can get a hold of a long list of people who can be potential candidates and you can categorise them further to quicken the process.
Consistency is the key to any successful business. By keeping yourself up to the date with the trends in the job market, you can keep an eye out for potential candidates, their expected salary, location preferences, company preferences etc.
How to use it.
Firstly you will need to sign up for a FREE TRIAL account or be signed in. All our web scrapers are easy to use and free to try.
Step 1: Click on "Use For Free"
Step 2: "Click the Activate button" to assign your PDE to your account.
Step 3: Enter your starter URLs.
Enter List of search URLs to start the web scraping. It must be a search URL including the query string for filters.
Please use Monster.com advanced search to filter your search and copy the start URLs.
For best results, we advise that you use precise search criteria and filters while scraping the data; otherwise, Monster.com could restrict the search result.
Step 4: Click "Run Now".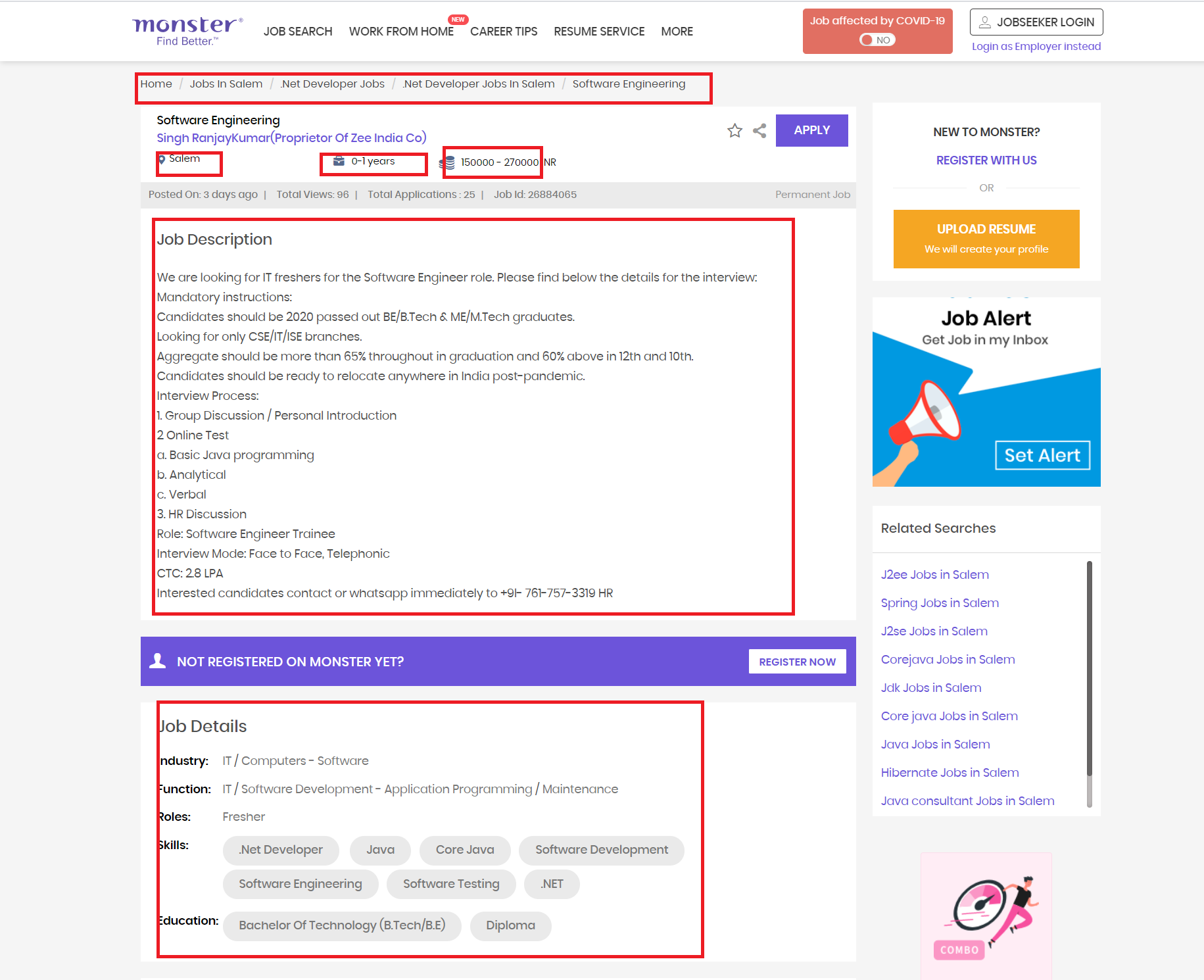 Formats available
You can download the extracted data in the following file formats:
CSV
XML
XLSX
JSON
Upon downloading you can see all extracted elements.