Our prebuilt Allrecipes web scraper lets you extract data like the most famous and well like recipe listings, famous ingredients, pictures, customer preferences etc. from numerous recipe listings quickly and easily, without having to write any code.
Below is a screenshot of what data fields we will be web scraping from Allrecipes.com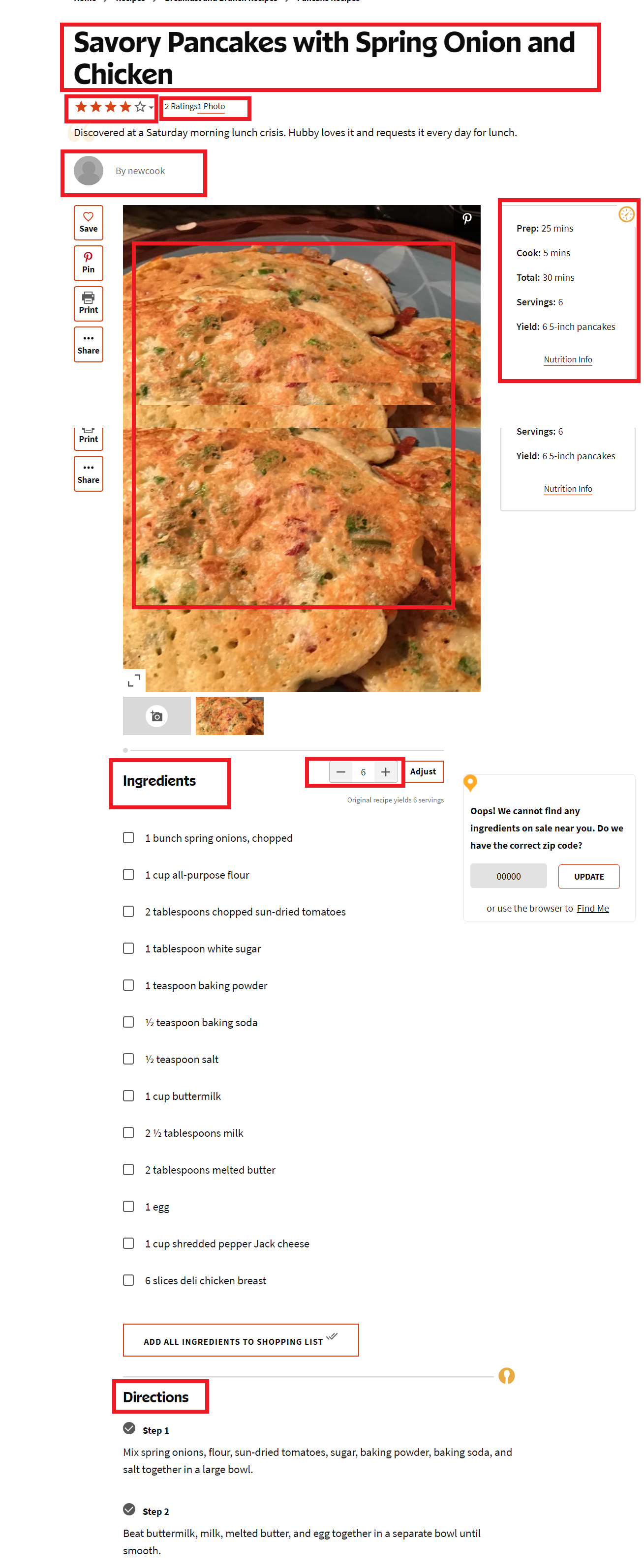 How to use it
Firstly you will need to sign up for FREE TRIAL account or be signed in. All our web scrapers are easy to use and free to try.
Step 1: Click on "Use For Free"
Step 2: Activate the Pre-Defined extractor by clicking "Activate button"
Step 3: Enter your starter URLs.
Enter List of search URLs to start the web scraping. It must be a search URL including the query string for filters.
Please use Allrecipes Advanced Search to filter your search and copy the start URLs.
For best results, we advise that you use precise search criteria and filters while scraping the data; otherwise, Allrecipes could restrict the search result.
Step 4: Click "Run Now".
Video tutorial
Watch how I quickly use the tool to extract data from allrecipes.com
Why should you consider scraping Allrecipes?
Your one-stop solution to every holiday dinner planning has more to offer than just delicious recipes. Allrecipes has a host of delicious recipes, catering to a huge population.
They have special segments catering to different needs, like vegan recipes, gluten-free, keto, healthy and much more.
Allrecipes is not just for people looking to try something new in their kitchen. Foodies, restaurant owners, food bloggers all frequently visit this website, looking for something to satisfy their craving.
Hence, Allrecipes is a goldmine for understanding consumer sentiment regarding food.
But why choose us?
While Allrecipes has made it easy to make our favourite dishes, scraping it is equally hard. And if one decides to manually collect all the data, it will be a time-consuming process.
That's where our web scrapers come into play.
These web scrapers have been designed to extract data from Allrecipes within minutes. With just a click of a button, you can get a plethora of data at your disposal.
And the best part? Our Very web scraper is completely free to try!
What can our data help you with?
If you are a restaurant owner, then knowing the best recipes out there won't be enough. You will need to understand the consumer preference in your location while designing the menu. And that's exactly how our data can help you.
The insights generated from scraping Allreciepes can also tell you about how much time each recipe takes. When equated with the customer preferences, you can decide which recipes to keep on the menu; which while attracting footfall shouldn't take too long to make.
If you are looking to launch your cookbook, scraping Allrecipes can help you identify the various versions of popular recipes that are already out there. You can set yourself apart by creating an old recipe in a new way.
By knowing the current market trend and consumer preferences, you can get an edge in the market and grow your business.
Formats available
You can download the extracted data in the following file formats:
CSV
XML
XLSX
JSON
Upon downloading you can see all extracted elements.
What does the output data look like?
When it is available this data will have rows which represent a single page's information such as its url, title, cook, description, directions, images, ingredients, prep, servings, total, timestamp, etc from allrecipes.com.
*** Data below was extracted on Sep 23, 2023 @13:47
Sorry we are unable to show you data for a while. Data would be ready today please visit this page later.