Github Profile Web Scraper
This Github web scraper is designed to extract all detailed information from profile pages of developers on Github including emails (if available). This scraper uses search results from Github and extracts all the profile information from each profile page in the search
Why should you scrape GitHub?
With a database of over 56million developers GitHub profiles are a goldmine for recruiters, Engineering hiring managers and CTOs who are looking to find the best talent available.
What data you will get from github.com?
username
name
user_link
information
Location
email
Below is a screenshot of what data fields we will be web scraping from Github.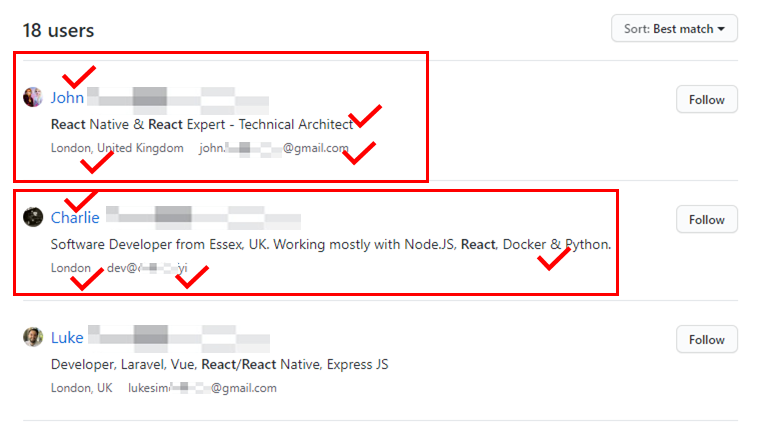 How to use it.
PLEASE CONTACT US WITH YOUR SEARCH CRITERIA , WE WILL DELIVER YOU A CSV FILE WITH ;USERNAME, INFORMATION, LINK, LOCATION, SKILL AND EMAIL
CURRENLTY PRICED AT $0.1 PER PROFILE
CONTACT : info@webautomation.io
Cost
This pre-defined web scraper is using Advanced bots to scrape the profile data. Which costs 100 Credits per requests.
What does the output data look like?
When it is available this data will have rows which represent a single page's information such as its username, name, user_link, information, Location, email, timestamp, etc from github.com.
*** Data below was extracted on Jun 30, 2022 @20:58
Sorry we are unable to show you data for a while. Data would be ready today please visit this page later.