eBay Listings Web Scraper
This Ebay Product & Price Data pre-defined extractor is designed to scrape detailed information from Product pages from Ebay
Product Information includes:
Title, Condition, Image URL, Price, Availibility, URL
A list of elements that our Ebay web scraper can get for you has been marked in red below.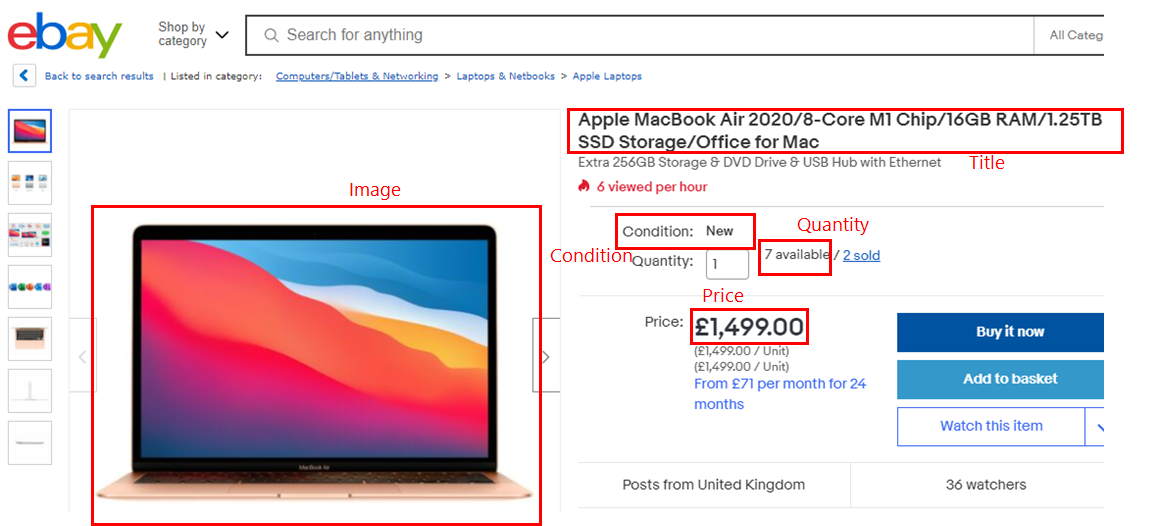 Why you should consider scraping eBay?
eBay is one of the most famous and oldest e-commerce websites. For decades now it has been the market leader for selling and reselling of products.
Its unique business model, of allowing companies and individuals to sell their products for very low prices, has allowed it to grow exponentially from its very first day.
Having been in the business for so long, ebay has amast a vast amount of data and business insights eBay has to offer. From product information, prices, different merchants, eBay is a gold mine for anyone looking to make it big in the e-commerce world.
But why use our ebay scraper tool?
Not everyone can write a code. And even if you can, big e-commerce players like eBay and not easy to scrape.
That's where our pre-defined extractor come into play. These eBay web crawlers are designed to extract detailed information from product pages from any eBay category. Now you can get name, description, images URL, reviews, prices and updates URL just with the click of a button.
And the best part? Our eBay scrapers are completely free to try!
Video tutorial
Watch how I quickly use the tool to extract data from eBay
What can our data help you with
The data from eBay can provide you with enough information to make a smart decision about your go-to-market strategy.
Product review analysis can help you understand your customer's opinions about certain products and brands.
You can predict market trends by scraping eBay listing to manage your inventory better.
Regularly scraping data can help you keep a track of the market changes in real-time; which can be leveraged with competitive pricing and targeted advertising
Easy to use and Free to try
A few mouse clicks and copy/paste is all that it takes!
Steps to use:
Step 1: Click on "use for Free"
Step 2: Assign the Pre-Defined extractor by clicking the "Activate" button
Step 3: Enter your starter URLS

Starter URLS must be a search url from an ebay category page including querystring for filters.
Please use Ebay Advanced Search to filter your search and copy the start urls
Ebay could restrict search results, so it is advised to use very specific search criteria to get better results while scraping data from it
What does the output data look like?
When it is available this data will have rows which represent a single page's information such as its product_id, title, image, price, price_bid, price_bid_time_left, price_old, availability, currency, condition, amount, sold, manufacturer, model, year, mileage, capacity, engine_size, date_of_1st_regis, colour, name_of_seller, seller, seller_link, contact_seller, notification, other_images, description, itemKey, url, domain, updated_on, timestamp, etc from ebay.com.
*** Data below was extracted on Sep 23, 2023 @22:41
Sorry we are unable to show you data for a while. Data would be ready today please visit this page later.