Booking.com Scraper - Search Pages
Booking search extractor is designed to extract hotel information listed in search pages of booking.com. It will extract all hotel data indicated on below picture. You can give additional parameters in addition to starter link as shown on screenshot with a red + sign. Booking.com web scraper will use given starter date in format of "Year-Month-Day" like "2021-12-31" and will add given night count -default is 1- to this date to find end date. Also adult count can be passed to booking scraper default will be 2.
Below is a screenshot of what data fields we will be web scraping from Booking.com.
If check in date in given starter link is a past date scraper will get results for tomorrow as checkin date.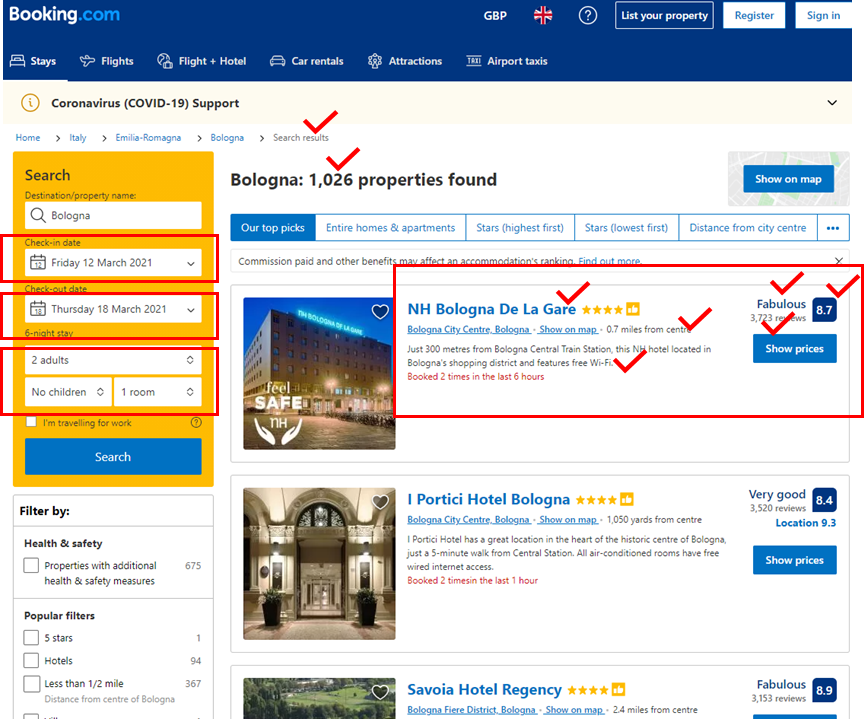 Video tutorial
Watch how I quickly use the tool to extract data from Booking.com .
Notes
Booking.com will only show on screen a maximum of 1000 Hotels in the search results, as we are screen scraping you will only get a maximum of 1,000 hotels in your export file. To workaround this please create multiple search URL's and add them as starter links
What does the output data look like?
When it is available this data will have rows which represent a single page's information such as its totalCheckIns, domain, uniqueKey, uniqueKeyPrice, listing_id, url, checkIn, checkOut, title, review_score, review_count, review_title, address, distance, latitude, longitude, last_booked, room, bed, only_left, thumbnail, taxes, extra, price, currency, star, person, night, timestamp, etc from booking.com.
*** Data below was extracted on Sep 19, 2023 @13:01
Sorry we are unable to show you data for a while. Data would be ready today please visit this page later.