Our prebuilt Google Local Services Ads web scraper lets you extract business names, phone numbers, address, website URL, rating, from Google Local services listings, quickly and easily, without having to write any code.
This scraper only scrapes Local services Ads for other Google Maps data please use https://webautomation.io/pde/google-maps-web-scraper-now-extract-business-data-with-ease/217/
Why should you consider scraping Google Local Services ?
Search for every product or service begins on Google. Google Local service lists local businesses offering services within a geographical area
This could be an excellent source of leads as all their phone numbers, business names and description are listed
But why choose us?
If you are an individual looking for a service, Google is your place to be. But if you are looking to scrape Google for all the information they have, it's not going to be a walk in the park.
That's where our predefined web scrapers come into play.
These web scrapers have been designed specially to extract data from Google Services Contacts. This simple yet powerful tool automates the whole process of extracting data, without having to write any code.
Our advanced scraping method works like a real user, allowing you to extract all the data you need without being blocked.
With just a click of a button, you can have a plethora of information at your disposal.
And the best part? Our Google Maps web scraper is completely free to try!
What can our data help you with?
Our Google Local Contact services web scraper will help you extract data for lead generation from local business listings.
If you are an individual, you will have a plethora of information about everyone who provides a similar service to what you are looking for. This allows you to pick the best deal possible by comparing their prices and reviews.
If you are a sales rep, this web scraper can help you gather the latest information and be up to date with the changing landscape, allowing you to service your customers better.
As an agency, this web scraper helps you understand the market trend and customer preferences allowing you to make data-driven decisions.
How to use it.
Firstly you will need to sign up for a FREE TRIAL account or be signed in. All our web scrapers are easy to use and free to try.
Step 1: Click on "Use For Free"
Step 2: Click the Activate button
Step 3: Enter your starter URLs.
Enter List of search URLs to start the web scraping. It must be a search URLfrom google services
Please use Google Services to filter your search and copy the start URLs.
For best results, we advise that you use precise search criteria and filters while scraping the data; otherwise, Google Service Contact could restrict the search result.
Step 4: Click "Run Now".
This scraper works only for Google search results which have the following result structure.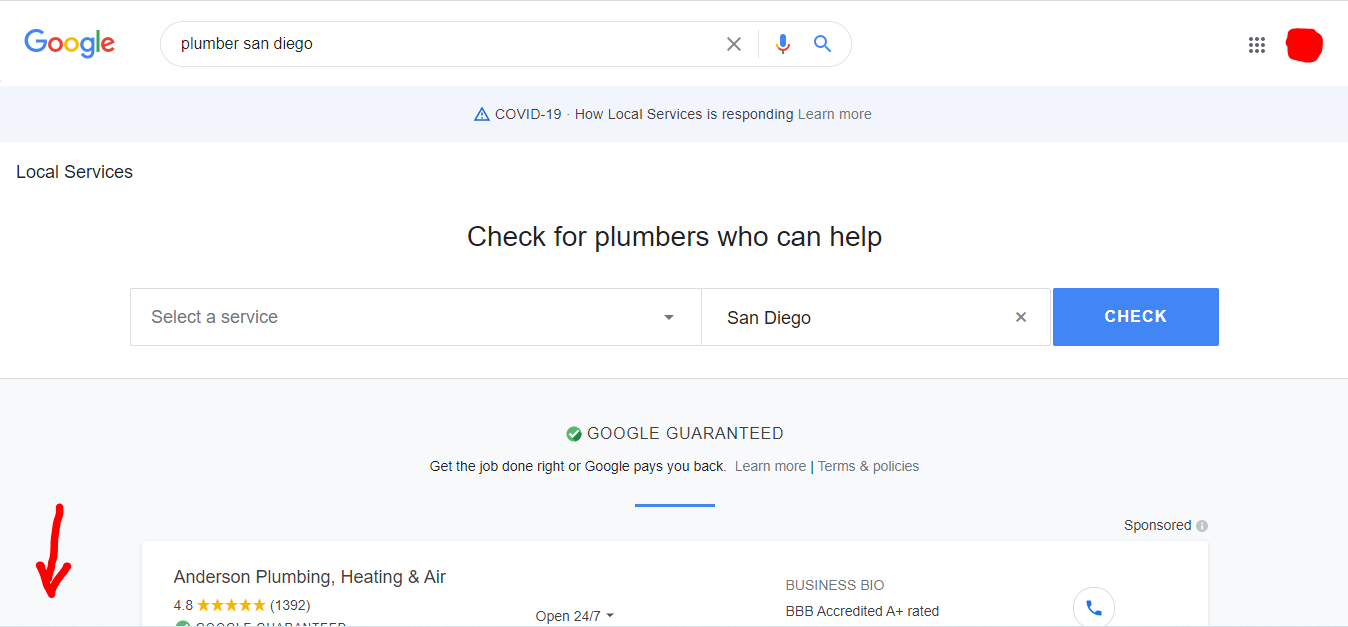 Formats available
You can download the extracted data in the following file formats:
CSV
XML
XLSX
JSON
Upon downloading you can see all extracted elements.

{
 'business_bio': 'Family-owned & operated Flat rate pricing',
 'google_guaranteed': 'GOOGLE GUARANTEED',
 'location': 'Fallbrook',
 'phone': '+1 760-856-3840',
 'rating': '4.9',
 'review_count': '156',
 'title': 'George Plumbing, Heating and Air',
 'url': '/search?gsas=1&q=plumber+san+diego&sabpi=.....',
 'working_hours': 'Open 24/7'
}