Imdb Search Title & Top 250 Movies Web Scraper
Our IMDB Top 250 Movies Web Scraper extracts all data about movies from IMDB. The scraper will allow you to scrape information including Title, Genre, reviews, Actors etc
Why Scrape data from IMDB?
IMDb is the world's most popular and authoritative database for movie, TV and celebrity information. Data including cast, production crew and personal biographies, plot summaries, trivia, ratings, images and fan and critical reviews are all stored in this central database. IMDb has approximately 7.5 million titles (including episodes) and 10.4 million personalities in its database, making it the perfect source to find and mine this type of data
What data you will get from IMDB?
description
director
duration
genre
image
metascore
name
rating
release-date
stars
url
watch-on
watch-on-price
writer
Screenshot of an example page, Columns to be extracted are marked in red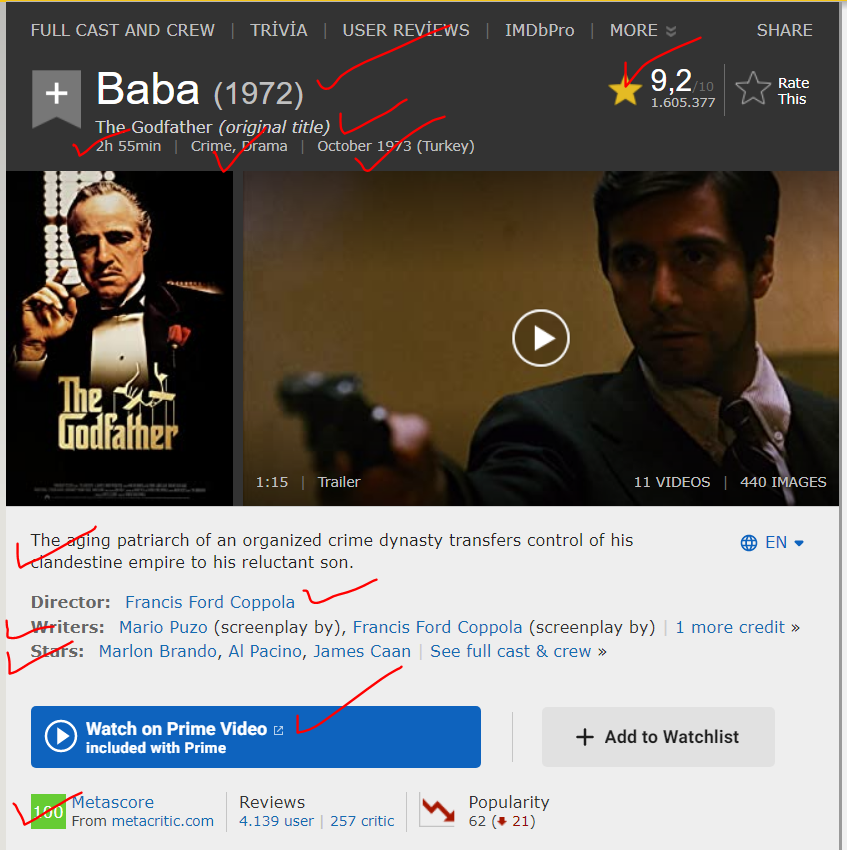 Easy to use and Free to try
A few mouse clicks is all that it takes!
How to use
Firstly you will need to sign up for FREE TRIAL account or be signed in
Step 1: Click on "use for free"
Step 2: Activate the Pre-Defined extractor by clicking "Activate button"
Step 3: Click "run" to start extracting data
What does the output data look like?
When it is available this data will have rows which represent a single page's information such as its description, director, duration, genre, image, metascore, name, rating, release-date, stars, writer, url, timestamp, etc from imdb.com.
*** Data below was extracted on Dec 15, 2021 @09:35
Sorry we are unable to show you data for a while. Data would be ready today please visit this page later.