Idealista Property Listings Scraper
Our pre-built Real estate listings data extractor lets you extract detailed property data from thousands of home listings for sale and rent from idealista.com , quickly and easily without having to write any code. .
This Idealista Property Listings Scraper Web scraper will crawl idealista.com listing pages and automatically extract data on all property lisiting pages .
Simple to use and Free to try
A few mouse clicks and copy/paste is all that it takes!
How to use?
Firstly you will need to sign up for FREE TRIAL account or be signed in
Step 1: Click on "use for free"
Step 2: Activate the Pre-Defined extractor by clicking "Activate button"
Step 3: Enter your starter URLS
Enter List of search URLs to start the web scraping. It must be a category or search page url including querystring for filters.
What data you will get from idealista.com?
Cost
This pre-defined web scraper is using advanced bots to scrape product data. When you use Idealista Property Listings Scraper pde cost will be 50 credits per row.
Below is a screenshot of what data fields we will be web scraping from idealista.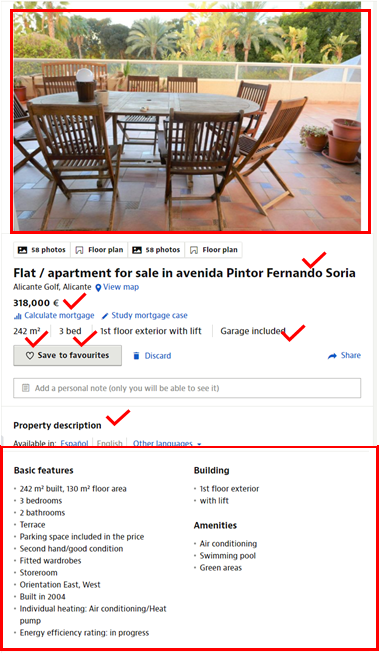 Video tutorial
Watch how I quickly use the tool to extract data from idealista
Additional Settings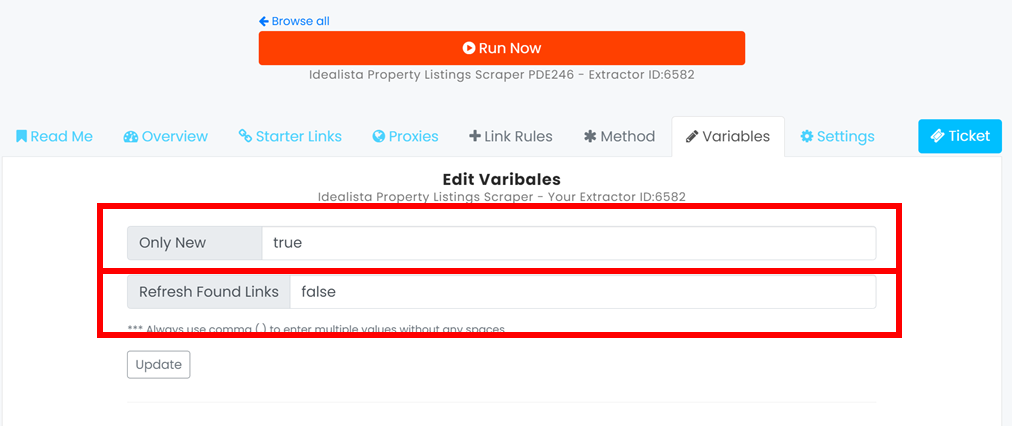 **Please keep as default if not applicable***
Only new - If you would like to scrape unique ID's of properties within different extractors and sessions keep as "True"
Refresh Found Links - If you would like to reset Unique ID list and visit again, keep as "True" to refresh a new search
What does the output data look like?
When it is available this data will have rows which represent a single page's information such as its starter_url, Basic_Description, Title, House_Type, Price, Price_per_SQM, image_main, image_extra, Year_Built, Idealista_Reference, Energy_Effiency, condition, Bedrooms, Bathrooms, Lift, Garden, Swimming_Pool, Terrace, Built_SQM, Garage, Land_Plot_SQM, Floor, Listing_Updated, Location, Sub_District, District, Town, Region, GMapLink, Detailed_Description, Advertiser_Reference, Advertiser_Name, Advertiser_Tel, Advertiser_Owner_Type, calendar, pets, couples, minors, smokers, basic_characteristics, Building, energy_certificate, looking_for, characteristics_ofthe_house, room_features, your_companions, Estimated_Map, Latitude, Longitude, itemKey, transfer_cost, url, timestamp, etc from idealista.com.
*** Data below was extracted on Sep 23, 2023 @18:14
Sorry we are unable to show you data for a while. Data would be ready today please visit this page later.