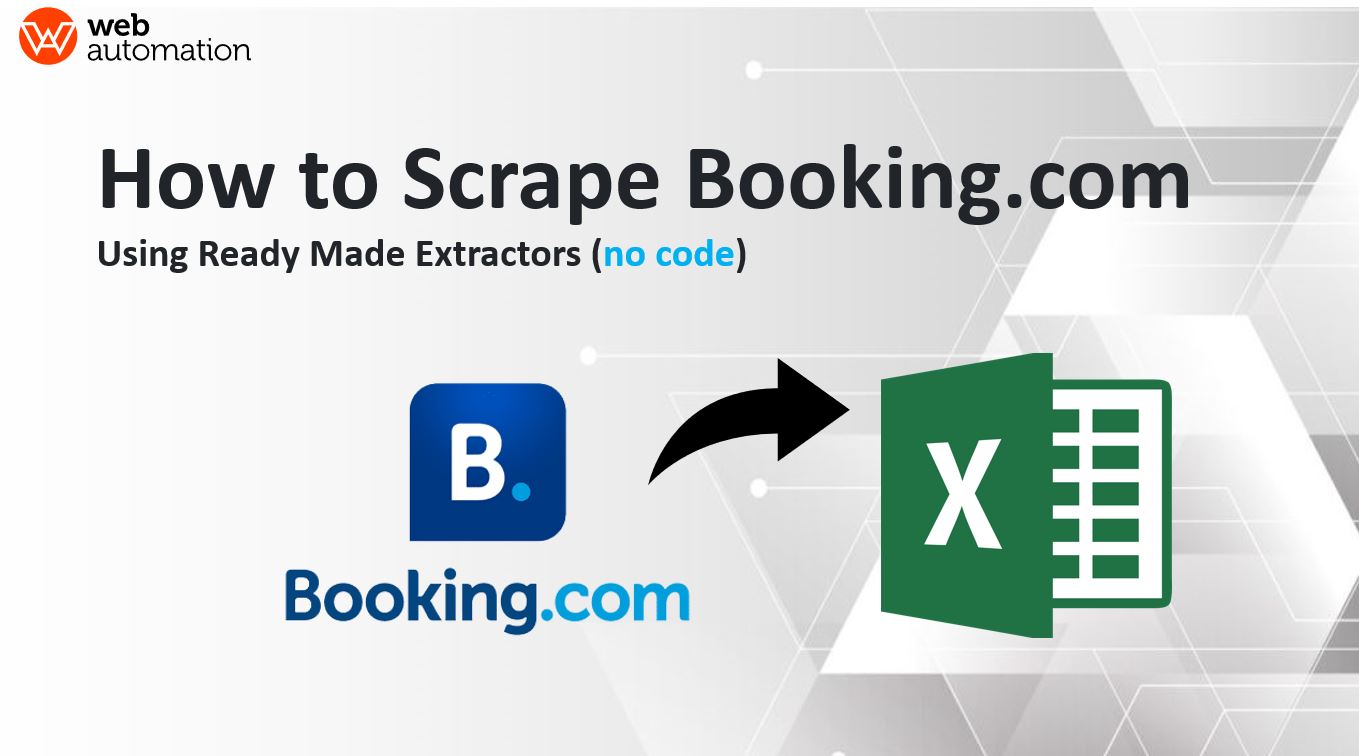 How to Scrape Booking.com website Hotels data, Step by Step guide (no code 2022)
This tutorial will show you how to scrape Booking.com for all Hotel room details including prices using the Booking.com Scraper - Hotel Rooms details and Booking.com Scraper - Search Pages available at WebAutomation Marketplace.
Our Booking.com pre-built web scraping tools allows you scrape to gather product information such as – Hotel URL, Cover image URL, Hotel name, Stars, Price for the selected period , Address, Reviews count, and 15+ other product details within minutes.. No python coding needed!
Our advanced scraping method works like a real user, allowing you to extract all the data you need without being blocked.
All you need is a free WebAutomation account and a search URL from Booking.com, and you can turn the valuable information in Booking.com into a spreadsheet or an API, enabling you to finally leverage this powerful database.
In this tutorial, we walk you step-by-step through the whole process.
What kind of data do you get from Booking.com Hotel Scraper?
With our pre-built, no code Bookin.com scraper, you will get:
Listing ID
Prices
RoomType
Amentities
Images
URL
CheckIn
CheckOut
Title
Review Score
Review Count
Review Title
Address
Distance
Latitude
Longitude
Reviews
+20 more fields
See screenshot of some of the data the scraper will collect below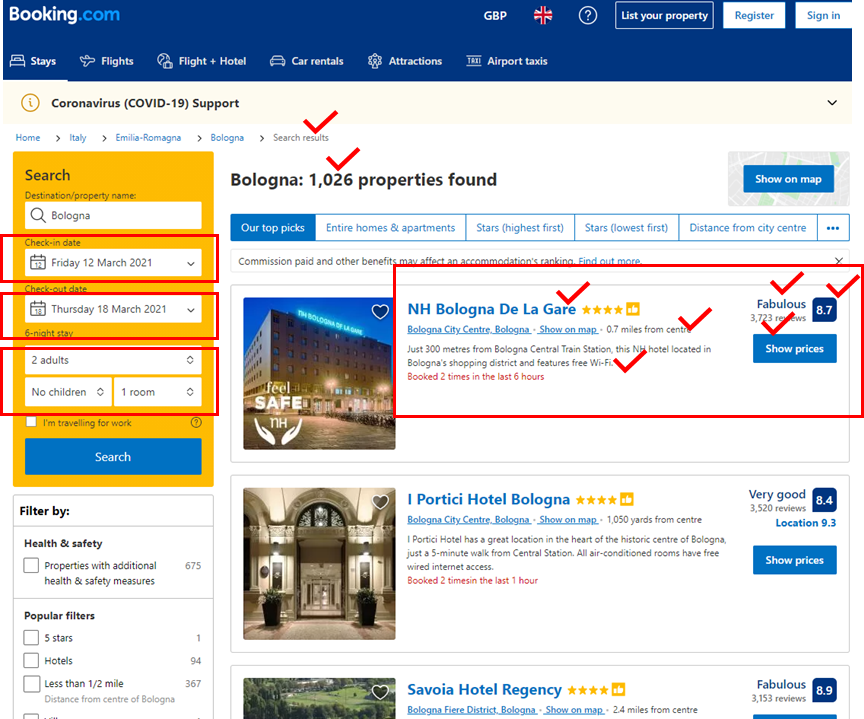 How to scrape Booking.com using WebAutomation.io
We're going to show you how to use WebAutomation's ready-made Booking.com Scraper to extract data from Booking.com. With this tool, you will be able to extract any business's information on Google Maps including reviews, images, opening times and phone numbers.
Video Tutorial
Watch the below video, if you rather follow step by step via video
Step 1: Sign up /Sign in for a free account
If you don't already have a Webautomation account, you can sign up for a free trial account with your email here.
Step 2: Find the Booking.com Scraper
Once you sign in you will be redirected to the in-app home page. As we are looking only for the Booking.com Extractor, search for it on the main search bar. When you see the result, click on it. In Webautomation.io you will find 2 extractors
Booking.com Hotel room details or Booking.com search pages, choose the one which best meets your requirements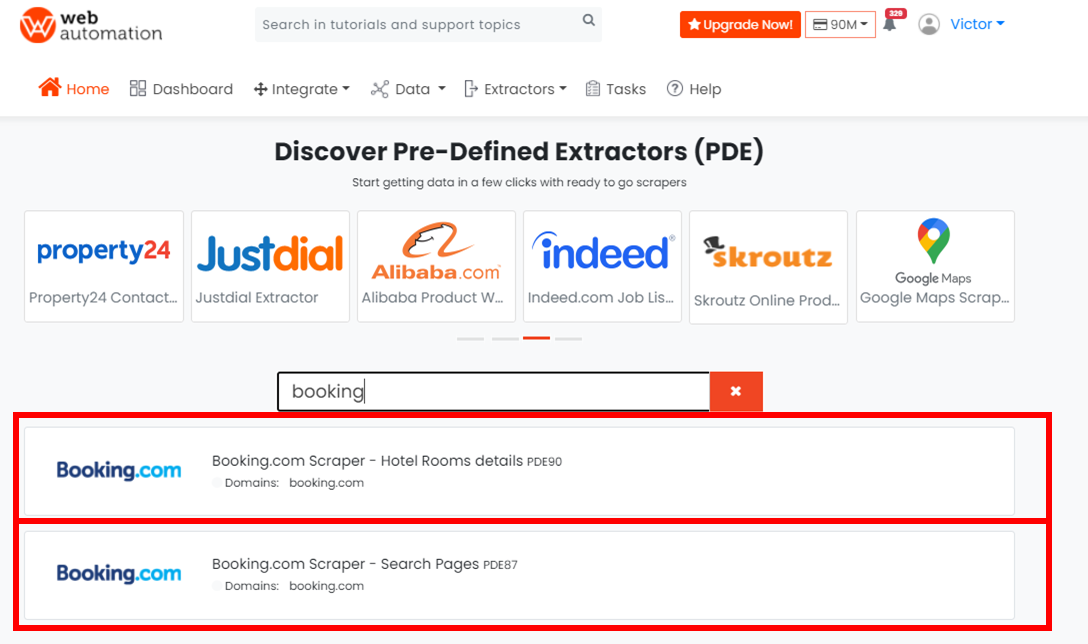 Step 3: Activate the booking extractor
To confirm you want to go ahead and add the extractor to your profile, click the Activate button.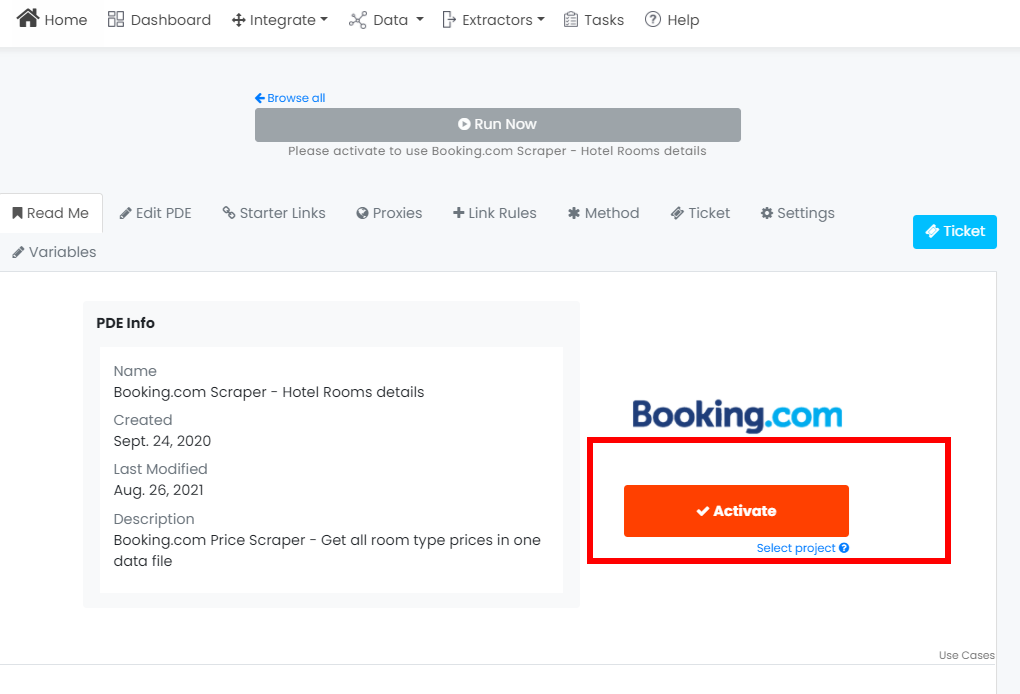 Step 4: Get URLs from Booking.com
Open Booking.com in a new tab and find the data you are looking for by running a search. For this example, let's search for hotels in central London.
Once you have searched, copy the URL and go back into WebAutomation. See the URL we used here
P.S The only valid format for URLs contains /search results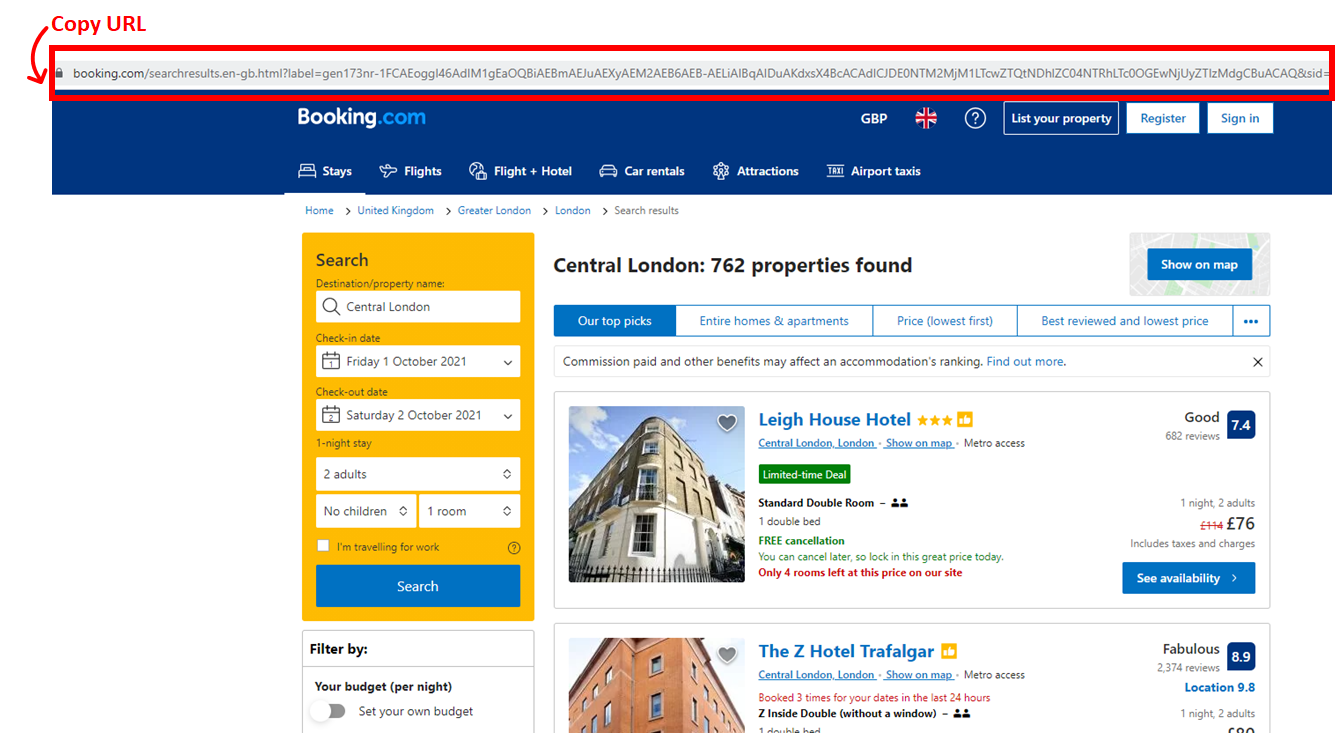 Pro tip 1: To get the best results, make your search as specific as possible so you limit your results and don't waste credits on unwanted results.
P.S Booking.com only shows a maximum of 1,000 hotel results per search
Step 5: Configure the booking extractor
The key input required is the starter link from Google Maps. Paste your link in the Edit Starter Links box and click Update.
Make sure it starts with /searchresults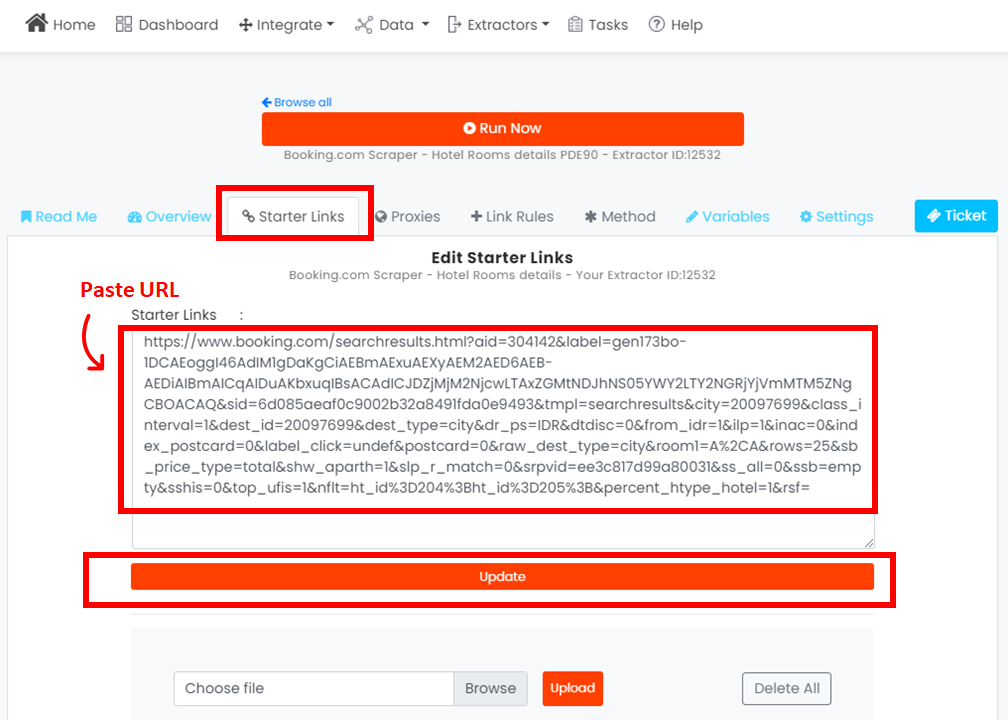 Before running the extractor, go to the Variables tab and enter the language you want to search in as well as the check-in and out dates.
Make sure to save the changes by clicking Update.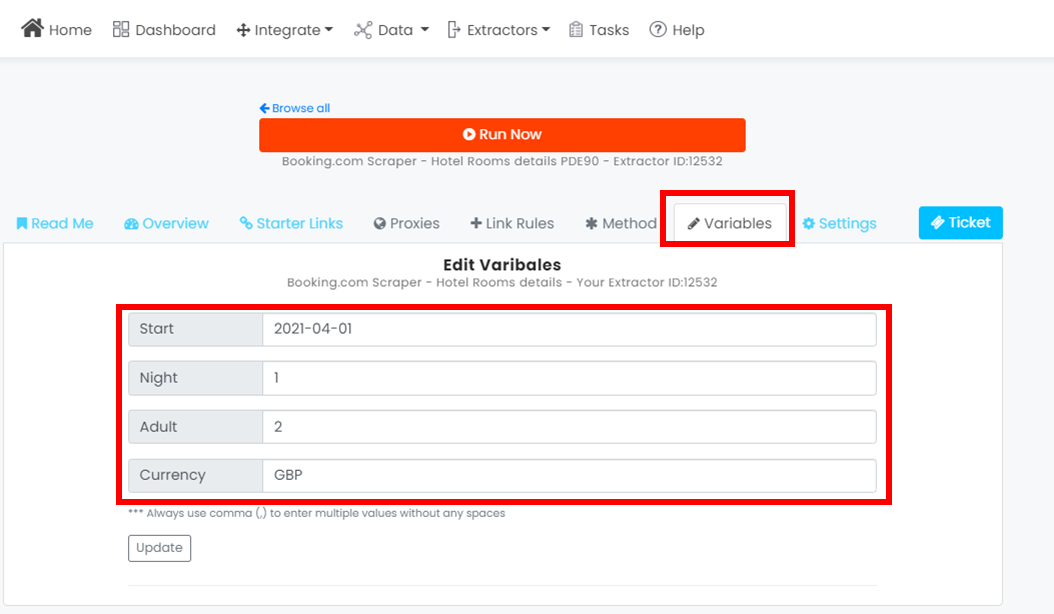 Pro tip 2: To increase the speed of the extractor, go to Settings and increase the concurrent Request count. This is only available on certain paid plans.
Step 6: Run the booking Extractor
Click the "Run now " button to begin the extractor session.

Step 7: Sit Back, Relax, and Let WebAutomation Get Your Data
You will get a pop up telling you the extractor is running and the status of the extractor will show as "running". Our scraping method works like a real user, allowing you to extract all the data you need without being blocked. Because of this, it can take several hours to scrape all the results, depending on how many there are in the starter URL you input.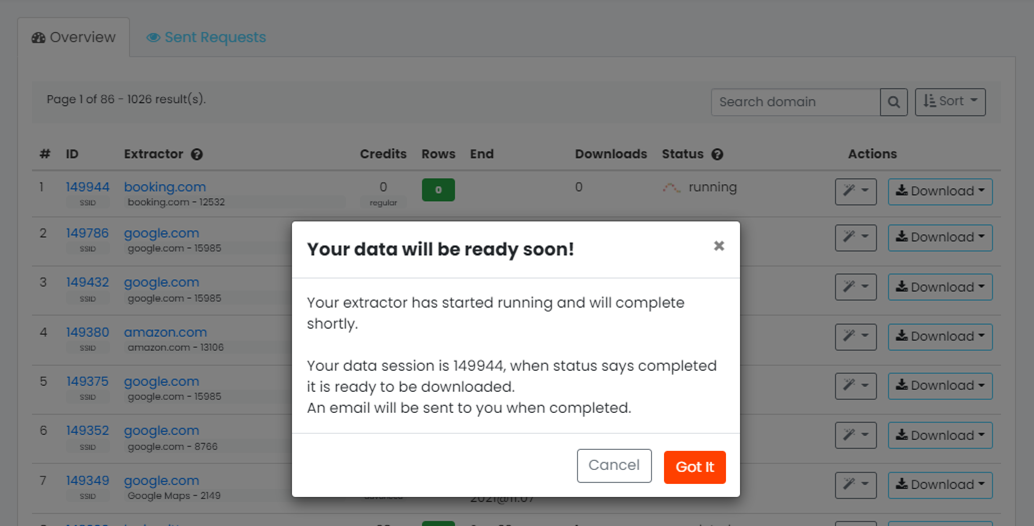 Step 8: Download Your Booking Data
You will be notified by email once the extractor has finished. You can click the link in the email or log in to your account and go to the Data tab to download the data.
You can download as CSV, JSON, XLSX, XML and JL.

Step 9: Open the Data File
In this example, we downloaded our file as a CSV, so we will use Microsoft Excel to open the file
See results from the Hotel Rooms scraper

Search results data output from the search results scraper

How to use data extracted from booking.com
Businesses in the Travel space can use booking.com to gain competitive advantage using a data driven strategy. See below some of the ways you can use the data
Comparitive Price monitoring and analysis : As all the pricing of competitors are transparent, tracking these and adjusting your prices can help your listings more attractive and competitive.
Centiment analysis : Without thousands of reviews, valuable insights can be got from what customers are reacting to by analysing the sentiments and tone of the words used in the reviews
Perform Competitive research: With the plethora of data from all major hotels, webscraping can help you to harvest the data to benchmark prices, features, amenities etc and drive additional revenue. With web data you can gain insights into competitive listings, benchmark competitive pricing, and identify the most profitable locations
WEBAUTOMATION.IO PRE-DEFINED EXTRACTORS
We aim to make the process of extracting web data quick and efficient so you can focus your resources on what's truly important, using the data to achieve your business goals. In our marketplace, you can choose from hundreds of pre-defined extractors (PDEs) for the world's biggest websites. These pre-built data extractors turn almost any website into a spreadsheet or API with just a few clicks. The best part? We build and maintain them for you so the data is always in a structured form. .