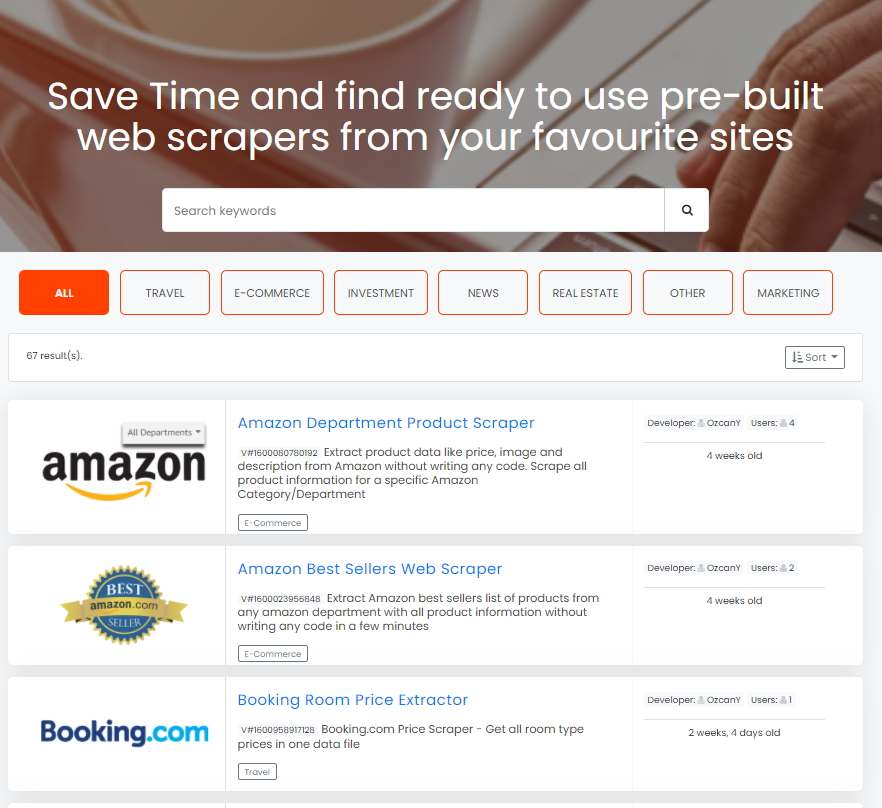 Introduction
Our vision at webautomation.io has always been to make data from the largest data source (the web) readily and easily available. Web scraping data from the web is always a challenge and time consuming process. Writing code using scripting languages like python although the most flexible option is the most challenging due to the level of skill required the time to value being so long.
We have listened carefully to our customers demand carefully and there are two clear themes
We get the same requests to scrape the same popular websites e.g. Amazon, ebay

Not everybody is able or willing to build, a more instant solution is preferred for some customers
We are extremely excited to introduce our very exciting feature- Pre Defined Extractors for data extraction for eCommerce, Travel, Real estate, Investment research and Sales & Marketing
What is a Pre-Defined Extractor [PDE]?
Pre-Defined Extractors are a set of ready- to use web scrapers available to all customers without needing to build, configure any scraping rules or write any code. In one touch you could start running an extractor to get the data you need to fuel your businesses
Why are Pre-Defined Extractors so great?
- No programming required: Get data like an expert without any coding knowledge

- Runs on the cloud: No need to download any software or extensions

- ​On-demand support: We are ready to help or make changes to the scrapers as required

- ​Extract data on a schedule: Automate your extractor to run weekly, daily, even hourly

​- No Maintenance: We monitor and resolve any issues relating to website structure changes and blocking. If you notice any issues with any of the extractors notify us and we will make the amendments in 1-2 days
Who is this for?
Developers: Stop spending time writing code to scrape data and Focus on building application. Lets us do the dirty work of extracting the data
Data Scientists: Focus on actually making sense of the data, let us get the data ready for you to start your work
eCommerce merchants: No need to hire expensive freelancers or consultants to scrape anymore, now the power is in your hands to get the data you need
Sales & Marketers: Build your own marketing and sales leads lists using this very cost efficient solution
How does it work?
Get Started In Three Quick Steps
Click Get Started For Free and create your account now

Select the Scraper of your choice from list of Pre-Built Extractors and assign it to your account

Enter your starter/search URLs and run the extractor
The scraper will go to work to scrape the website URLs you entered and in just a few minutes your data will be ready to export in csv, xml, xlsx, and json formats.
What Pre-Defined Extractors are available?
Please note: We are constantly adding and updating new Pre-Defined extractor templates. Search here for the most up to date list
Below is a list of some of the most popular
Amazon
Amazon is the biggest and most vsited e-commerce store and marketplace in the world. Its has millions of products from different categories and departments .
As Amazon is such a big system, we have created several PDEs to get specific data from amazon
Amazon Department Product Scraper: Scrape all product information including :
ASIN, Category, Description, ImageURL, Certified, Manufacture, Model, No. Of Reviews, Price, Quantity, Availability Rank, Seller Name, Star Rating, Title, UPC ,Prime, Weight, URL
Amazon Reviews Scraper: Scrape detailed information about Reviews and Ratings for any product from Amazon.com .
Review Information includes:
ASIN, Rating, Review Content, Review Date, Review helpful, Review ID, Review Location, No. Of Reviews, Rating, Review Title, Review verified, Reviewer name, Updated, URL
Ebay is worlds biggest auction and C2C site with millions of products sold daily. Webautomation Pre-Defined ebay web scraper allows ebay business owners to monitor price, generate leads, product ranking and etc. The data that can be scraped are:
Name, Description, Image URL, Reviews, Price, Updated, URL
Walmart is the biggest retail store in the USA and now a dominant player in the ecommerce space. Walmart guarantees low prices so very attractive for product comparison
With webautomation.io you can scrape the following details from walmart.com
Brand, Category, Colors, Description, Image, Name, Old-Price, Price, Product-Code, Rating, Review-Count, Sizes
Booking.com it is one of he worlds biggest travel marketplaces and travel information aggregator. With over 30million listings globally . The data from booking.com is great for market research for companies in the travel industry. The webautomation pre-defined extractor designed to save all price information for individual room types of an hotel. Each room type prices will be saved as a row in your data file. In each row you will also find hotel id and room type id to see the differences for a price.
Scrape hotel room data including: :Hotel name, Address, Amenities, Beds, Checkin, Checkout, Currency, Distance, ,Last Booked, Latitude, Longitude, Price,, Review Count, Review Score, Review Title, Roomtype, Roomtype availability, Roomsize, Taxes, image URLs, breakfast information, number of reviews, average score, number of rooms, , and the page URL.
Airbnb Competitor Date Price Scraper
Airbnb It is a global property online marketplace., It allows people to list properties and match with prospective guests looking for short term properties. The data on this site is extermely useful for monitoring prices and forecasting potential revenue based on various factors like location and time of the year: WebAutomation pre-defined extractor for airbnb allows you to pull out current and hsitoric price information about any listing on Airbnb;
Scrape Property data including: maxNights, availableForCheckin, available, availableForCheckout, price, minNights, calendarDate, bookable, listing_id, domain, uniqueKeyPrice, scrapeDate, currency
Pre-Defined Directory Extractors
Yelp Business Directory Data Extractor
Yelp: This is one of the most popular business directories across the world with millions of reviews of the most popular small businesses from restaurants to bike shops millions of people are searching for a business for all kinds of purposes. . This is the place you website need to build your marketing list of nearby businesses to explore and to know your business and your competitors. With webautoamtion Yelp pre-defined extractor , you would be able to get business information including: the name, number of reviews, category, phone number, address, website URL and business hours.
Real Estate Pre-Defined Extractors
Rightmove Property Listings Extractor
Rightmove.co.uk is UK's leading property website for buying, selling and renting properties. It has over a million properties for sale and rent from nearly every estate agent in the UK. Scrape property information such as: Agent name, Agent address, no of bedrooms, country, description, first listed date, image url, post code, price, property type, room sizes
Spareroom.co.uk is Uks largest faltshare listing website. Connecting thousands of landlords looking to rent out rooms to hosts across the UK
Each listing includes: ad-id, advertiser-last-active, advertiser-name, advertiser-title, amenities, availability, deposit, description, flatmate-preferences, flatmates, furnishings, household-age, household-any-pets, household-gender, household-smoker, image, including-bills, latitude, location, location-extra, longitude, maximum-term, minimum-term, name, price, price-info,price-of-all-rooms, total-rooms, type, url
Coming soon:
Social media : Instagram, Facebook
Search engine: Google SERP, Google maps, Bing
Investment research : Yahoo finance
Can you add new Pre-Defined Extractors?
Yes of course we love building web scrapers. Please submit a request for a new site using our concierge and we will have it ready in 1-3 days ready for you to use instantly