Updates from the WebAutomation.io team about improvements, fixes, new features and more.
Got suggestions?
We love to hear from you!
We firmly believe that customer is the king and we believe in growing along with our customers and their needs. As you know we have already built features based on customers requests. Email us your thoughts anytime at info@webautomation.io
Product Updates
We are excited to announce some of the new features
Announcing our Data Change Tracking feature which allows you to see what's changed on a website

Have you ever had the challenge of tracking the changes to a competitors website? Monitoring prices on ecommerce websites? . Doing this Manually is very time consuming, tedious and very error prone. This is a very common problem with ecommerce especially, surely there must be an easier way?
Now there is! WebAutomation.io has launched the Data Change Tracking feature. With our new feature on your exported file you can now see on a new column what the previous data was. See here for more details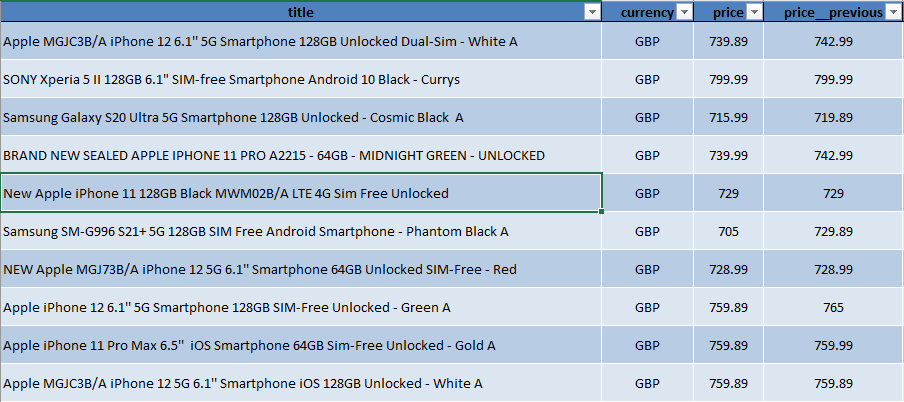 Infrastructure Upgrade
We are glad to finally complete our Infrastructure upgrade. Our new Infrastructure stack will now support a multi-vendor cloud & proxy providers as well as load balancing of proxy and server requests plus many other improvements
What does this mean for you?
With our new Infrastructure stack we will now be able to
support clients with huge volumes of requests i.e..> 1M request per day
have extractors run very long sessions i.e..> 10 hours without failing
prevent extractor failures due to failing proxies (as we can rotate proxies from different vendors)

Overall we believe this will lead to a more positive experience for you!
Update to WebAutomation API
Check out the completely revamped and extended documentation
This includes fully live RAW HTML API, which allows you to scrape the HTML source in real time from any website
Whats next?
In the Month of May we plan to Launch some social media Pre-Defined Extractors to the Marketplace starting with Facebook. Please reach out to info@webautomation.io if you want to be an early adopter of them or if you have any custom requirements that you think we should consider
Here is a list of new PDE's added in April
Our predefined web scrapers are designed specially to help you gather all the data you need, with just a click of a button, without having to write any code!
And the best part? Our web scrapers are easy to use and FREE to try!
We released 27 new PDE's in April
Here are some of the most popular ones:
Paginasamarillas.es Business Data Web Scraper
Extract business data including contact details like phone numbers from the Spanish Yellow Pages
UK Companies House Companies Web Scraper
Extract any UK companies financials, Key employees, address, company status + more
Extract Profiles, contact details and reviews of Tradesmen from one the UK's biggest directory of registered Tradesmen
Sainsburys Product Web Scraper
Extract Product data like prices, description and images from Sainsbury's UK's second biggest supermarket
Extract product data like name, price, description and images from Toysrus.ca
Scrape GitHub Profiles in seconds. Find the best developers (and their emails).
Scrape the business information like names and contact details from Superpages , one of the US biggest business directory
Our Pages Jaunes Scraper (Yellow Leads Extractor) is a data extractor (name, address, phone, fax, URL, Email) for the yellow pages of France
Our easy to use Etsy.com Scraper extracts data like price, description and images with only a few clicks
Realtor.com Property Listings Scraper
Our pre-built Realtor.com web scraper lets you extract data from thousands of home listings for sale and rent from leading real estate websites, without having to write any code.