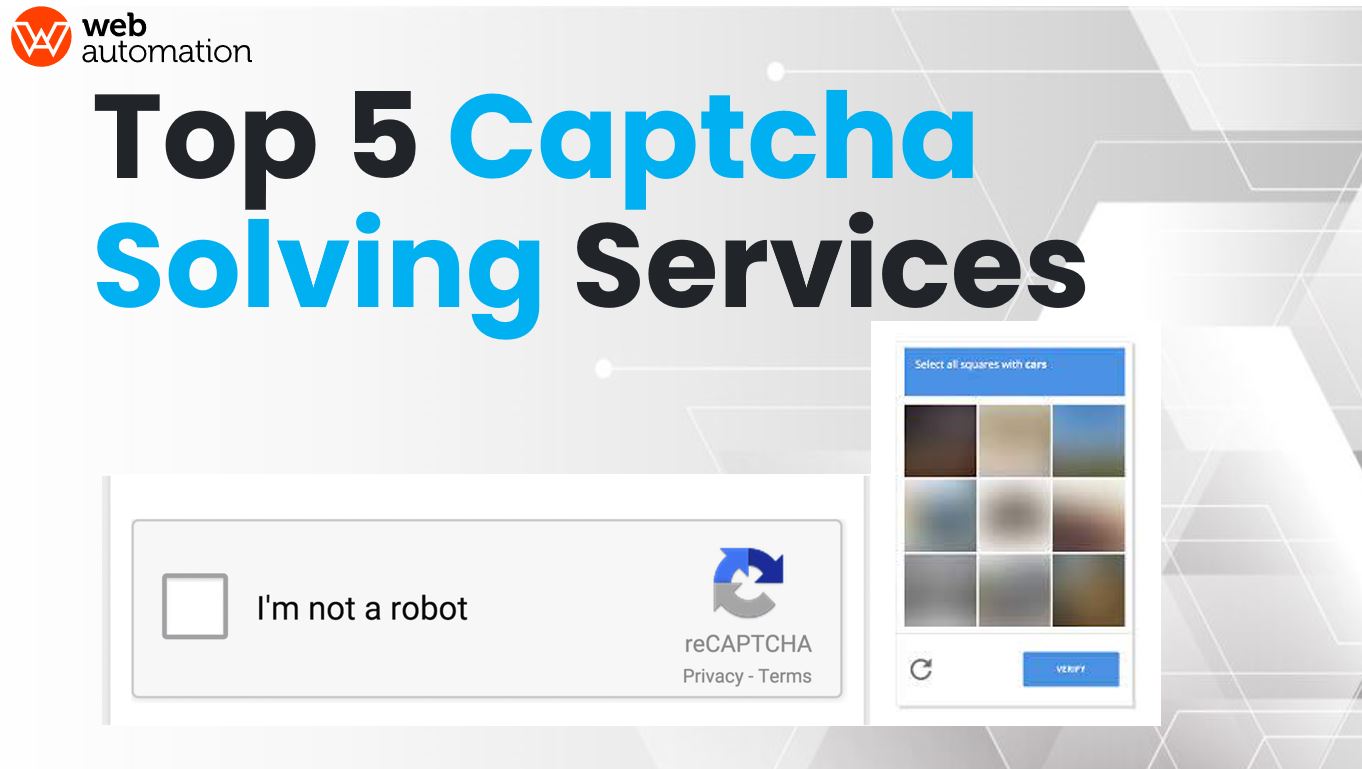 If you have ever run a web scraping project you might have been frustrated when your bot gets blocked by Captcha
In our latest blog post, find out to prevent getting blocked by Captcha's as we review the Top 5 captcha solving services for your web scraping project
What is Captcha and how does it Work?
The word Captcha refers to a Completely Automated Public Turing test, which helps differentiate between humans and computers. It is a tool that helps website owners detect computer-generated and actual users. What makes Captcha unique is that its test includes simple tests for humans.
However, these tests are a bit difficult for computer systems. For example, a Captcha test may ask you to detect a particular area on the screen or identify numbers or letters, depending on what the system generates.
Keep in mind that there are three skills that human users need to master while dealing with these tests. These are as follows:
● Invariant recognition: This refers to understanding different shapes, of the same alphabet, images, and objects.
● Segmentation: Includes understanding overlapping alphabets.
● Parsing context: Understanding audio or image as a whole.
● Math Problems: A simple math question
● Image Recognition Uses Google's Street View and asks users to identify elements in it.
Other less popular types may also include social media logins or invisible Captchas. While this seems fairly simple, its applications are diverse. Let us have quick look at what Captcha solving tools could help you with.
How to Avoid Captcha during Web Scraping?
People who understand how Captcha works, also know that it is possible to avoid Captcha during scraping on the internet. Avoiding captcha requires understanding how its system works, and avoiding its triggers altogether. Following are some ways in which users can avoid Captcha easily.
Don't Rush
The biggest reason why users may encounter a Captcha test is when they operate at an above higher speed. The Captcha system considers this as a red flag and asks the users to solve a Captcha. Therefore, the best way to avoid it is to work at a more human speed.
Using Proxies
Websites that are localised i.e. only available to users in specific geography will only expect traffic to come from a local IP. Any other traffic coming from a location not related will be automatically suspicious and websites will usually show captcha to check. It is important to use Geo-target proxies during the scraping process for these use cases to prevent captcha's appearing.
Traffic also coming from datacentre's vs residential could also be seen as suspicious so you could also be shown a captcha
Avoid Direct Links
Most users access websites without typing their URL, through a direct link. The Captcha system considers this as an issue and can consider it a red flag. Thus, it is best to get through to other pages on a site (that you are scraping), through the site's own navigation, or by using referring links available.
Don't Leave the Honeypots Out
Honeypots usually exist in places that are invisible to the user. You can set your bot to locate these elements and find the honeypot. If your bot detects elements on the screen while the display is hidden, chances are that it will not react with that part of the page.
That said, a Captcha-solving tool is still the most efficient way to solve this problem. Therefore, we are going to discuss the best Captcha-solving tools available on the internet.
6 Best Captcha Solving Services
Following are some of the best Captcha-solving software that users should know.
With an efficiency rate of 99.15%, Capsolver is capable of solving over 10 million captchas per minute, ensuring your automation or scraping process maintains an uptime of 99.99%. If your budget allows, you can purchase a captcha package.
We offer a diverse range of solutions at the most competitive prices in the market, including but not limited to reCAPTCHA V2, reCAPTCHA V3, hCaptcha, hCaptcha Click, FunCaptcha, and image-to-text. The slowest recorded speed for our service is a mere 0.1 seconds.
Capsolver caters to numerous API clients for captcha resolution, such as PHP, JavaScript, Golang, C#, Java, and Python. Regardless of the captcha type - be it standard, rotate, reCAPTCHA v2, Image captcha, Datadome captcha, Mtcaptcha, Geetest captcha, Cloudflare turnstile, Amazon Waf Captcha, hCaptcha, FunCaptcha, and so on, Capsolver is your top pick.
Capsolver.com Pricing
You can also obtain a free trial balance of $0.50 by simply updating your personal information.
CAPTCHAs.IO API is a captcha service that provides over 30,000 images, audio, and Recaptcha V2 and V3. It also provides access to captcha-solving methods. In addition, it also provides developers with API responses with JSON or plain text. However, some users may have trouble handling it because the registration process can take a bit long.
Cost
From $22/month for 5 Captcha Threads and 5,000 Daily Solves Limit
They support: hCAPTCHA, reCAPTCHA, Image CAPTCHA, Audio CAPTCHA, Text CAPTCHA
GSA Captcha Breaker is a Captcha recognition software for Windows and provides Captcha-solving services to save users money. It can detect over 600 Captcha types and help you save money. Furthermore, it allows owners to add their Captcha algorithm or edit it.
Its function varies according to the difficulty of the Captcha at hand, however, it will solve most Captchas almost immediately. The best thing about this service is that it can forward your Captcha solving problem to its paid service if it is difficult to handle in the free mode.
Cost
GSA Captcha Breaker's lifetime license costs $147
Another Human powered Captch service. 2 Captcha is one of the fastest-growing captcha-solving tools that people over the world are loving. The site can perform hundreds of captcha-related tasks and help users. It has tons of benefits for its subscribers. For example, its ease of use and affordable prices make it a customer favorite. It has a response time of fewer than 12 secs, making it one of the most efficient captcha-solving software out there.
In addition, it also helps in automating the captcha recognition process and offers reliable support to its customers. Its services start from as low as $0.5 making it ideal for all kinds of users. On top of that, its API is available in most programming languages, making it a flexible platform. However, some users may have an issue with this site because they have limited payment options.
It is still a good option for users who are looking for quality Captcha-solving services. Following are some of the simple steps that users need to follow on their sites:
● Register
● Implement API
● Send your captchas
● Get answers as text
Cost
From 0,5$ to 1$ per 1000 requests
Anti-Captcha is one of the top and most popular Captcha-solving tools on the market. They are powered by an army of human workers working around the clock who solve the test quickly and correctly
It claims a;
- 99% success rate and 7 seconds response time,
- Fast and reliable captcha-solving service.
- Competitive Pricing
- 99.9% uptime
- Developer API's which are easily integrated and can process a very high load of requests
Pricing
| | |
| --- | --- |
| Type of captcha | Rate per 1000 |
| Image captchas | $0.5- $2 per 1000 captcha |
| Recaptcha v2/v3 | $1.3 -$2 per 1000 captcha |
| HCaptcha | $2- $100 per 1000 captcha |
| Geetest/ Distill | $2 per 1000 tokens. |
| | |
Death by Captcha allows you to solve CAPTCHA by implementing their API into your service. It works by sending the CAPTCHA via the API, and it will return the text.
Death By Captcha Offers:
A combination of an advanced OCR system, along with a 24/7 team of human CAPTCHA solvers.
Pay for only solved CAPTCHA's
An average response time of 9 seconds for normal text CAPTCHAs, with an average accuracy rate of 90% or more.
A developer API is available for the most popular programming languages.
New reCAPTCHA / noCAPTCHA by Token (Recaptcha V2 & V3) API support!
Costs
From $1.39 per 1000 solved Captchas
Bottom Line
That said, Users can avoid facing Captcha problems with some tips listed in this article. However, they aren't efficient in the long run.
At WebAutomation, we remove the hassle of dealing with all this and take care of building scrapers and handling all the infrastructure and maintenance so all you need is a starter link on your target website to get the data you need as an exportable CSV, XLSX, XML, or JSON file.
This lets you focus on using the data rather than getting the data.
WEBAUTOMATION.IO PRE-DEFINED EXTRACTORS
We aim to make the process of extracting web data quick and efficient so you can focus your resources on what's truly important, using the data to achieve your business goals All our extractors integrate captcha solvers so you don't have to worry about this. In our marketplace, you can choose from hundreds of pre-defined extractors (PDEs) for the world's biggest websites. These pre-built data extractors turn almost any website into a spreadsheet or API with just a few clicks. The best part? We build and maintain them for you so the data is always in a structured form.