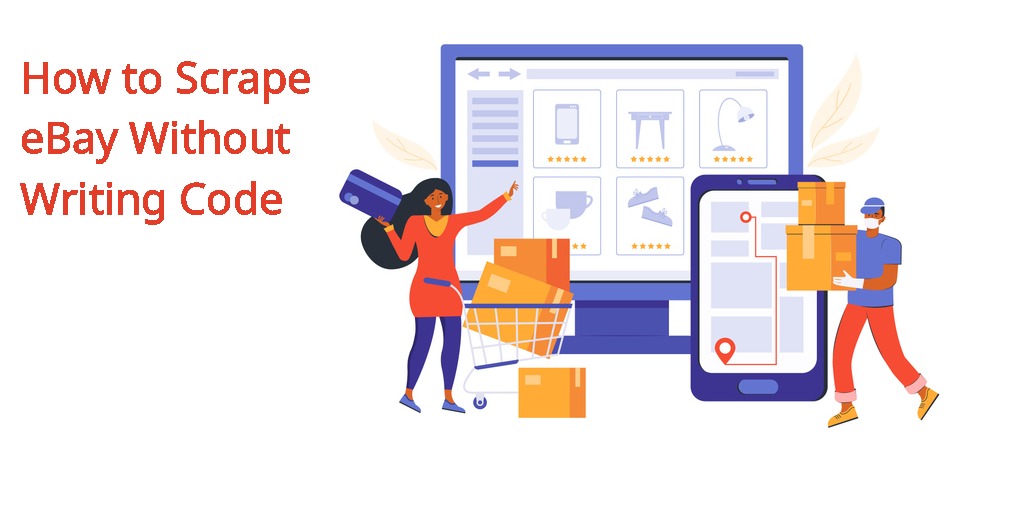 Introduction
In this how-to guide, we're going to show you how to use WebAutomation's ready-made eBay Price Data Scraper to extract data from eBay. With this tool, you will be able to extract data like product information, prices, and images, etc. from eBay category pages quickly and easily, without having to write any code.
See the data highlighted in the screenshot of the information from eBay you will be able to extract.
Step 1:
Sign up / Sign in. If you don't already have a Webautomation account, you can sign up for Free 14-Day Trial here.
Step 2: Find the eBay Pre-Defined Extractor
Once you sign in, you will be redirected to the in-app home page. As we are looking for the eBay scraper, use the search term "ebay" on the main search bar. Select the "eBay Listings Web Scraper PDE4".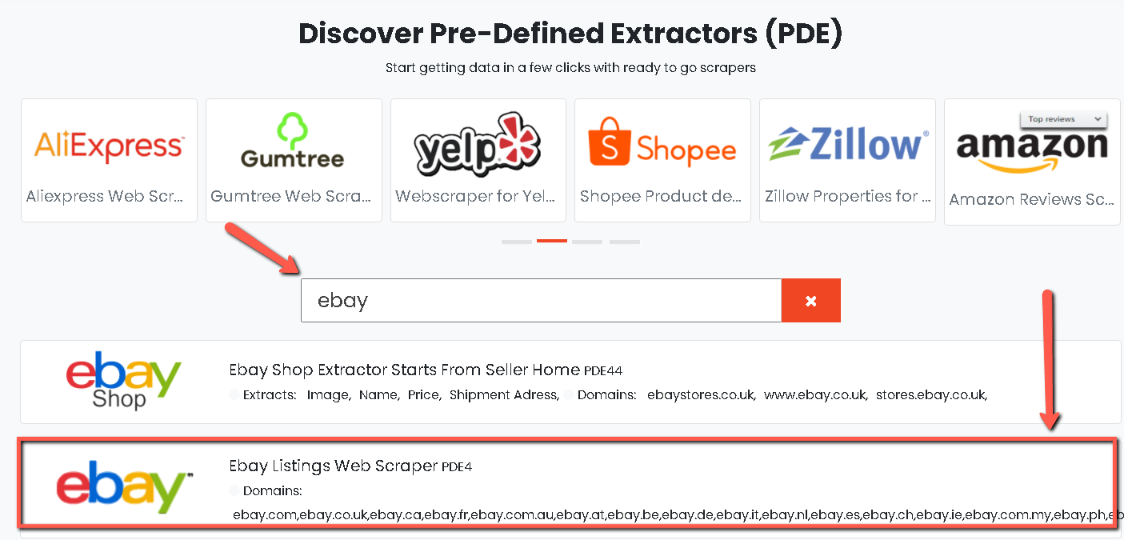 Step 3: Activate
To confirm you want to go ahead and add the extractor to your profile, click the Activate button
Step 4: Get URLs from eBay
Let's open eBay in a new tab and find the data we are looking for. For this example, we are trying to monitor all the Apple laptops for sale, so let's search for "apple laptops" in the eBay search bar. To be more precise we can use some search filters on the left navigation to narrow our search (see screenshot below)
Once you have searched, copy the URL and go back into WebAutomation.
See URL we used https://www.ebay.co.uk/sch/i.html?_from=R40&_nkw=apple+laptops&_sacat=0&Release%2520Year=2020&Hard%2520Drive%2520Capacity=250%252D499%2520GB&rt=nc&Colour=Gold&_dcat=1114
Pro tip 1: To get the best results, make your ebay search is as specific as possible so you limit your results and not waste any credits on unwanted results
Step 5: Configure the extractor
The key input required is the starter links from eBay. In this use case, the starter links are the search URLs we copied from eBay.
Pro tip 2: To increase the speed of the extractor, go to "settings and increase the concurrent Request count" please note this is only available on specific plans
Step 6: Run the Extractor
Click the big "Run now " button to begin the extractor session
You will get a pop up telling you the extractor is running and the status of the extractor will show as "running"
Step 7: Download your data
Once the status of the extractor says "completed" you are now ready to download the data. You will also get an email letting you know that the data is ready. You have options to download as CSV, JSON, XLS, SML and JL¿
Step 8: Open the data file
For this example, we downloaded our file as a CSV so we will use Microsoft Excel to open the file.
Typical use cases for ebay data
As an eCommerce merchant wanting to list their products on eBay. Scraping can be a quick way to get product descriptions, images, etc

As an eBay seller, the best way to monitor competitor prices is to scrape all the sellers selling similar products

As a brand, if you wanted to monitor people reselling your products, scraping would be an efficient way to check for MAP compliance or even for those selling your products without the proper authority
Conclusion
To be competitive in selling on eBay scraping isn't an option but a necessity. Understanding your competitors' strategies, pricing and promotion is intelligence that will set you apart.
Getting this data should be easy right? Yes this is why we created our pre-defined eBay web-scraper to help you get eBay data in minutes without having to write code.
WEBAUTOMATION.IO PRE-DEFINED EXTRACTORS
We aim to make the process of extracting web data quick and efficient so you can focus your resources on what's truly important, using the data to achieve your business goals. In our marketplace, you can choose from hundreds of pre-defined extractors (PDEs) for the world's biggest websites. These pre-built data extractors turn almost any website into a spreadsheet or API with just a few clicks. The best part? We build and maintain them for you so the data is always in a structured form. .