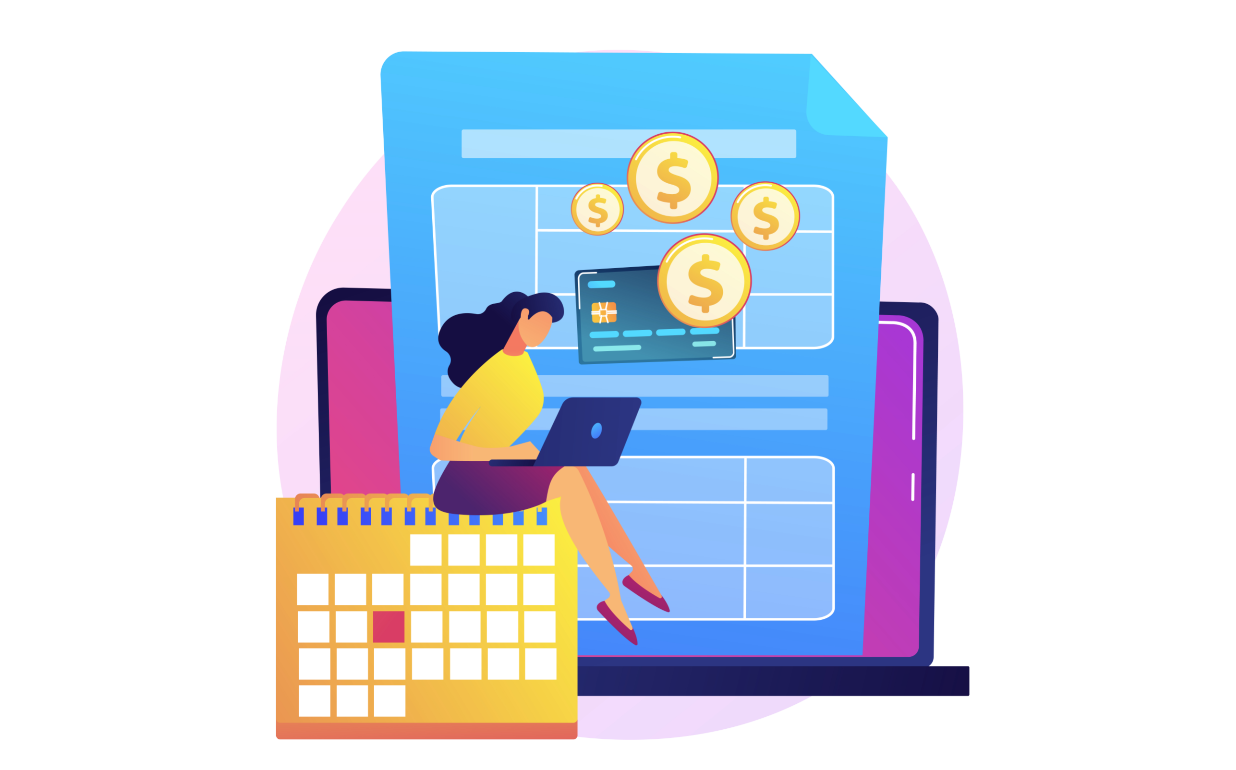 HOW MUCH DOES WEB SCRAPING COST - THE ULTIMATE GUIDE
In recent years, web scraping has grown to become an essential part of many large companies due to the edge that comes with making data-based decisions. While a lot of businesses employ third-party applications / agencies for their web scraping, a growing number opt to also have theirs built. A common question we get asked are how much would it cost me to web scrape? The answer is always it depends on your project.
In this article we will go through the detail of how much web scraping really cost looking for all the different options you have and the different use cases
The Options available to web scraping are:
Build a web scraper internally

Hire third party web scraping contractors

Outsource to a web scraping service provider

Use third party web scraping self-service tools
Build a web scraper internally
Without any technical skills this will almost be an impossible challenge as the learning curve is too high so we can eliminate this option if you have no dev skills within your company. If you are a developer or have a dev team it will seem a relatively straightforward process at first, and it can be - if everything goes right. Unfortunately, it rarely never does. As you spend time making incremental improvements and fixing bugs, you end up realizing you've spent a lot more time and money than you expected. We documented some of the challenges with this option here
How to prevent getting blocked when web scraping
Step by Step Guide to Web Scraping JavaScript Content using Puppeteer and Node.js

Types of web scraping project complexities
As obviously there is no "one fit" web scraping project, we have broken down web scraping projects into 3 broad categories with the below characteristics
Simple

Standard

Complex

Web page structure

Static web pages

Dynamic website

Content is spread across multiple pages

Dynamic website

Content is spread across multiple pages

Web page URLs can not be known ahead of time

Asynchronous loading of content using JavaScript or other techniques

ASP sites, files on sit es, images, PDFs

Update frequency of the structure of website

Annual

2-3 times a year

Weekly / monthly

Update frequency of the content of website

1-3 months

Weekly

Daily to Real time

Number of webpages

1-100

1-50,000

50,000+

Number of websites

1-10

10-100

100 +

Number of pages per month

100- 10,000

10,000-1M

1M +

Anti scraping defenses

none

IP address blocking, user agent blocking

CAPTCHA, password, IP address blocking, user agent blocking, region blocking,

others

Delivery

CSV file

Structured tables, APIs

Structured tables, APIs, custom integration, SQL updates, XML, insert into business

intelligence, statistical models, and machine learning applications

Quality control

What you see is what you get

Content verified

Monitoring for website layout changes

Timely completion of run

Content verified

Extraction is corrected based on website changes

Real-time monitoring of extraction success metrics

Quality reporting and tracking

Data Storage

> 1gb Storage

1-20gb

20gb +
Ref: Opimas Research
Factors to consider
The current cost of a building a web scraper internally is determined by a host of factors, including:
Server cost, data storage & Proxies cost

Developer time for building, maintenance, and normalization of data - The developer cost for building the scraper depends on whether you are building from scratch or not.
Developers time Implementation
| | | | |
| --- | --- | --- | --- |
| | SIMPLE | STANDARD | COMPLEX |
| EXPERT | <2hrs / website | 2-8hrs / website | 15-40hrs / per website |
| MID LEVEL | 1-4hrs / website | 4-20hrs / website | 20-60hrs / per website |
| BEGINNER | 4-8hrs / website | 10-30hrs / website | - |
Developers time to maintain
| | | |
| --- | --- | --- |
| SIMPLE | STANDARD | COMPLEX |
| 5-10hrs / month | 10-20hrs / month | 20-40hrs / month |
Server, Storage & Proxies
| | | | |
| --- | --- | --- | --- |
| | SIMPLE | STANDARD | COMPLEX |
| Server, Storage & Proxies | <$ 200 | $ 200- $ 700 | $ 1000 + |
Now depending on your region and internal cost of you developer you can work out costings eg If you have a developer on $ 60,000 / Year and you were scraping 5+ websites, it could actually take up 25% of his time which will work out to ~ $ 1.25k / month
So let's summarize a typical scenario:
Developer time for web scraper implementation: $ 400 / web scraper
Server cost to run scrapers and store data: $ 300 / month
Proxy costs : $200/month
Developer time to maintain web scrapers: $ 1250 / month
Hire third party web scraping contractors
This is another popular option in recent years with the rise of the gig-economy. With sites like Fiverr, Upwork, Guru , Stack exchange & Toptal providing you with access to expert talent globally.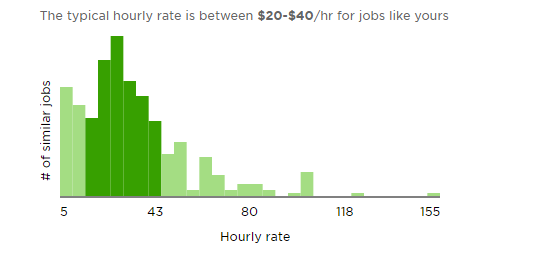 Source: Upwork.com . Filters for Web Scraping jobs hourly rate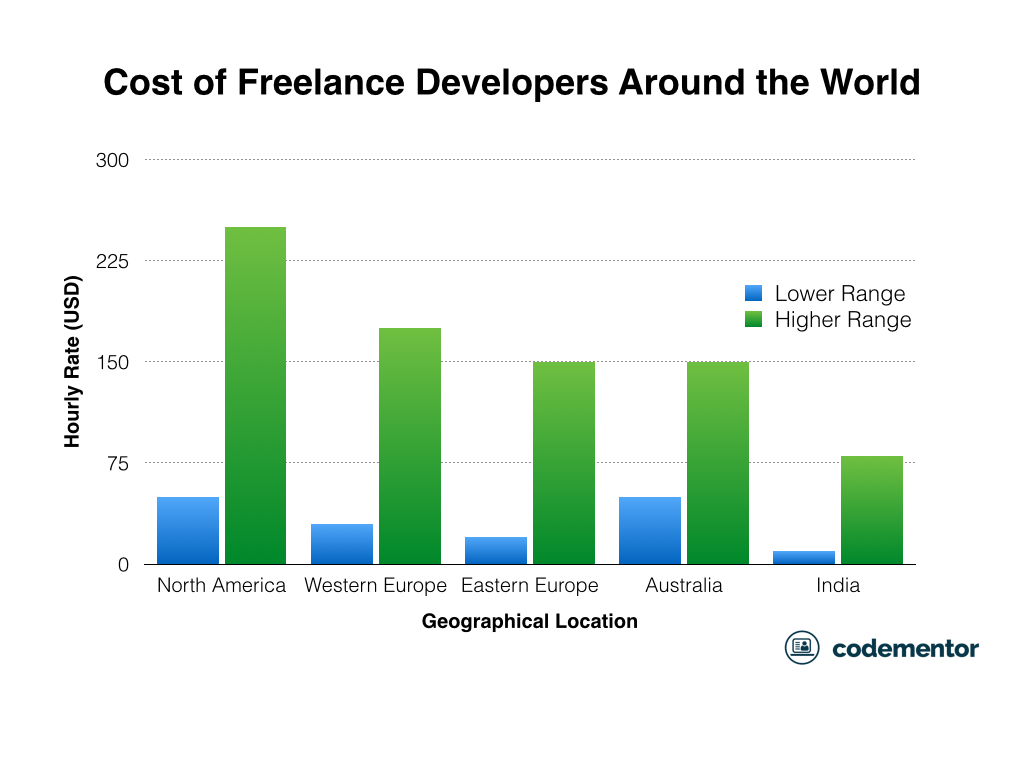 Source: Codementor.io
Low Cost location e.g. India, Pakistan rates for experts is about $40/hours. mid level $20/hour
Higher Cost location e.g. U.S., UK experts is about $80/hours. mid level $50/hour
The benefit of using freelance developers for web scraping will be that they will usually be experts who do this frequently so will spend less time than generic developers who work internally for your company
To summarize the costs of using a freelancer, we use simple, standard & Complex project case scenarios with the average developer times. Lets average out the freelancers rate at $40/hour
| | | | |
| --- | --- | --- | --- |
| | Simple | Standard | Complex |
| One time Setup | $80 | $80-$320 | $600-$1600 |
| Maintenance | $200-$400 | $400-$800 | $800- $1600 |
Outsource to a web scraping service provider
Outsourcing to an expert agency is a good option when you are looking to transfer liability. With Service agencies you can agree to a service level agreement (SLA) and ensure you get your data when you want it, how you want it and not have to worry about all the details and difficulties. All you do is pay a service fee monthly but this is usually a more expensive option
When getting quotes from service providers you will typically get a breakdown in this format
Initial Setup fee per website

Managed service fee paid monthly

Fee based on number of records e.g. <10k records, 10-100k records, 1M+ records

Fees for any extras like integration, reports etc
For a standard project e.g. scraping an e-Commerce website for about 5-20k products
Top end
| | |
| --- | --- |
| One off Setup fee | $400 |
| Monthly maintenance | $450 |
Lower end
| | |
| --- | --- |
| One off Setup fee | $99 |
| Monthly maintenance | $99 |
Use third party web scraping self-service tools
Finding the right tool is a dream for most users who have gone through the trouble of building web scrapers writing code and maintaining infrastructure. The right tool could save you time building systems or maintaining infrastructure like servers and proxies
There are many software companies out there that provide software that allow you to scrape data for a subscription fee. This is the most cost effective and best for most of the use cases/websites where complex requirements are not needed
Some of these tools will have a Free trial or Free plan with limited features or cap on number of pages that can be scraped. Get scraping now with our webautomation.io free Web Scraping tool - up to 25,000 pages scraped.
Most tools would typically have 3 option pricing tier with a number of requests limits per package. Package 1 will roughly range with requests limits of 1,000-25,000 pages/requests , Package 2 - 25,000-250,000 pages/requests and Package 3 - 250,000- 1,0000 pages/requests
See breakdown below
| | | |
| --- | --- | --- |
| Package 1 | Package 2 | Package 3 |
| $49-$149 | $99- $499 | $249- $999 |
One-time Web Scraping jobs
A lot of these quotes are based on ongoing web scraping jobs. But what about one-time jobs?
For simple one-time jobs you can get quotes from $20 from freelancers for small amount of data. Webautoamtion.io offer a free plan with up to 25,000 pages scraped, this is usually enough for one-time simple jobs
GIVE WEBAUTOMATION A TRY
Thanks to webautomation.io building a web scraper to help your business is not so expensive anymore. For Free you can submit a Concierge request to get an expert build a web scraper for you. You are also able to use any of the Pre-built Extractors for sites like Amazon and Ebay to start getting product data in minutes .
Webautomation.io offers a free plan for your one-time scraping needs or paid plans from $49 for ongoing projects, additionally, we can setup and run the entire scraping job for you - just contact us to request a quote.
*Please note that costs mentioned in this article are estimates based on current market rates and our own internal experience