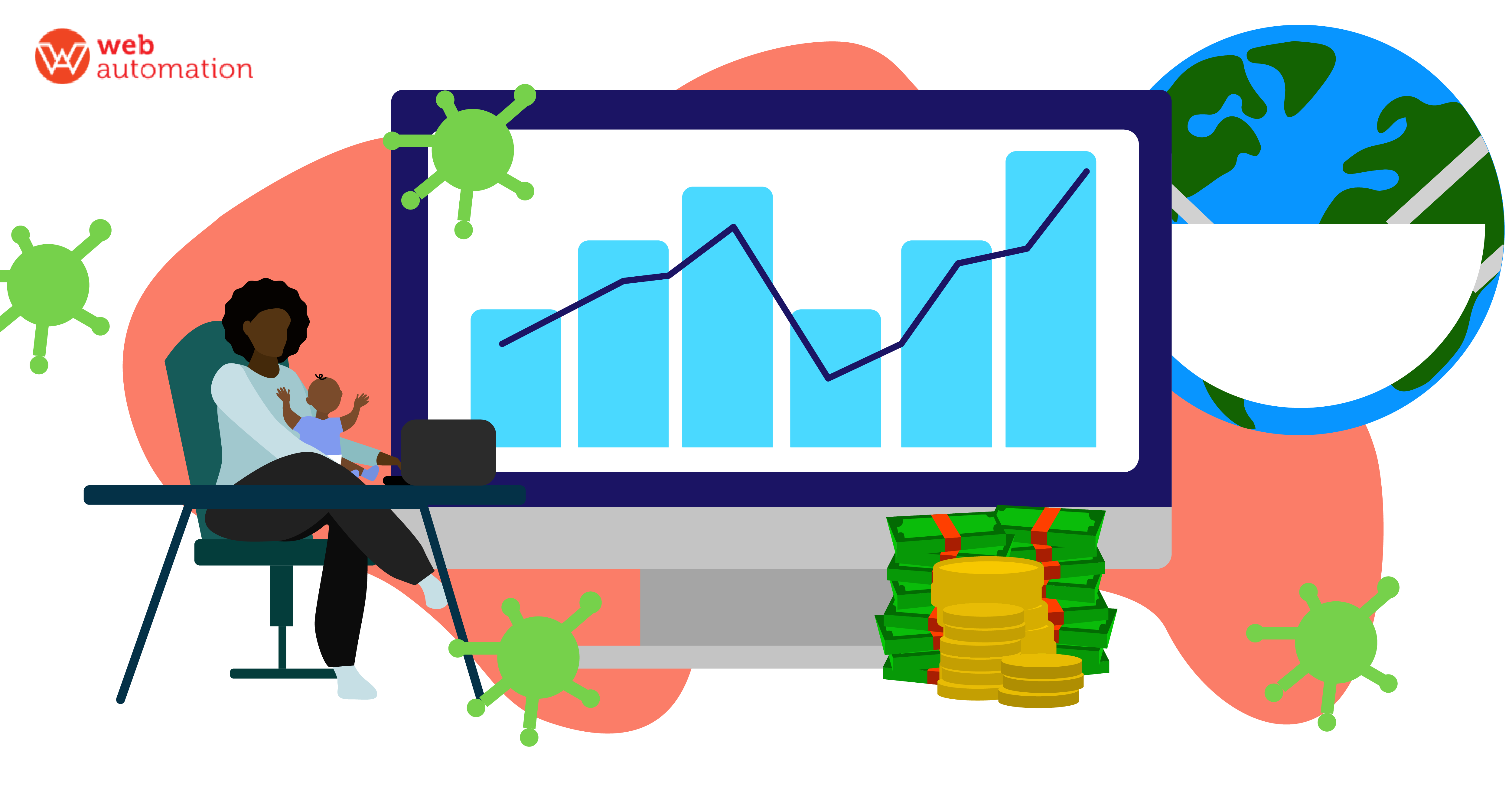 "The pace of change and the threat of disruption creates tremendous opportunities."
- Steve Case
The pandemic has changed the way humans function.
There are a new set of rules in place.
As people are slowly adjusting to the new normal, they are adopting new behavioural patterns and jumping on to the upcoming trends faster than ever. While some developments have been sudden, like wearing masks, social distancing etc. many trends have received a massive boost like online shopping, cashless transactions etc.
The experts believe that these trends are here to stay and will be a permanent addition to the repertoire of consumer behaviour, impacting the customer's interaction with businesses and brands in-store and online.
While people are doing their best to adapt to the new normal, brands and companies need to stay abreast with the upcoming consumer trends if they want to keep growing.
Retail therapy, with a twist.
With the pandemic at its peak, humans hit survival mode.
Daily essentials took priority and spending decreased.
In such a situation, the e-commerce business needed to adapt to changing consumer needs. Predict the upcoming trends and move fast to make the most of them.
Here are some consumer trends that have developed due to COVID 19:
Panic Buying
Pandemic got with itself a wave of panic. With the lockdown in effect in almost the entire world, people rushed to department stores and started hoarding daily essentials. People brought out medical supplies, like hand sanitisers and masks, household essentials like toilet paper and bread. Soon both the brick and mortar stores and online stores were struggling to keep up with the high demand and price gouging for supplies became rampant.
While the world is slowly coming back to normal, lockdowns have become a part of our daily lives as the virus continues to spread. The government in each city initiates a lockdown as and when required. Which is still followed by panic buying and hoarding.
While the worst of the pandemic is past us, the behaviour still stays with us.
Increased reliance on e-commerce
The pandemic and the lockdown was the final push that the world needed to get everyone comfortable with the idea of e-commerce. While companies like Amazon were ruling the world of e-commerce, brick and mortar stores were still the preferred option by many.
With the social distancing in effect, people finally turned to e-commerce to fulfil their daily needs.
Downloads for e-commerce skyrocketed. People who never considered e-commerce before were now signing up on the portal, and stacking up their cart.
Being a part of an e-commerce system was no longer age-related. In fact, it became mainstream across generations. People started adopting a millennial mindset, where they relied on their friends and digital channels to gain information and buy, rather than traditional sources of information.
The pandemic e-commerce was able to break a barrier they had been trying to for ages.
Mass adoption became the new normal.
Mindful Spendings
Even though the economy is slowly getting back on track, people still wary of this new development, regarding it only as a temporary change. Thus, they are being more mindful of how they spend.
Needs have triumphed wants.
Consumers are now focused on increasing their savings so as to prepare for the future and focus their efforts on getting the best deal possible.
With the unstable job market, the pressure on household income is increasing. This increased pressure has motivated the consumer to keep trying new brands and channels, evaluating the pros and cons of convenience and better value.
Loyalty has gone for a toss and the already price-sensitive consumer has its sights trained in the price tags.
Health is wealth, literally
It's a no brainer that a pandemic will bring to light the importance of health. People are increasingly becoming more worried about their own health and well being as well as that of their family and friends.
People are looking to eat better, sleep longer, exercise regularly and bring about a positive change in their lifestyle.
While this has served as a boon for the fitness apps industry, wearable fitness devices and e-commerce platforms fulfil nutritional needs.
People have started ordering nutritional supplements in bulk. In fact, there has been a shift in the way many commerce brands position themselves, just so that they can hop on to the bandwagon of supplement mania and keep being relevant.
With the consumers adapting to the changing here are a few tricks that can help companies know what the consumer is up to, letting them stay ahead in the game:
Changing money usage
About half of the entire consumer base is right now focused on saving money. With the future being as uncertain as ever, savings have become a priority.
Survival of the smartest
Consumers have now turned their attention to essentials. With their main priority being savings, brand loyalty has gohttps://webautomation.io/pde/Lazada-web-Scraper/285/ne for a toss and people are focusing on getting the best quality at the lowest prices.
Availability concerns
If your brand is cheap and easily available, it is most probably their first choice. Gone are the days where people will wait for an exclusive product. When it comes to daily essentials now, people want instant gratification.
If you are looking to keep up to date with the latest market trends and make the most of the changing tides, web scraping with Webautomation is the place to start. Our predefined web scrapers are just what you need to tap into the latest e-commerce trends. Without writing any code, a plethora of info will be at your disposal.
Here are some great web scrapers you can try:
Amazon Product Name and Price Data Extractor
Browse the rest of our pre-defined e-commerce web scrapers at webautomation.io.
WEBAUTOMATION.IO PRE-DEFINED EXTRACTORS
We aim to make the process of extracting web data quick and efficient so you can focus your resources on what's truly important, using the data to achieve your business goals. In our marketplace, you can choose from hundreds of pre-defined extractors (PDEs) for the world's biggest websites. These pre-built data extractors turn almost any website into a spreadsheet or API with just a few clicks. The best part? We build and maintain them for you so the data is always in a structured form. .