Our prebuilt Poshmark web scraper lets you extract data like product information, price, brand, image from numerous product listings quickly and easily, without having to write any code.
Why should you consider scraping Poshmark?
Poshmark is one of the leading fashion websites. Thousands of clothing articles, shoes, accessories and much more are sold and purchased on a daily basis. It's a storehouse of invaluable information.
If you are looking to boost your e-commerce business that deals with fashion and the latest trends, Poshmark is a great place to start. Scraping this website can yield a multitude of data insights, giving you an edge in the market.
Fashion is fast changing. And to keep up with the latest trends, web scraping is the way to go. It can help you extract any product-related information within minutes and give you a competitive edge in the market.
What data you will get from poshmark.com?
brand

colour

condition

description

image

name

original-price

price

size

url
Cost
This pre-defined web scraper is using browser bots to scrape product data. When you use Poshmark Product Web Scraper cost will be $1 for 100 requests.

But why choose Webautomation?
It's great that Poshmark has a plethora of data. But how do you get your hands on it? Getting it manually is nearly impossible.
That's where our predefined web scrapers come into play. These web scrapers have been designed to extract data from any product page on Poshmark. Within minutes you will have a plethora of product information at your disposal.
And the best part? Our web scraper is completely free to try!
What can our data help you with?
Having a wide variety of data at your disposal means better insights. And insights are the backbone of any data-driven strategy. They help you position your brand in the market, making sure you have a competitive edge.
Web scraping can also help you with understanding the marketing strategy of your competitors, allowing you to modify your business strategy for the best outcome.
Price wars can be detrimental, but having an insight into how your competitor is pricing their product can help you with competitive pricing.
Consumer sentiment plays a strong role when it comes to the fashion industry. Once you have a fair understanding of your target audience, you can boost your business by gaining credibility in the market.
Inventory management is the backbone of any product business. By gaining an insight into the current demand and supply, one can boost their business by making smart decisions about their inventory.
How to use it.
Firstly you will need to sign up for a FREE TRIAL account or be signed in. All our web scrapers are easy to use and free to try.
Step 1: Click on "Use For Free"
Step 2: Assign the Pre-Defined extractor by clicking the "Assign PDE button"
Step 3: Enter your starter URLs.
Enter a list of search URLs to start the web scraping. It must be a search URL including the query string for filters.
Please use Poshmark advanced search to filter your search and copy the start URLs.
For best results, we advise that you use precise search criteria and filters while scraping the data; otherwise, Poshmark could restrict the search result.
Step 4: Click "Run Now".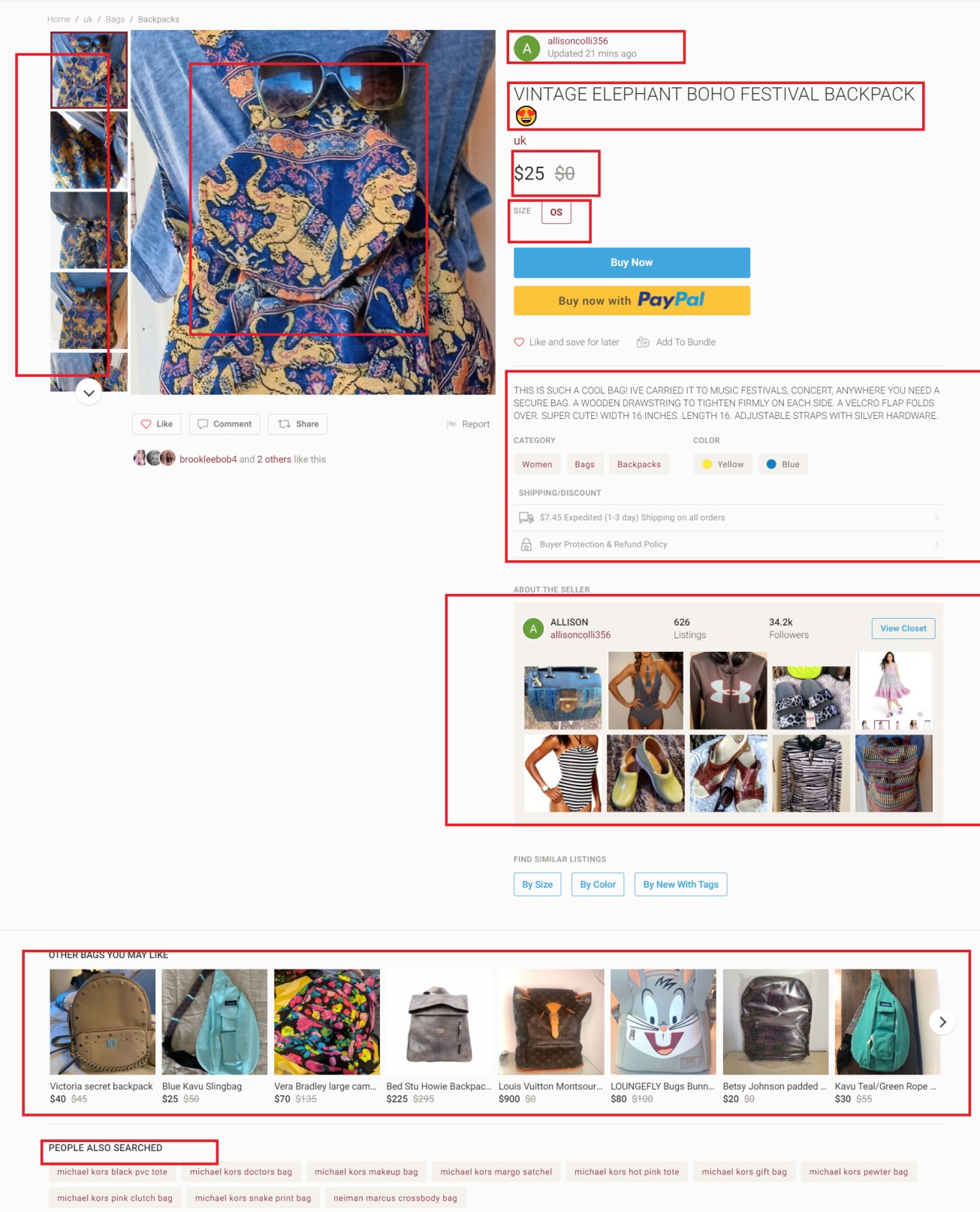 Formats available
You can download the extracted data in the following file formats:
CSV
XML
XLSX
JSON
Upon downloading you can see all extracted elements.