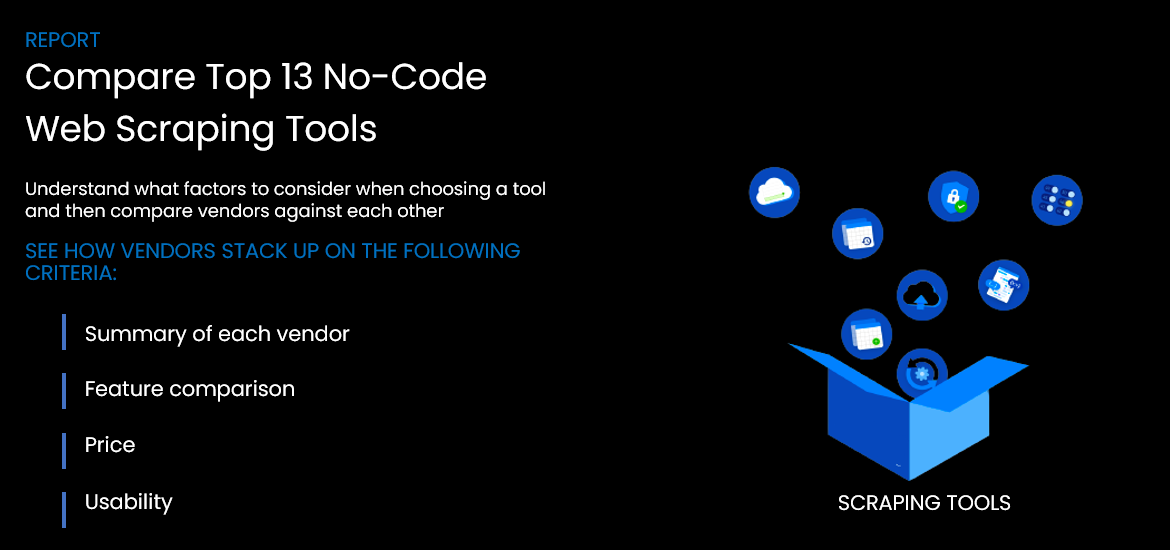 What is No-Code Web Scraping?
The majority of web scraping tools require knowledge of at least a minimal amount of coding to get set up and running.
But what do you do if you need web data, but don't have the skills to write code, or just don't want to learn Python, Javascript, or any other scripting language used for web scraping?
Luckily, there are now many no-code web scraping tools available.
The downside is that with so many no-code web scraping tools to choose from, it's difficult to know which one is right for your business or project.
To help you make the best decision, in this article, we take a detailed look at the top no-code web scraping tools for 2021 and explain the pros and cons of each.
TL: DR
More Affordable: WebAutomation, Octoparse
Most Suitable for Enterprise: Import.io, Mozenda, UIPath, WinAutomation
Quick to Set Up: WebAutomation, ScrapeHero, Webscraper.io
Feature Rich: Octoparse, Parsehub, Import.io, Dexi.io
Ready-made Scrapers/Templates: WebAutomation.io, Octoparse, Scrapehero
Factors to Consider when Choosing a Web Scraping Tool
Looking in from the outside, web scraping may look relatively low cost and simple. But in reality, it can be very painful if you don't choose the right tools.
Here are some factors to keep in mind before making a choice:
Setup time
Depending on your background and patience, you could spend as much as 20-40 hours learning a new tool, reading through documents, watching videos, and chatting with support.
The less technical you are, the more important it is to consider tools that involve less setup time.
Who is it designed for?
Some tools are specifically designed for scraping eCommerce pages or crawling through search engines or lead generation.
Depending on the tool's primary market, it will have features that support those needs.
Does it require developer assistance?
Some tools are advertised as no-code, but you may still need to do some complex configuration or integrate with another tool or system using an API or script.
If you are in a company with a developer, then you likely have the support you need. But if you are a solopreneur or in a small company with no dev resources, then even some no-code tools may be unusable for you.
Price
For many, the ability to start at a reasonable price without too much commitment is important.
If you fall into this camp, check if there is a free trial, if pricing is transparent, and if you are required to commit to a years-long contract.
Scalability
If your data scraping needs will increase if your project is successful, you want to make sure you are using a tool that can scale with you and provide the consistent performance and support you need.
Handling Anti-Scraping
Many target websites employ anti-scraping practices and technologies, and not every web scraping tool can handle this. This means you might get stuck or blocked, or you will need to purchase your proxies or even manually intervene.
Customer support
Customer support is an important factor when deciding on the right tool. When a provider offers great customer support, you know you will get the help you need when you run into the inevitable problems getting set up and running your web scrapers.
Maintenance
Only getting partial data? Has the scraper broken? Did the website block me?
These are common issues faced when web scraping.
You need to decide if you have the time or patience to fix or update the scraper when something goes wrong. If you don't, then you'll want to choose a web scraping tool that handles service and maintenance.
Local vs Cloud
Local solutions scrape the text currently visible in your browser using the resources from your laptop or PC.
Cloud-based solutions scrape via browsers in the cloud using outsourced servers and resources.
For simple, small scrape jobs, a local solution is likely fine.
But when you need to do more complex scraping with large amounts of data, you will have to use a cloud-based service.
Features
If you require more complex features like integrations or handling multi-page navigations, etc, make sure you check if your requirements are met by the tool.
If the tool you like is missing a key feature, check the roadmap and see what's coming next to help determine if it's the right fit, or will be short.
Web Scraping Tools Reviewed
Alright, let's get to it!
Below we dive into these 13 web scraping tools:
Webautomation.io

Webscraper.io

Octoparse.com

Parsehub.com

ScrapeHero

Data-miner.io

PhantomBuster

Uipath

Scrapestorm.com

Mozenda

Import.io

Simplescraper.io

Dexi.io
_______________________________
Customer Reviews
G2

Capterra

Ratings

Reviews

1

Webautomation.io

4.8

4.8

2

Webscraper.io

NA

NA

NA

NA

3

Octoparse.com

4.5

4.6

4

Parsehub.com

4.3

4.8

5

ScrapeHero

4.6

4.8

6

Data-miner.io

4.8

NA

NA

7

Phantombuster

4.1

4.8

8

Uipath

4.6

4.6

9

Scrapestorm.com

4.2

4.7

10

Mozenda

4.0

4.4

11

Import.io

NA

NA

3.6

12

Simplescraper.io

NA

NA

NA

NA

13

Dexi.io

NA

NA

4.7
_______________________________
WebAutomation.io
You didn't think we'd make a list of the best no-code web scrapers and not include ourselves, did you?
WebAutomation has the biggest library of ready-made, no-code web scrapers.
With just a starter URL and a few clicks, you can start extracting data from your favorite site without coding or building a scraper from scratch.
Webautomation makes and maintains hundreds of ready-made web scrapers. These include 70% of the top 100 eCommerce sites like Amazon, eBay, and Walmart. There are also real estate sites like Trulia, and Zillow as well as Directories (e.g., Yellow Pages), Google Maps, Travel sites (Booking.com, TripAdvisor, Airbnb, etc.), and many others.
Pros
Quick setup time: typically you only need to input a starter link like a search URL and click the Run button to start

Runs on the cloud: No need to download any software or extensions

​Extract data on a schedule (hourly, daily, weekly, etc)

​No Maintenance: They monitor and resolve any issues relating to website structure changes and blocking from the website

Data Change reporting feature tracks changes in a selected field since the previous extractor run
Cons
Pricing

Webscraper.io
Webscraper is a popular Chrome extension tool. Once you install the extension, you can point and click the elements on the screen to configure it to scrape a particular site.
Pros
Easy to use and simple to learn

Free browser extension to scrape locally
Cons
Pricing
Octoparse.com
Octoparse has a powerful visual point-and-click interface with a lot of features to control what and how you scrape. It requires you to download a desktop application that can be run locally or in the cloud.
Pros
Enables use cases like infinite scroll, pagination, and custom Javascript execution

Templates for popular websites
Cons
A bit complex to get started for the non-technical

Must be run through the desktop application which is only available in windows
Pricing
Parsehub.com
Similar to Octoparse, a desktop app with a visual interface that allows you to visually select elements on-screen.
Pros
A lot of advanced features for complex use cases like infinite scroll, pagination, custom Javascript execution

Free option for simple local scraping tasks

Has both cloud and local scraping options
Cons
Pricing
ScrapeHero
ScrapeHero offers both an enterprise-managed scraping service as well as a small self-service marketplace offering ready-made scrapers for popular websites like Twitter, Amazon, and LinkedIn.
Pros
Ready-made self-service tools for popular websites in their marketplace

Option of Managed service for Enterprise clients
Cons
Pricing
Data-miner.io
A popular Chrome extension with over 200k installations. Although it's only a Chrome extension, they provide you with loads of advanced features like desktop applications.
Pros
Provide you with "recipes" which are templates with steps and rules to scrape popular websites. This allows you to "one-click" any of these popular websites to get started

Easy to install and get started
Cons
Pricing
PhantomBuster
PhantomBuster is used to automate processes for growth hackers. It comes with "phantoms" which are prebuilt tools for actions like scraping emails and auto-liking on social media sites like LinkedIn.
Pros
Pre-built solutions for scraping emails and profiles

A large variety of pre-built lead generation tools from popular social media sites
Cons
Pricing
Uipath
The most well-known Robotic Process Automation software on the market also has a web scraping function. The desktop application features a powerful visual drag-and-drop interface suitable for non-developers.
Pros
Loads of features for complex use cases and dynamic web pages

Features extend beyond web scraping, so can be leveraged to automate other internal processes
Cons
Only suitable for Enterprise companies due to the costs and set-up

Only available on Windows, sorry Mac users!
Pricing
As the application is aimed at Enterprise customers, the annual license starts at $3990/year and can go up to the six-figure mark depending on the number of licenses and size of the company/department.
Scrapestorm.com
ScrapeStorm is an AI-Powered visual web scraping tool that can be used to extract data from almost any website without writing any code. It is desktop-based which means you have to install it on your Windows or Mac.
Pros
Supports Windows, Mac and Linux
Cons
Does not support any cloud services which means you have to manage your infrastructure
Pricing
Mozenda
Mozenda targets Enterprise sized companies and claims to have 1/3 of the fortune 500 as clients offering a tool as well as managed services for use cases like enterprise-scale price monitoring.
Pros
Cons
Pricing
As you have to contact sales to get pricing, pricing isn't transparent but historically started from $99/month
Import.io
Import.io historically had a self-service visual web-based scraping tool available to anyone but as of August 2020, they closed this option and are now an Enterprise web scraping platform.
Pros
Intuitive and well-designed UI/UX

Easy to use and get started
Cons
Pricing
Since you have to contact sales to get pricing, this isn't transparent but historically pricing started from $249/month.
Simplescraper.io
As the name suggests, Simplescraper is a simple Chrome extension for web scraping. From your browser, you can point and click to select elements and configure your scraper.
Pros
Cons
Pricing
Dexi
Dexi is a browser-based tool allowing you to scrape data from any website. It provides three types of robots for you to create a scraping task — Extractor, Crawler, and Pipes. Dexi.io is another company that has moved towards the Enterprise market after rebranding from Cloudscrape.
Pros
Browser-based so no need to download any applications

Data flows & pipelines; which means you can transform the data using external APIs

A lot of advanced features and Integrations
Cons
Pricing
Starts from $109 /Month
Conclusion
Web scraping can be done by people with varying degrees of experience and knowledge. Whether you're a developer wanting to perform large-scale data extraction on lots of websites or a growth-hacker wanting to extract email addresses on directory websites, there are many options.
We hope this list will help you choose the right tool for the job (hint: it's probably WebAutomation

).
Happy Web Scraping!
Get started with WebAutomation for Free today!
At WebAutomation, We make the process of extracting web data quick and efficient so you can focus your resources on what's truly important, using the data to achieve your business goals. In our marketplace, you can choose from hundreds of pre-built extractors for the world's biggest websites.
These pre-built data extractors turn almost any website into a spreadsheet or API with just a few clicks. The best part? We build and maintain them for you!
Using WebAutomation lowers costs, requires no programming, enables you to get started quickly since we build the extractors for you, and means you'll always have the help you need to keep your extractor running since we handle all the backend security and maintenance.
Web Scraping has never been this easy.