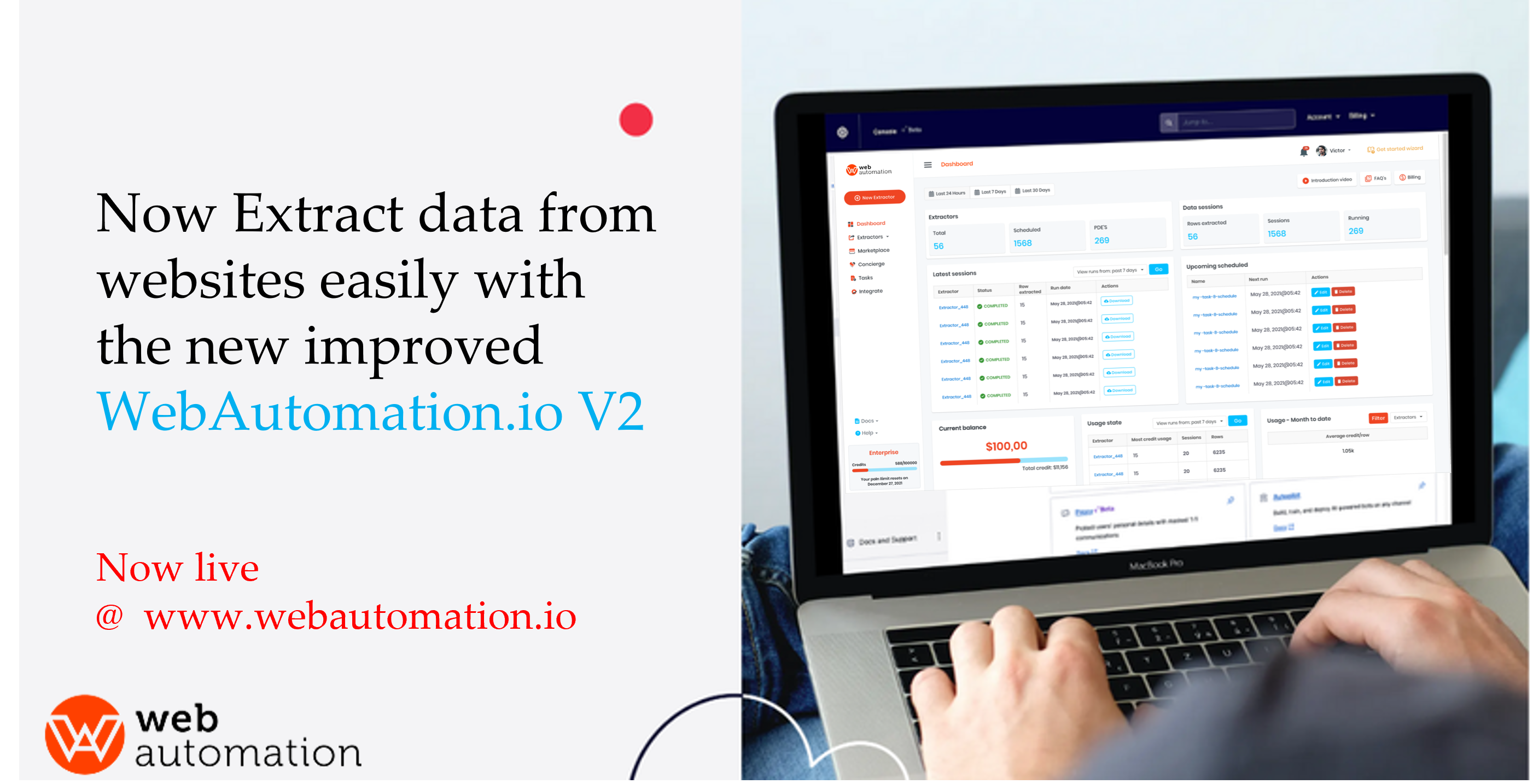 We are proud to announce the launch of the newly redesigned www.webautomation.io app
The new webautomation.io app is now in live and features;
A Get stated Wizard for super easy creation of new extractors in 3 steps

A new modern design, re-architected, re-organised and simplified user experience

New pricing and billing system see here to learn more
Start extracting data on Webautomation.io, today!
Why a new Webautomation.io ?
Webautomation.io is now a critical part of what hundreds of developers, marketers, analysts and entrepreneurs rely on a daily basis to get the data needed to power and run their businesses
As we've grown our platform, we have been fortunate to speak to thousands of users like you. Consistent feedback we have received is that the application isn't always easy to use especially those new to web scraping. We hear you, and are happy to share that we have addressed most of your challenges.
Our mission to make it as easy as possible for all our users to access web data to support their businesses. This is why we are thrilled to introduce the new Webautomation.io App (V2)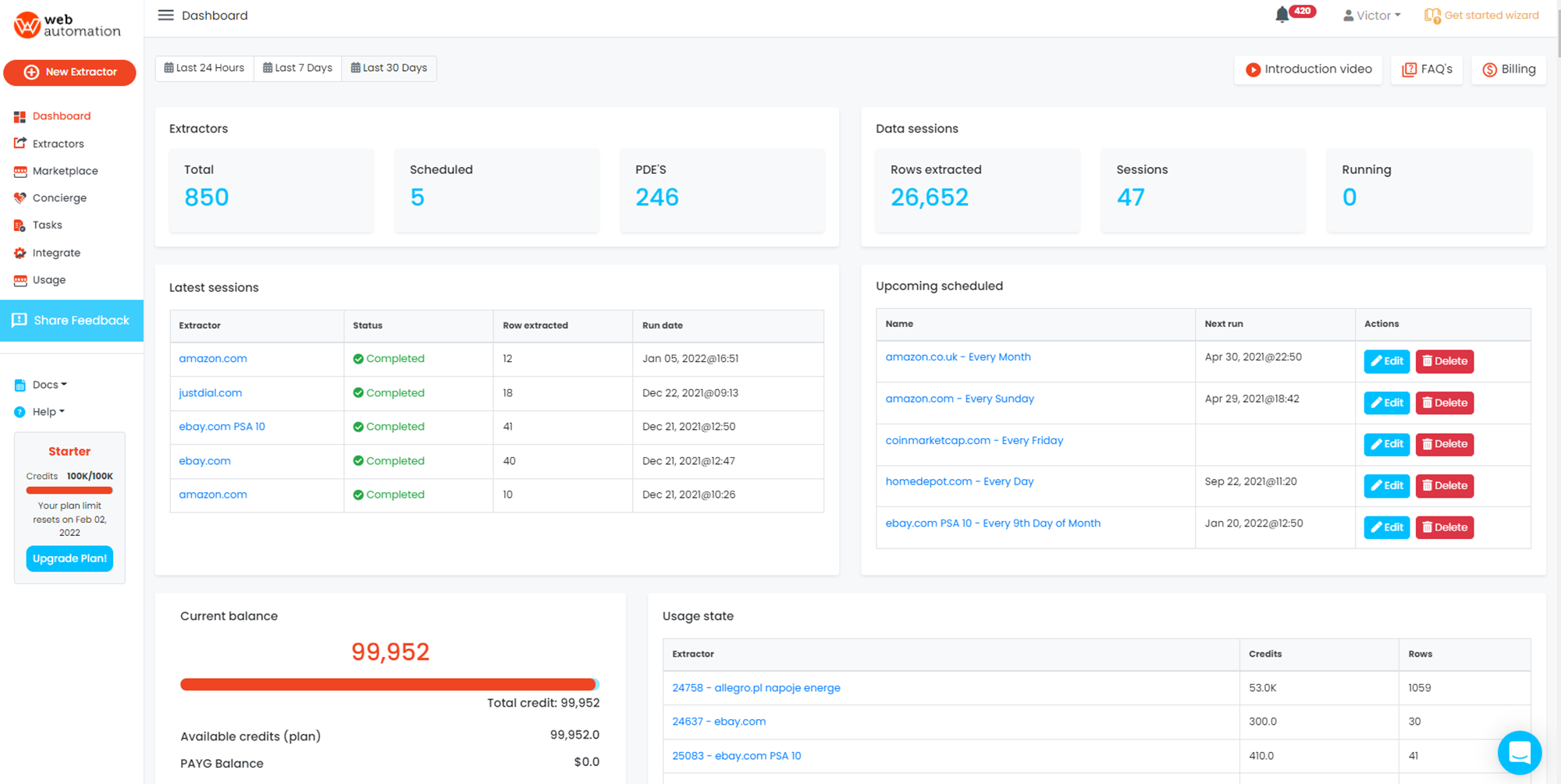 User research to guide the way
Our new app experience is resulted from extensive research, numerous revisions, and a tight feedback loop of usability testing from users.
Our research isn't going to stop with this launch. This release is just another step in what we want to be a constantly improving app. We will continue to improve the app experience day by day - but your feedback is critical.
Please help us by contributing your ideas, feedback and yes even bugs through the feedback button on the left hand side of the app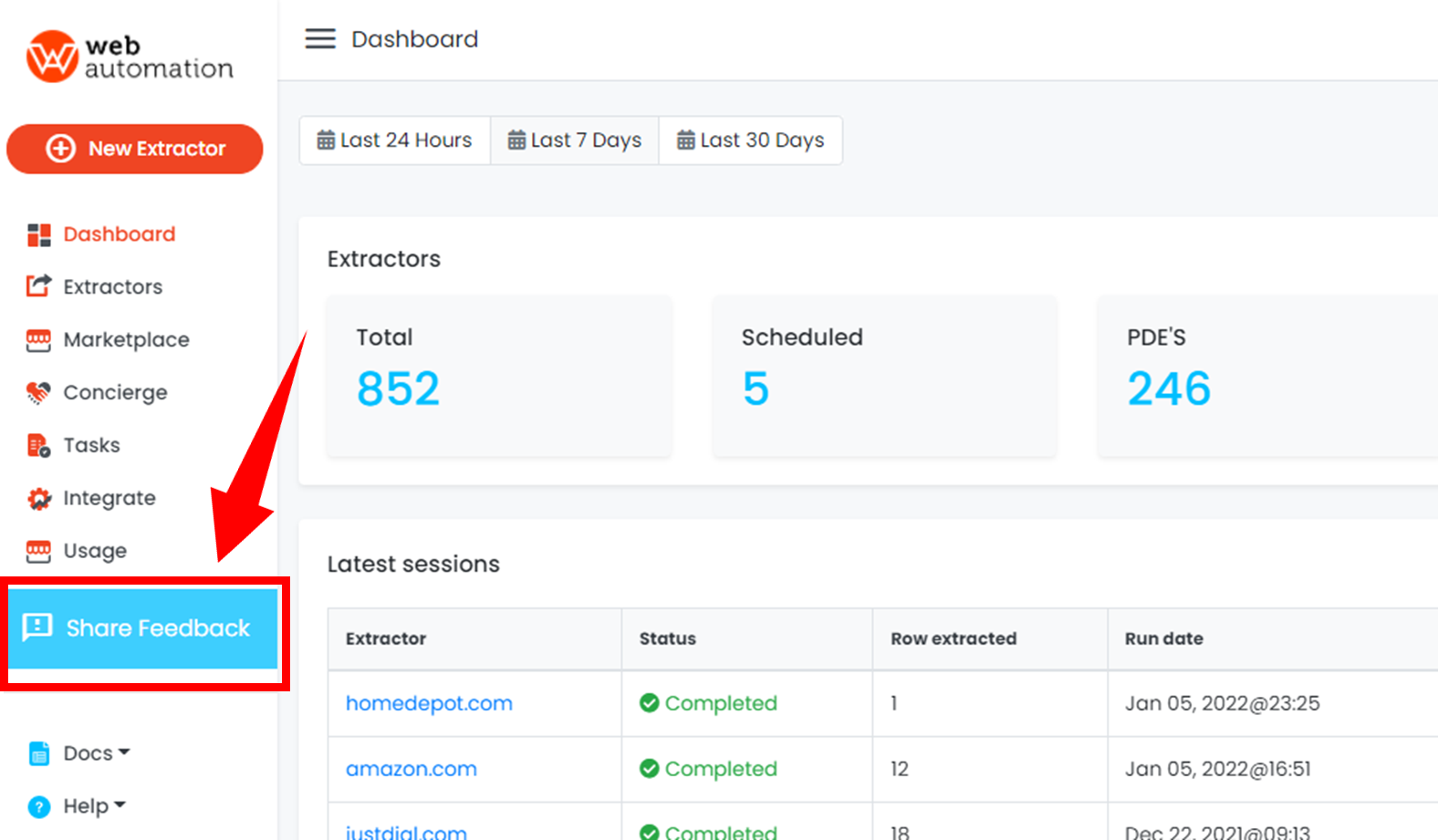 The Webautomation.io Get Started Wizard
We have introduced a new, improved and quicker way to create and run extractors. The Wizard is a simplified version of our app which guides you down the shortest path to creating a new extractor and running it in just 4 easy steps. New users will always start in the wizard mode, existing users can always go back into wizard mode by clicking the "get started wizard" button at the top right of your screen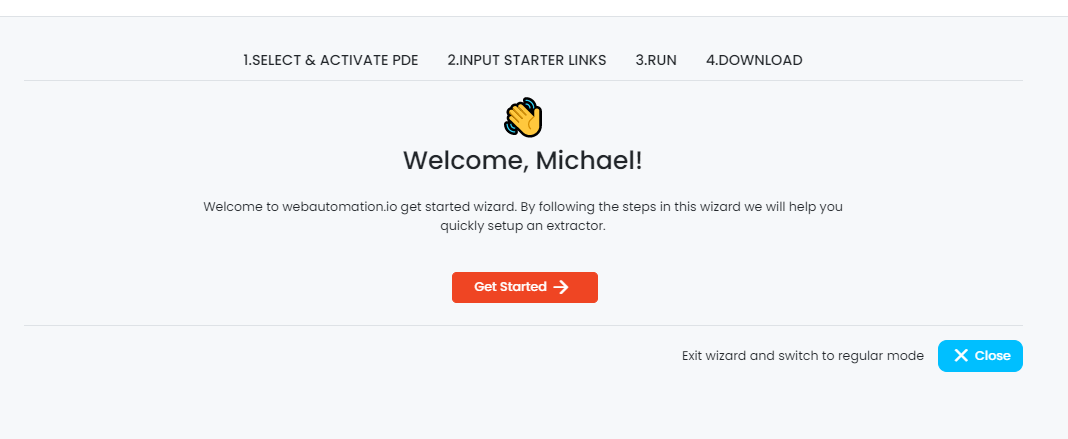 New and improved navigation/look & feel

The new left side navigation is designed to make webautomation.io simpler for both technical and non-techies alike. We have reorganized content into the below main areas most focusing around extractors. This represent how you think about web scraping with webautomation:
Extractor : A focused experience for users to manage, configure and run all their existing extractors
Marketplace : A library of all available Pre-defined extractors with easy filtering and categorisation
Concierge : Dedicated view to request new extractors to run on webautomation.io
Dashboard : A Dashboard with summary of usage, and performance of extractors consolidated in a single place
Integrate : A starting point to configure your extractor to integrate your output data with external apps
These sections have consistent navigation that will make it very straightforward to find what you need, and to move seamlessly across our application
New Billing and Pricing system
Here is our new billing system which charges you based on number of rows of data extracted. From the 7th of Jan 2022, we're launching a new billing system which charges you credits based on number of rows of data extracted compared to the previous system which charged based on number of requests to pages. Existing paid customers need not to worry as your monthly allowance would not be affected during the migration .
So now you can know exactly how much credits you will be used before every session. Please click here to read more

Can't wait to get started?
Simply click here to head over to the new webautomation.io.
We've even put together a guided tour so that you don't get lost along the way.
Join us for a webinar on Jan 12 , 2022 to see it in action.
If you want to provide feedback directly to our team and learn early about upcoming features, please feel free to email info@webautomation.io
Head over to your webautomation Console to start extracting data!
We are excited to see how you get on !