Yahoo Finance Stock Info Extractor
Our prebuilt Yahoo Finance scraper extracts the trading summary for any public company listed on Yahoo finance
What data you will get from Yahoo Finance?
1y-target-est
52-week-range
actual-value
ask
avg-volume
beta-5y-monthly
bid
days-range
earnings-date
eps-ttm
ex-dividend-date
exchange-information
forward-dividend-yield
market-cap
name
open
pe-ratio-ttm
previous-close
volume
url
The annotated screenshot below shows some of the Yahoo Finance data fields we will be scraping: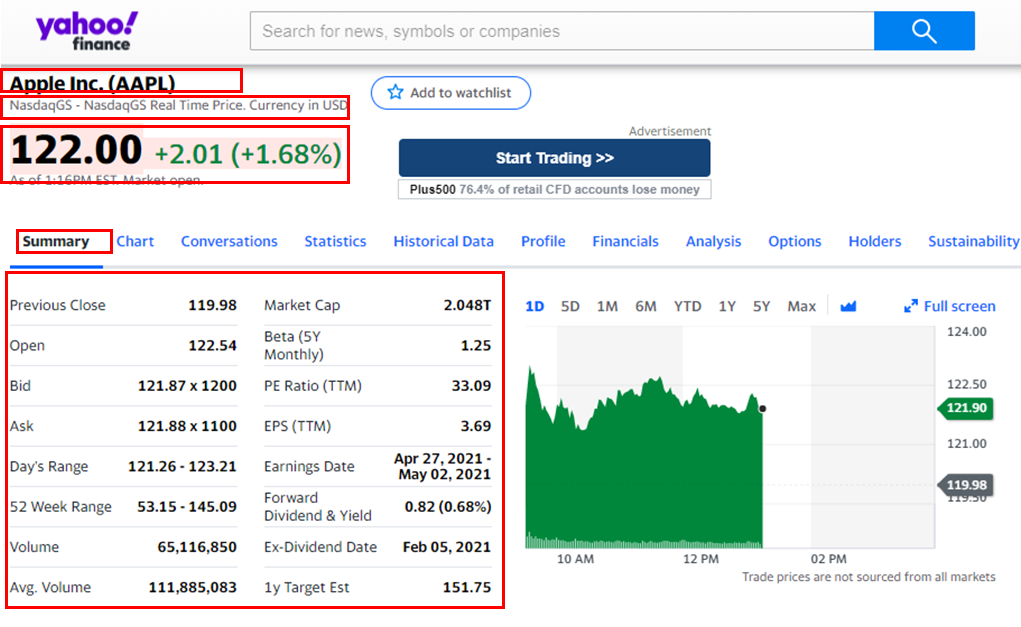 Video tutorial
Watch how I quickly use the tool to extract data from Yahoo Finance
How to use it.
Firstly you will need to sign up for a FREETRIAL account or be signed in.
Step 1: Click on "Use For Free"
Step 2: "Click the Activate button" to assign your PDE to your account.
Step 3: Enter your starter URLs.
Starter url will be a public company page on Yahoo Finance e.g https://finance.yahoo.com/quote/AAPL?p=AAPL
What does the output data look like?
When it is available this data will have rows which represent a single page's information such as its 1y-target-est, 52-week-range, actual-value, ask, avg-volume, beta-5y-monthly, bid, days-range, earnings-date, eps-ttm, ex-dividend-date, forward-dividend-yield, market-cap, name, open, pe-ratio-ttm, previous-close, volume, url, timestamp, etc from yahoo.com.
*** Data below was extracted on Jul 07, 2023 @13:28
Sorry we are unable to show you data for a while. Data would be ready today please visit this page later.