Rightmove Sold Properties Data Scraper
Our ready to go Rightmove data extractor will help you extract data for all sold properties listed on Rightmove in the UK.
Data that will be extracted include Address, Property features, Price Sold, Property Size, Property Type, Sale Date, Source
See screenshot below of the elements which will be extracted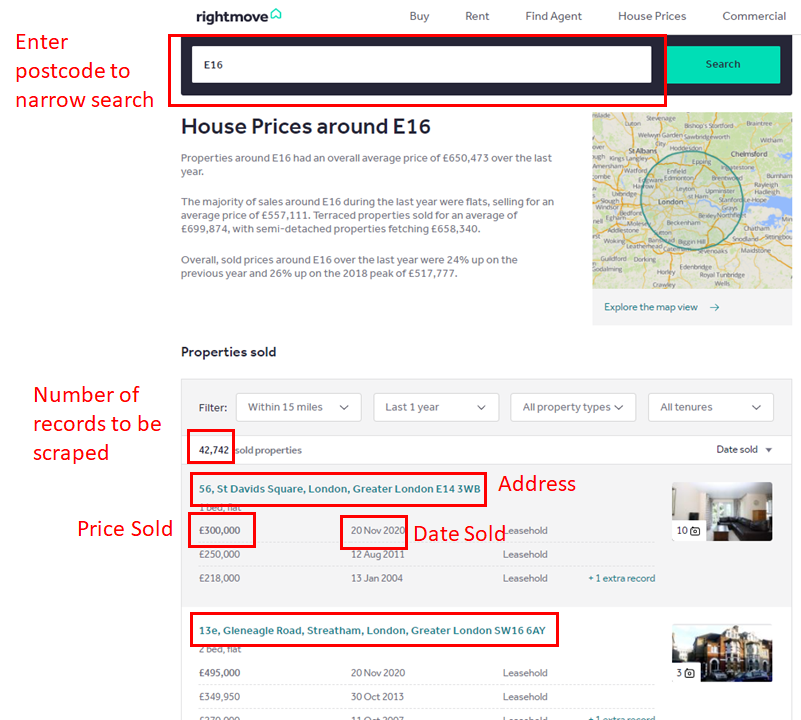 Steps to use:
Step 1: Click on "use for Free"
Step 2: Activate the Pre-Defined extractor by clicking "Activate button"
Step 3: Enter your starter URLS

Enter List of search URLs to start the web scraping. It must be a search url including querystring for filters.
Please use Rightmove Sold House price Search to filter your search and copy the start urls
Step 4: Click "Run now"
How this Extrator works
The Extractor enters every property page and get its information from the given starter link. If the house doesnt have a link, the extractor skips and continues with following houses
What does the output data look like?
This data consists of up to 6 lines of which each one represents a single (unique) page's information such as its adress, key-features, price, property, property-size, property-type, sale-date, source, url, etc from rightmove.co.uk.
*** Data below was extracted on Apr 27, 2021 @06:45