Our prebuilt Checktrade web scraper lets you extract data like trade people information, prices and reviews etc. from numerous listings quickly and easily, without having to write any code.
Why should you consider scraping Checktrade?
Checkatrade is an online trade directory that allows tradespeople to connect with their consumers. If a trades person becomes a member of the platform, it can advertise its services to millions of users, making it a goldmine of local business information.
No one understands the local market than the people who do business there regularly. Whether you are an individual looking for a plumber or an agency looking to set up your base, scraping Checkatrade can give you access to unique information about the trends in the local market, allowing you to make profitable decisions.
A simple search can give you ready access to information like address, contact number, location, working hours, reviews and much more. With web scraping, information about hundreds of businesses can be collated and analyzed at once.
But why choose us?
Checkatrade may house a plethora of information, but extracting it and organizing it in a format that is easy to understand is not an easy task.
Companies are always looking to keep their data safe and block any attempts at extracting the same.
That's where our predefined web scrapes come into play. These web scrapers have been designed to extract data from any product page or listing on Checkatrade. Within minutes you will have a plethora of product information at your disposal.
And the best part? Our web scraper is completely free to try!
What can our data help you with?
Checkatrade can not only offer information about the various traders on the platform, but also help in generating a list of sales leads for profitable results.
If you are an individual, scraping Checkatrade can help you find the best tradesman based on the review and your budget.
Location, address, area, contact information, email address, a website all can be scraped from Yellow Pages.
Video Tutorial
How it works
All our web scrapers are easy to use and free to try.
Step 1: Click on "Use For Free"
Step 2: Assign the Pre-Defined extractor by clicking the "Activate PDE button"
Step 3: Enter your starter URLs.
Enter a list of search URLs to start the web scraping. It must be a search URL including the query string for filters.
Please use Checkatrade Advanced Search to filter your search and copy the start URLs.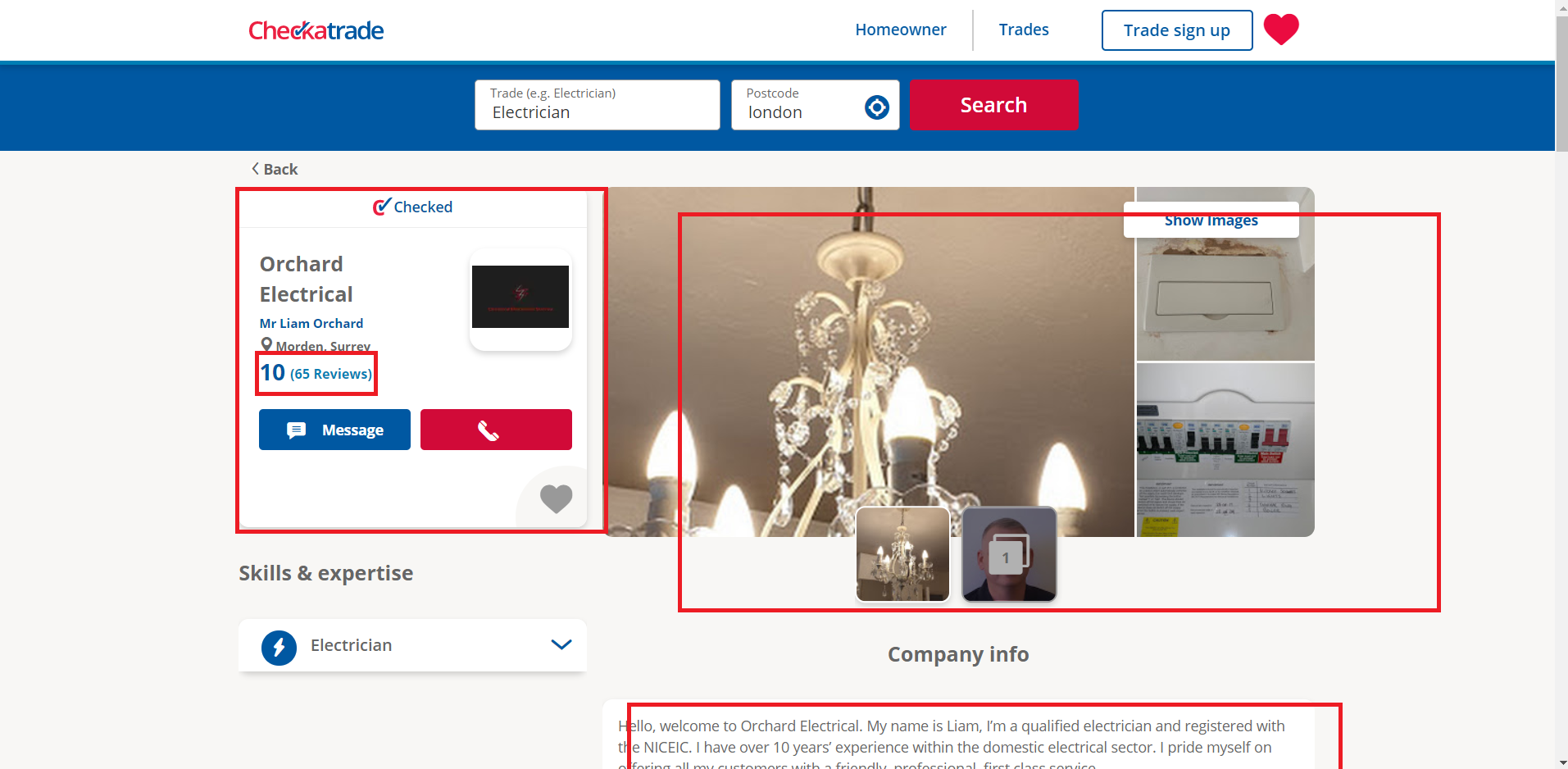 Formats available
You can download the extracted data in the following file formats:
CSV
XML
XLSX
JSON
Upon downloading you can see all extracted elements.
What does the output data look like?
When it is available this data will have rows which represent a single page's information such as its address, company_info, contact_name, name, number_of_reviews, rating, skills_expertise, phone, website, url, timestamp, etc from checkatrade.com.
*** Data below was extracted on Jun 06, 2023 @09:30
Sorry we are unable to show you data for a while. Data would be ready today please visit this page later.