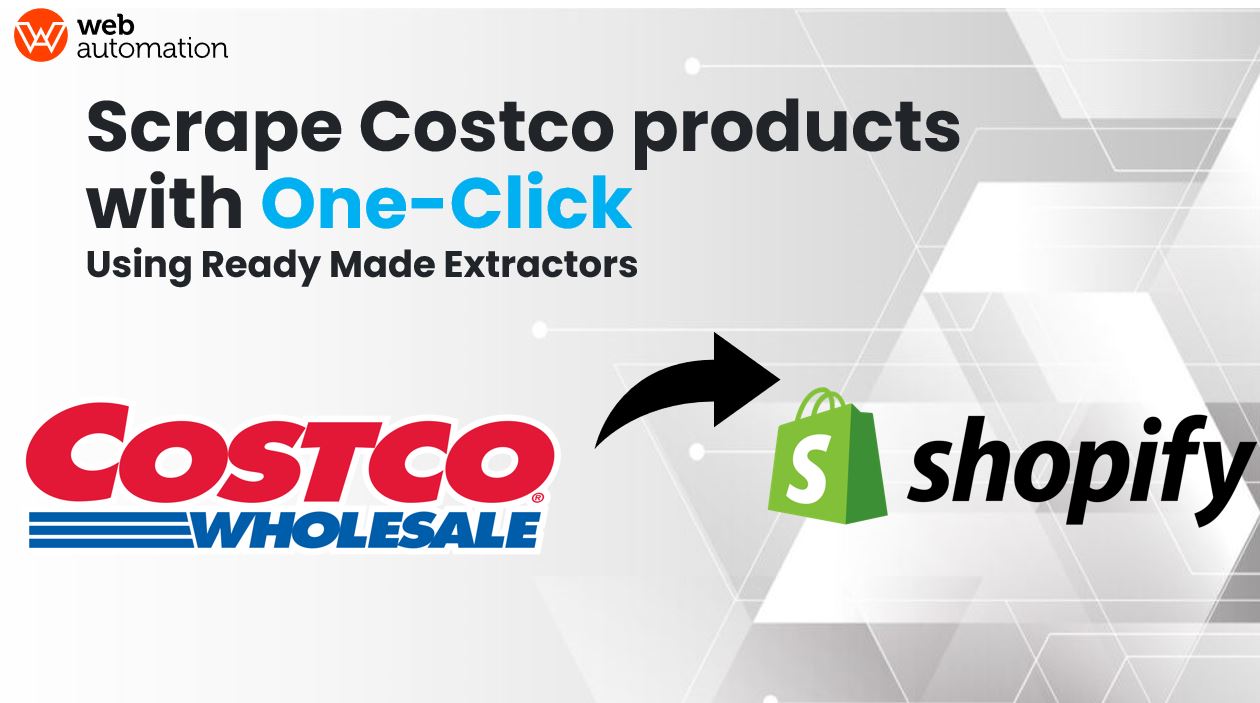 How To Scrape Costco For Shopify Dropshipping
Online e-commerce has revolutionised the way products are sold. Although online shopping has many advantages for consumers, retailers face many challenges i.e
The retailer has to buy and stock products physically in advance
The retailer needs to arrange for the products delivered to the customer
The retailer needs to factor in and be responsible for all the logistics, packaging and fulfilment
A solution to this challenge is Dropshipping!
Dropshipping is a new way to sell online where the retailer focuses on the marketing and sales of the product. All the backend packaging, stocking and fulfilment is managed by a thirdparty.
Video Tutorial
In this article we will show you have to scrape products from Costco one of the most popular wholesaler to a shopify ecommerce store
Pre-requisites
___________________________________________
Scraping is becoming increasingly popular as people all over the world are now using these automated scraping tools to gather data, analyse it, and improve products/ services accordingly.
How To Use Webautomation.io Costco Scrapers- Detailed Steps
Step 1: Sign up /Sign in
If you don't have an account on webautomation, please use the signup link for a free trial. New users can use the email address to create an account.
Step 2: Find the right Costco from the marketplace
Users need to begin with accessing a suitable Costco domain according to their location. For instance, users in the U.S. can choose www.costco.com or if in Canda use www.costco.ca.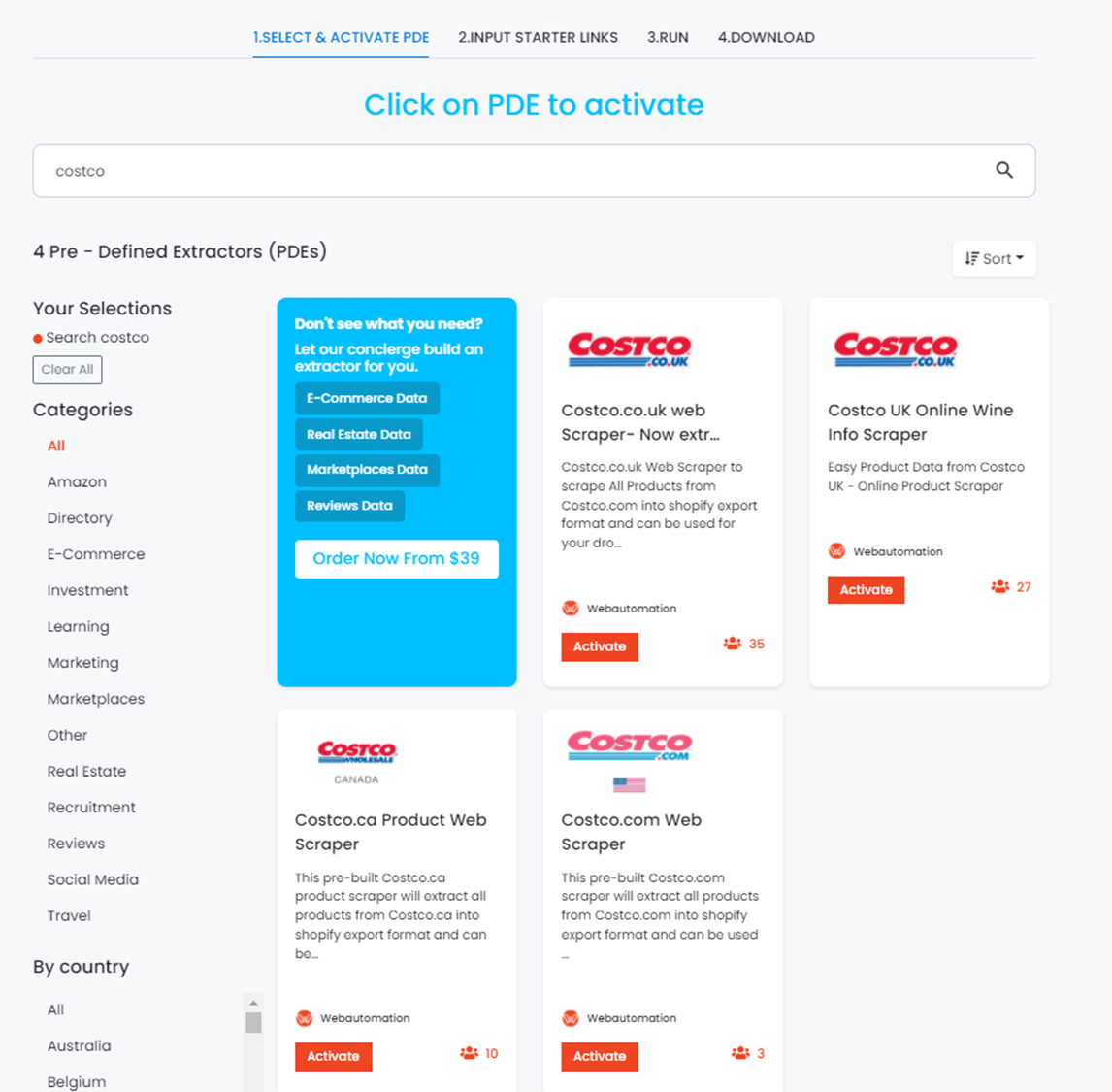 However, users in the UK need to access a different domain which is www.costco.co.uk.
It is important that users enter the right domains because the local warehouse product availability and prices differ for each of these locations. So, a product available at the U.S. outlet may not necessarily be available in the UK.
2. Start Adding URLS
Once you find a suitable Costco domain, proceed to add the category URLs into the web scraper. By default the sitemap URL will be there and this will scrape the entire catalogue of products. If you wanted to scrape only a category e.g https://www.costco.ca/office-products.html please insert this url
3. Run Scraper
Users need to run the scraper once they have added the relevant URLs.The scrapers will continue to collect data from the website, categorise them and make them available for storage. The scraping process depends on the kind of scraper you choose.
For instance, a reputable data scraper like Webautomation.io, offers the best possible options for users. We will talk about these options ahead.
4. Export Data
Once the scraping process completes, users can export data for further analysis and use. This is where Web Automation.io's spreadsheet conversion option comes in handy. It allows users to gather all the data, and turn it into a spreadsheet for better analysis and usage.
You can export the data through any of the supported formats like CSV, XSLX, JSON
How To Import Data Into My Shopify Store?
step 1: login to your shopify acount
Importing data into your Shopify store is not difficult with the right steps. Users need to follow the following method.
Access your Shopify Admin section, and go to Products.
Next, click Import.

Click on Add file, and choose a CSV file that you want to import. (Users who want to overwrite values for existing handles can access the Overwrite option to change any current products with a similar handle. However, the existing values will be a part of missing values.
Click Upload and continue.
Recheck the details about imports, and click on import.
For more information, we suggest you check out the Shopify Manual.
WEBAUTOMATION.IO PRE-DEFINED EXTRACTORS
We aim to make the process of extracting web data quick and efficient so you can focus your resources on what's truly important, using the data to achieve your business goals. In our marketplace, you can choose from hundreds of pre-defined extractors (PDEs) for the world's biggest websites. These pre-built data extractors turn almost any website into a spreadsheet or API with just a few clicks. The best part? We build and maintain them for you so the data is always in a structured form. .
FAQs
How can I scrape all products from Costco?
Users need to use a Shopify compatible web scraper like web automation.io.
How can I import costco export into shopify import format?
Users can refer to our step-by-step guide mentioned in this article (insert link) to import Costco expert into shopify import format