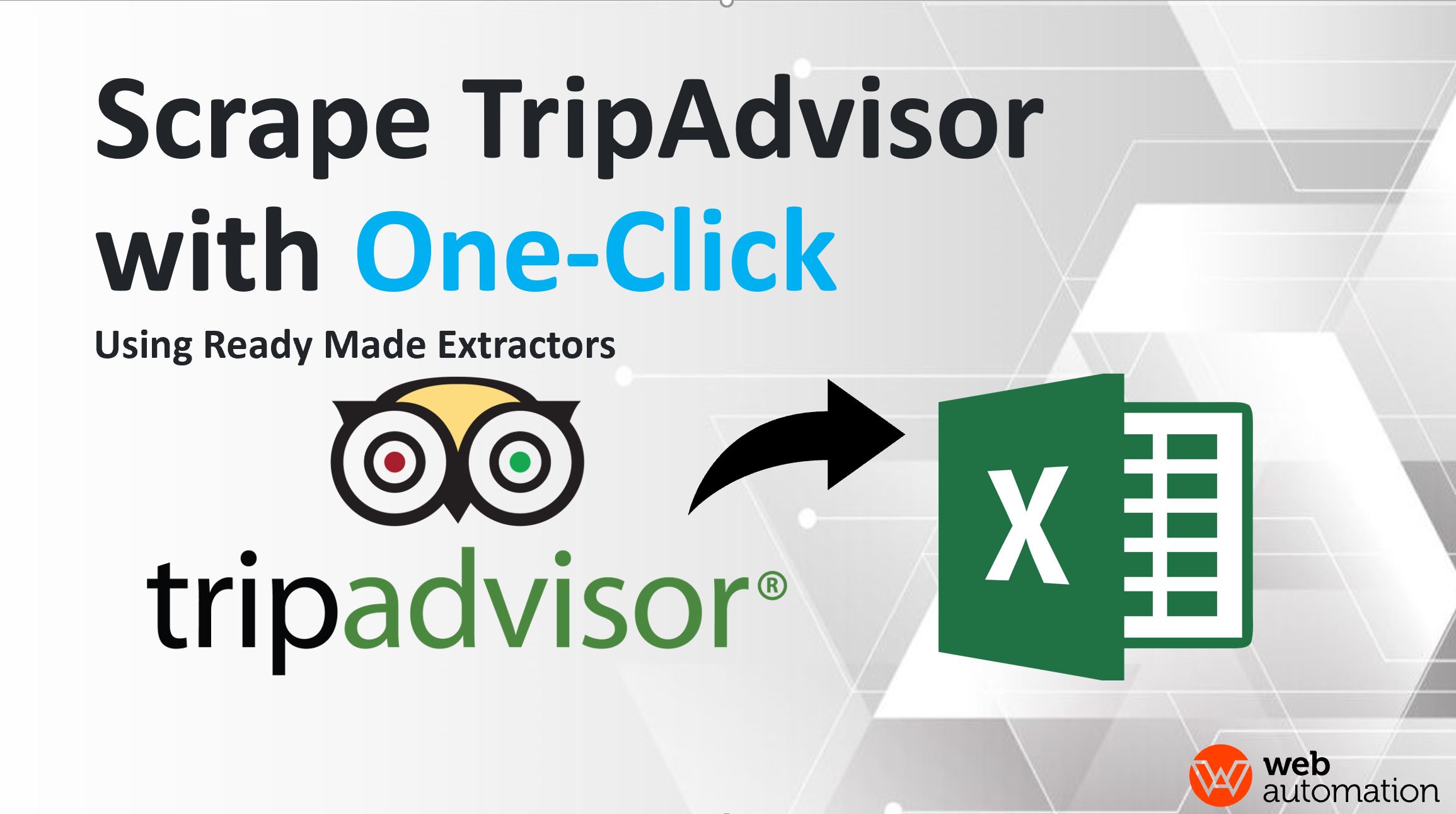 For any Business aiming to sell to users in the hospitality sector one of the best sources to find potential leads is Tripadvisor. Tripadvisor is the ultimate database of hotels, restaurants, and attractions globally. Tripadvisor provides details of these businesses including ratings, reviews, contact numbers, and emails.
In this how-to guide, we're going to show you how to use WebAutomation's ready-made TripAdvisor Scrapers to extract data from TripAdvisor and export it to a CSV file. With this tool, you will be able to extract data like Name, Address, Facilities, email, phone number, prices, reviews, and ratings for Hotels, Restaurants, and Attractions
See the data highlighted in the screenshot of the information from TripAdvisor you will be able to extract.
TripAdvisor Restaurants Data Screenshot

TripAdvisor Hotel Data Screenshot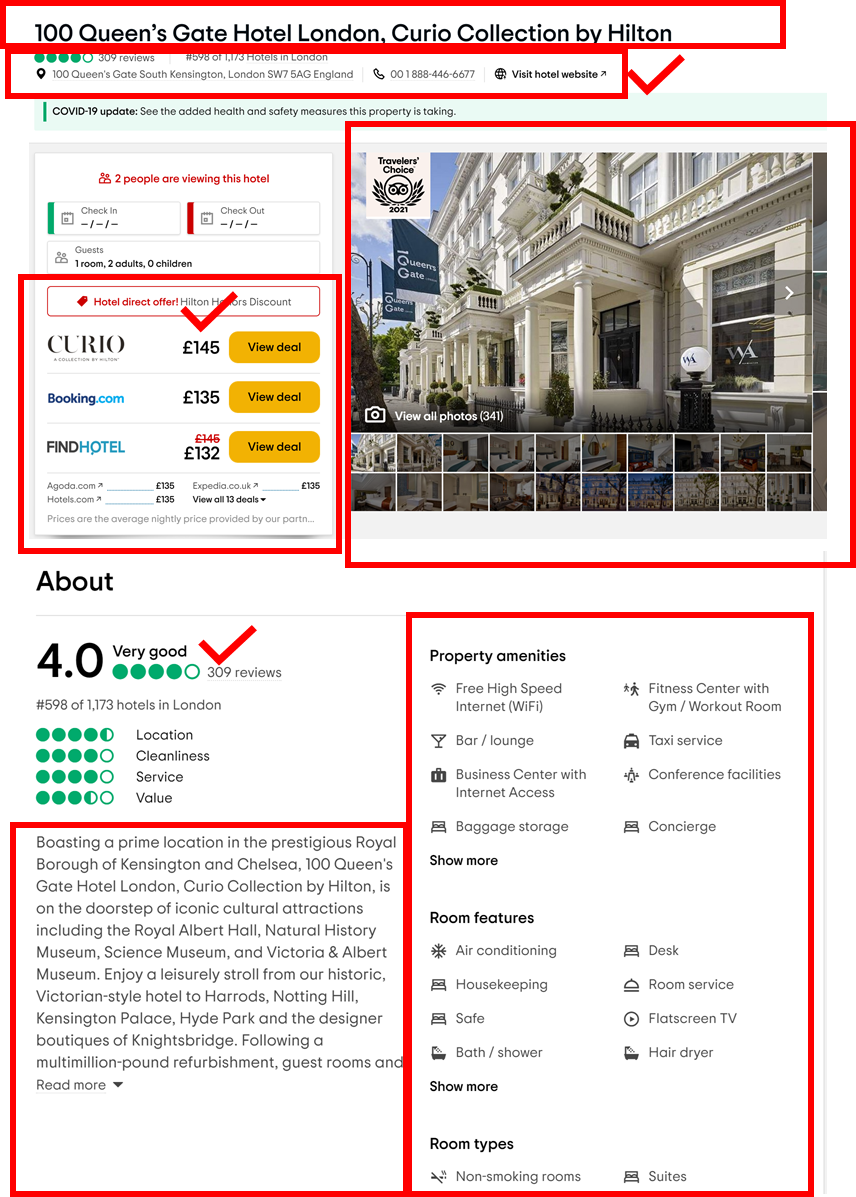 Video Tutorial
Watch the below video, which shows how most of the above data of hotels or restaurants can be scraped from Tripadvisor using WebAutomation.io Pre-built TripAdvisor scraper.
Step 1: Sign up /Sign in
If you don't already have a Webautomation account, you can sign up for a free trial account with your email here.
Step 2: Find the TripAdvisor Scraper
Once you sign in you will be redirected to the in-app home page. As we are looking only for the TripAdvisor Extractor, search for it on the main search bar. When you see the result, click on it. In Webautomation.io you will find 4 TripAdvisor extractors
TripAdvisor Hotel scraper, TripAdvisor Restaurant scraper, TripAdvisor Attractions scraper. For this tutorial, we will use the restaurant scraper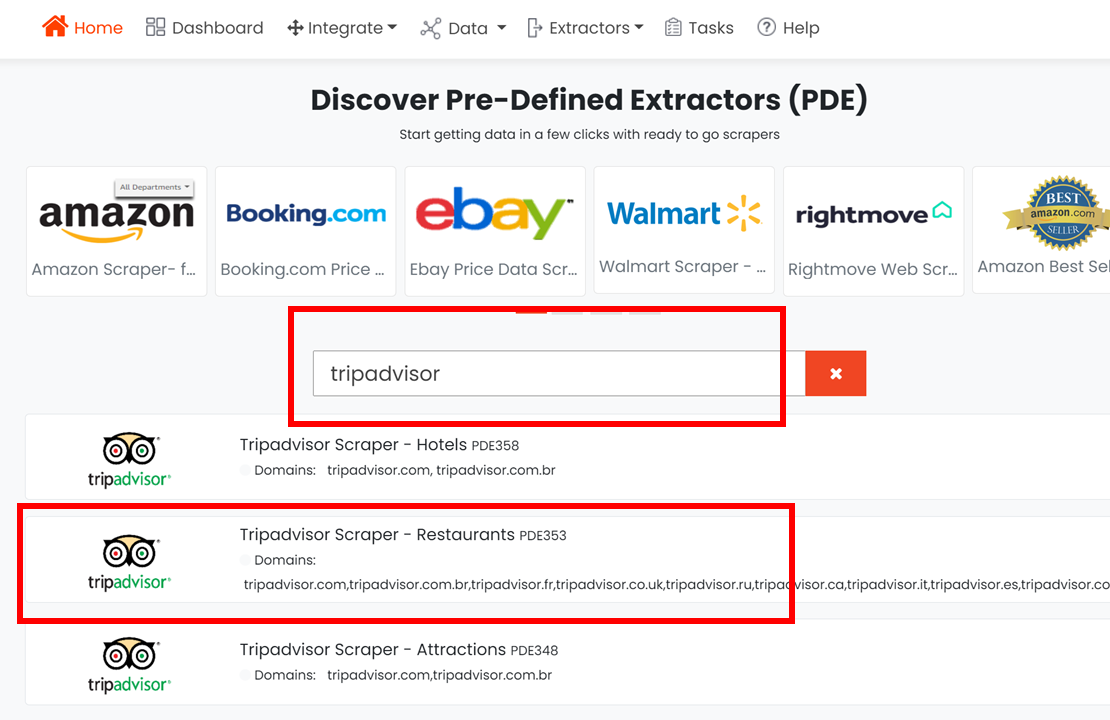 Step 3: Activate
To confirm you want to go ahead and add the extractor to your profile, click the Activate button.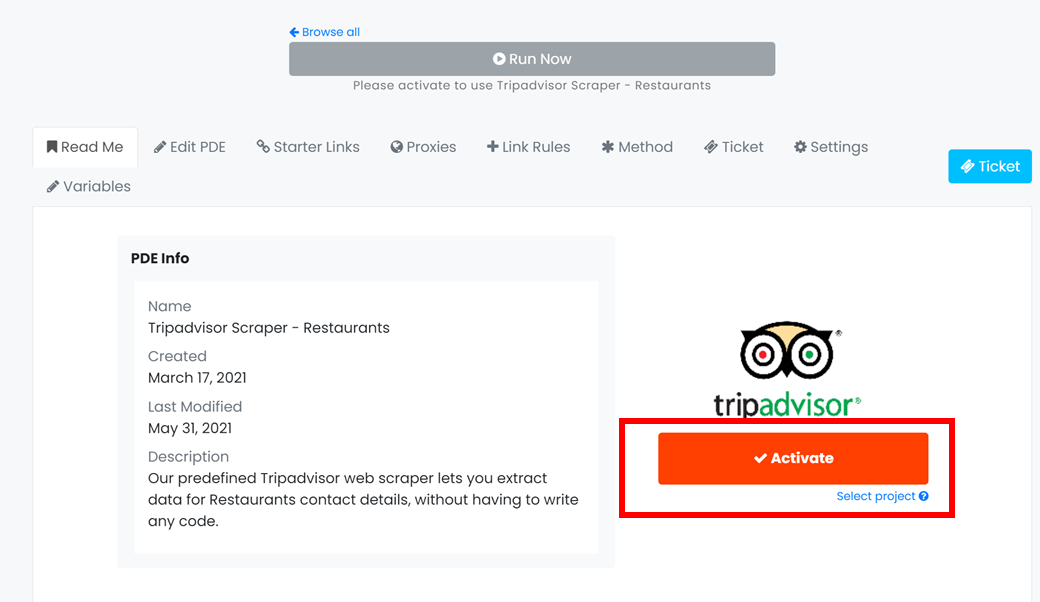 Step 4: Get URLs from TripAdvisor
Open TripAdvisor.com in a new tab and then select restaurants and add a location e.g. London. For this example, this London Restaurant search gives us all the Restaurants listed on TripAdvisor in London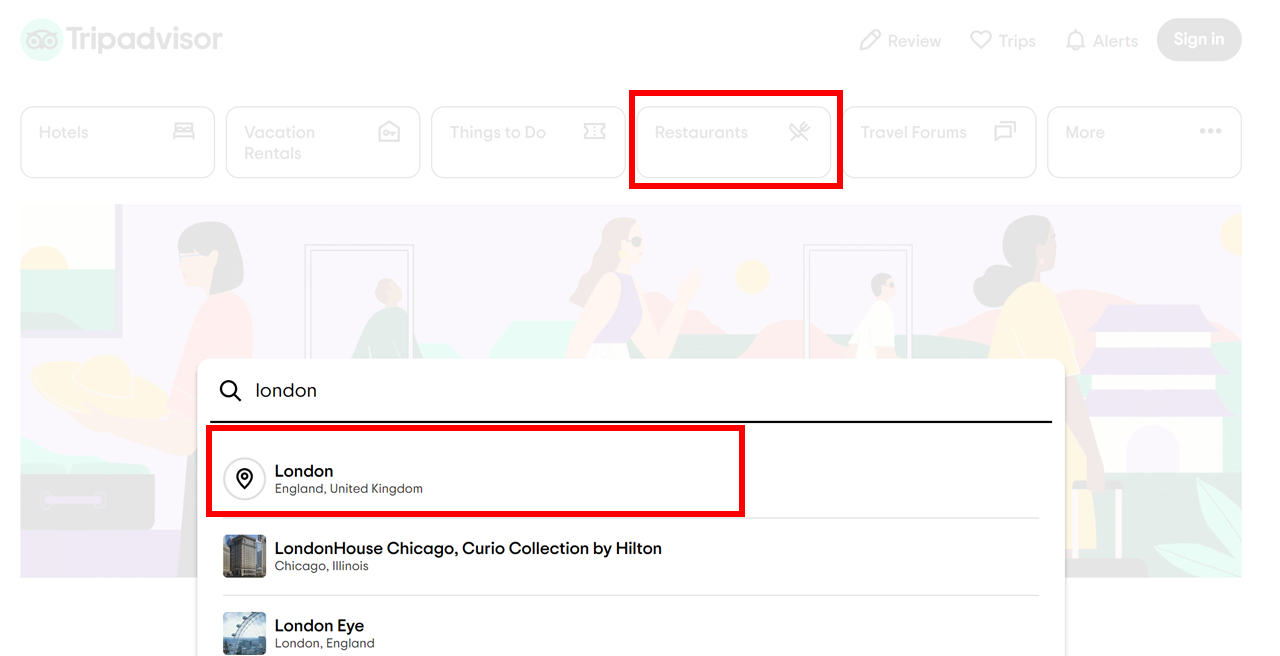 Now we can filter further to get a more precise search of restaurants we want. Once you are satisfied with the search, copy the URL and go back into WebAutomation. See the URL we used.
https://www.tripadvisor.co.uk/Restaurants-g186338-London_England.html
P.S The only valid format for TripAdvisor restaurant URLs contains /Restaurants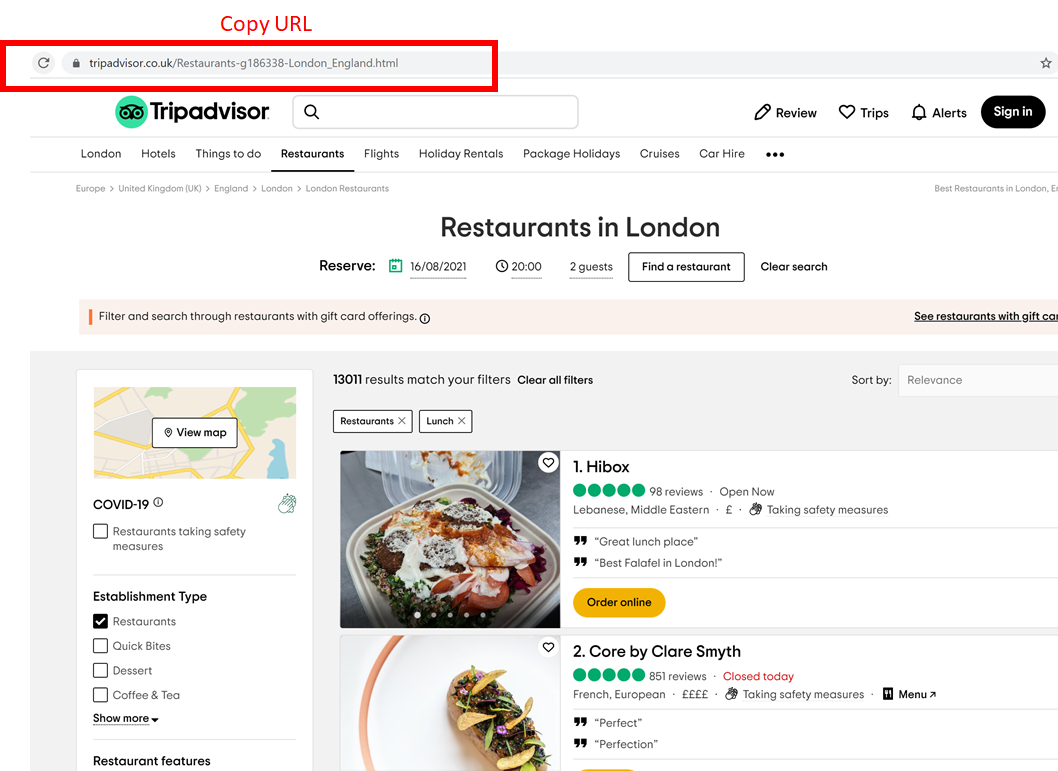 Pro tip 1: To get the best results, make your search as specific as possible so you limit your results and don't waste credits on unwanted results.
Step 5: Configure the extractor
The key input required is the starter link from TripAdvisor. This is the URL you copied in step4, so now paste your link in the Edit Starter Links box and click Update.
For TripAdvisor, Restaurants Make sure it starts with https://www.tripadvisor.co.uk/Restaurants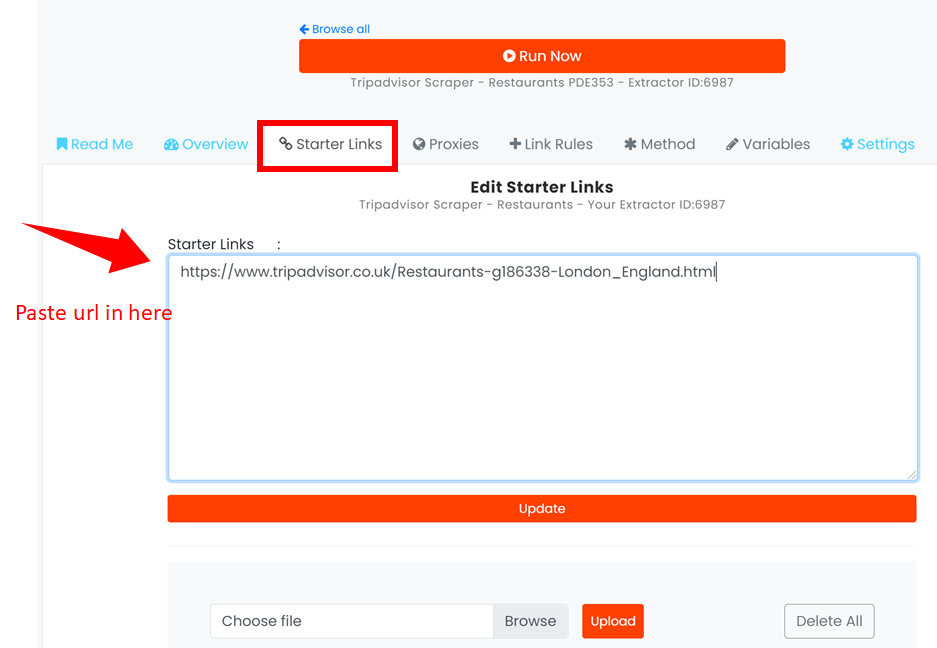 Pro tip 3: To limit the number of rows you get back, go to advanced settings and enter a number in the Rows Count to Close field. This is only available on certain paid plans.
Step 6: Run the Extractor
Click the "Run now " button to begin the extractor session.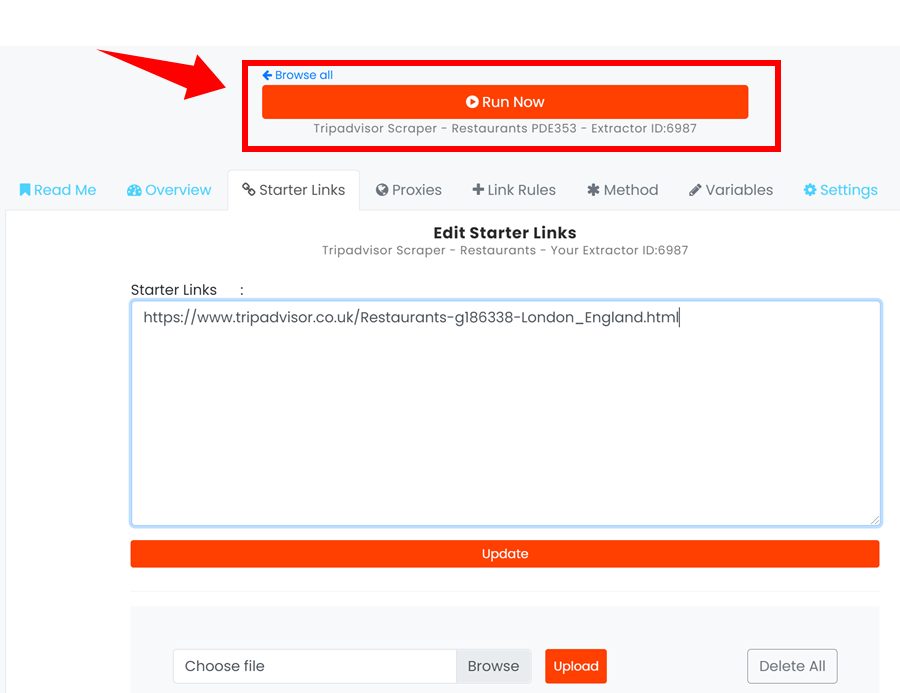 Step 7: Sit Back, Relax, and Let WebAutomation Get Your Data
You will get a pop-up telling you the extractor is running and the status of the extractor will show as "running". Our scraping method works like a real user, allowing you to extract all the data you need without being blocked. Because of this, it can take several mins/hours to scrape all the results, depending on how many there are in the starter URL you input.
Step 8: Download Your Data
You will be notified by email once the extractor has finished. You can click the link in the email or log in to your account and go to the Data tab to download the data.
You can download as CSV, JSON, XLSX, XML, and JL.

Step 9: Open the Data File
In this example, we downloaded our file as a CSV, so we will use Microsoft Excel to open the file

Conclusion
Scraping TripAdvisor is a great start to a data-driven strategy to grow your business using the data to create Marketing lists or analyse the industry
Our Pre-Build TripAdvisor Web scraper makes it easier than ever. With just a click of a button, you will have a plethora of data to work with.
And the best part?
It requires no coding and we take care of all the infrastructure and maintenance.
With WebAutomation, web scraping is just that easy
WEBAUTOMATION.IO PRE-DEFINED EXTRACTORS
We aim to make the process of extracting web data quick and efficient so you can focus your resources on what's truly important, using the data to achieve your business goals. In our marketplace, you can choose from hundreds of pre-defined extractors (PDEs) for the world's biggest websites. These pre-built data extractors turn almost any website into a spreadsheet or API with just a few clicks. The best part? We build and maintain them for you so the data is always in a structured form.
Below Are Similar Ready Made Data Scrapers