Our prebuilt OLX web scraper lets you extract data like product information, price, brand, condition, image from numerous product listings quickly and easily, without having to write any code.
Why should you consider scraping OLX?
Olx in India is one of the biggest marketplaces for the sale of second hands goods. Considered to be the most reliable and safe, thousands of Indians buy and sell on it regularly.
By connecting people locally, over a simple smartphone app or a website, it has enabled OLX has given a platform to an entirely new segment of the market.
Globally, OLX is generating almost a million hits a day. Even after being scaled-down, its presence in India is not weak. The company's website allows users to customise and design their own advertisements and display them on their social profiles. It's not only unlocking a new market segment but also widening people's reach and opportunities in their own market.
But why choose Webautomation?
It's great that OLX has a plethora of data. But how do you get your hands on it? Getting it manually is nearly impossible.
That's where our predefined web scrapers come into play. These web scrapers have been designed to extract data from any product page on OLX. Within minutes you will have a plethora of product information at your disposal.
And the best part? Our web scraper is completely free to try!
What can our data help you with?
Scraping OLX can give you an edge in the market.
It can help you target consumers better with the help of consumer profile analytics. This helps you gain a better understanding of your customer, their preferences and choices, spending capability and much more.
Targeted advertising has become much easier with OLX. Now you can target ads for maximum efficiency by making them contextual to the products being sold and bought.
Having an in-depth understanding of the second-hand goods market can help you unlock new business opportunities and define your go-to-market strategy basis for the latest market trends.
How to use it.
Firstly you will need to sign up for a FREE TRIAL account or be signed in. All our web scrapers are easy to use and free to try.
Step 1: Click on "Use For Free"
Step 2: "Click the Activate button" to assign your PDE to your account.
Step 3: Enter your starter URLs.
Enter a list of search URLs to start the web scraping. It must be a search URL including the query string for filters.
Please use Olx advanced search to filter your search and copy the start URLs.
For best results, we advise that you use precise search criteria and filters while scraping the data; otherwise, Olx could restrict the search result.
Step 4: Click "Run Now".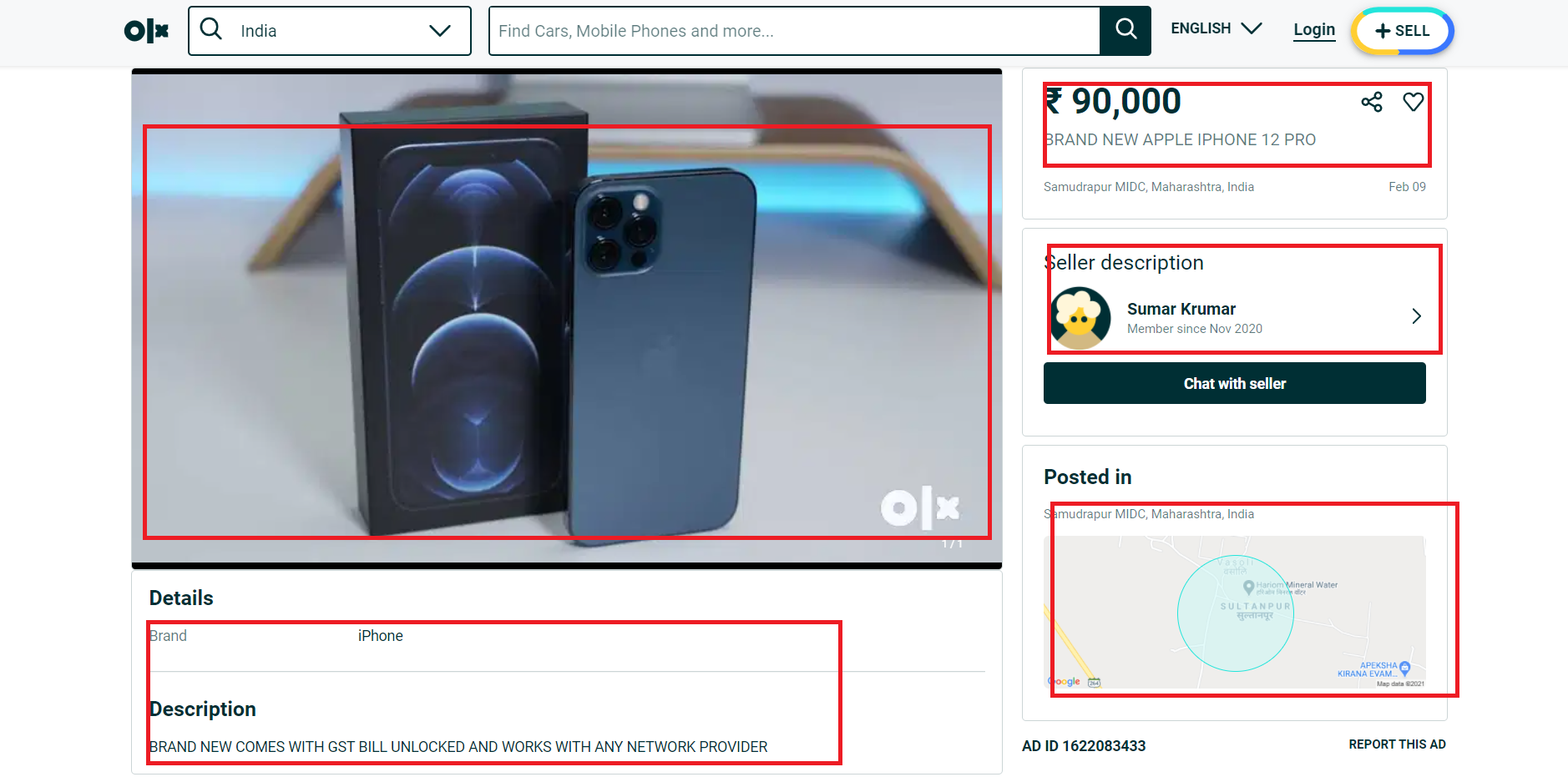 Formats available
You can download the extracted data in the following file formats:
CSV
XML
XLSX
JSON
Upon downloading you can see all extracted elements.
What does the output data look like?
When it is available this data will have rows which represent a single page's information such as its Name, Description, Category, Image, url, Price, Seller, timestamp, etc from olx.in.
*** Data below was extracted on Jun 03, 2023 @14:19
Sorry we are unable to show you data for a while. Data would be ready today please visit this page later.