Our prebuilt Zalora web scraper lets you extract data like garment information, prices and discounts, offers, availability etc. quickly and easily, without having to write any code.
Why should you consider scraping Zalora?
Fashion is the fastest moving industry on the planet. The trends are changing at a breakneck speed. Designers are always trying something new, pushing boundaries and experimenting with different styles.
And with good reason.
Today there is no dearth of fashion enthusiasts, looking to buy the trendiest clothes and always browning websites for the best deals and offers.
And if you are new to the fashion industry, looking to make it big as a designer, online store or even an influencer, web scraping can offer you invaluable insights, giving you a competitive edge.
But why choose us?
Fashion trends are fast changing. It's simply impossible to keep up with them by manually extracting the information from different websites.
That's where our predefined web scrapers come into play. Our web scraper is specifically designed to extract data from any product page on Zalora. Within minutes you can get a plethora of information at your disposal.
And the best part? Our Very web scraper is completely free to try!
What can our data help you with?
In today's competitive market, it is very important to always stay ahead of your competition. Web scraping fashion e-commerce websites like Zalora can help you with making data-driven competitive decisions.
Price monitoring is very important when it comes to e-commerce. You want to strike the right balance between making a profit and undercutting your competition. And web scraping can help you with just that.
Web scraping can also help your inventory management, understanding the market trends, and consumer profiles. The insights derived from web scraping can play a major role in determining your business's success.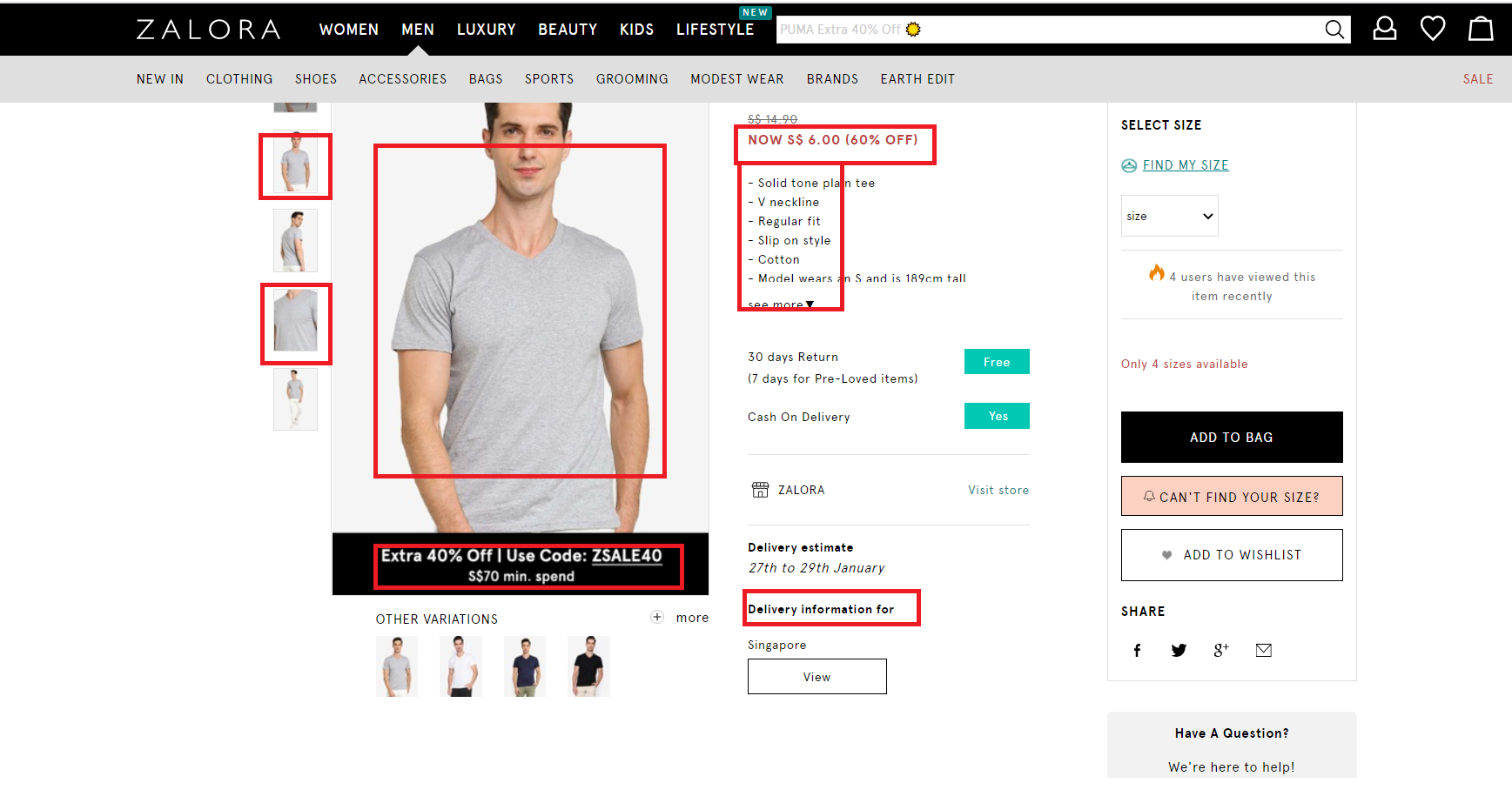 How to use it
Firstly you will need to sign up for FREE TRIAL account or be signed in. All our web scrapers are easy to use and free to try.
Step 1: Click on "Use For Free"
Step 2: Assign the Pre-Defined extractor by clicking "Assign PDE button"
Step 3: Enter your starter URLs.
Enter List of search URLs to start the web scraping. It must be a search URL including the query string for filters.
Please use Zalora Advanced Search to filter your search and copy the start URLs.
For best results, we advise that you use precise search criteria and filters while scraping the data; otherwise, Zalora could restrict the search result.
Step 4: Click "Run Now".
Formats available
You can download the extracted data in the following file formats:
CSV
XML
XLSX
JSON
Upon downloading you can see all extracted elements.
What does the output data look like?
When it is available this data will have rows which represent a single page's information such as its brand, category, description, image, name, price, price-currency, size, url, timestamp, etc from zalora.co.id.
*** Data below was extracted on Mar 14, 2023 @03:28
Sorry we are unable to show you data for a while. Data would be ready today please visit this page later.