Our prebuilt Aliexpress web scraper lets you extract data like product information, price, brand, condition, age, image from numerous product listings quickly and easily, without having to write any code.
Why should you consider scraping Alibaba?
An eCommerce like giant Alibaba has countless insights to offer for anyone looking to grow their eCommerce business. With thousands of transactions taking place daily, Alibaba has a storehouse of information that can give you a competitive edge in the market.
The market is forever changing, web scraping automates the process of collecting data and allows one to understand the changing market trends.
Pice monitoring, inventory management, consumer analysis is just a few things data scraping can help you with.
But why choose us?
It's great that Alibaba has a plethora of data. But do you get your hands on it? Getting it manually is nearly impossible.
That's where our predefined web scrapers come into play. These web scrapers have been designed to extract data from any product page on Alibaba. Within minutes you will have a plethora of product information at your disposal.
And the best part? Our Very web scraper is completely free to try!
What kind of data can you gather?
certificate-ce

certificate-fcc

image

key-parameters

main-product

min-order

name

price

price-unit

rating

review-count

seller-country

seller-name

seller-year

tags

URL
What can our data help you with?
Web scraping arms with a wide variety of information that can give you a competitive edge in the market.
If you are an individual, web scraping Alibaba can help you get the best deals and prices.
If you are a startup owner and looking to make it big in the e-commerce business, having a plethora of information about various products can help in understanding the gap in between product offering and customer expectation, unyielding new opportunities.
The market is forever changing, while it may look difficult, web scraping can help you stay on top of the ever-evolving trends, enabling you to make data-driven decisions.
How to use it.
Firstly you will need to sign up for a FREE TRIAL account or be signed in. All our web scrapers are easy to use and free to try.
Step 1: Click on "Use For Free"
Step 2: Assign the Pre-Defined extractor by clicking "Assign PDE button"
Step 3: Enter your starter URLs.
Enter List of search URLs to start the web scraping. It must be a search URL including the query string for filters.
Please use Alibaba advanced search to filter your search and copy the start URLs.
For best results, we advise that you use precise search criteria and filters while scraping the data; otherwise, Alibaba could restrict the search result.
Step 4: Click "Run Now".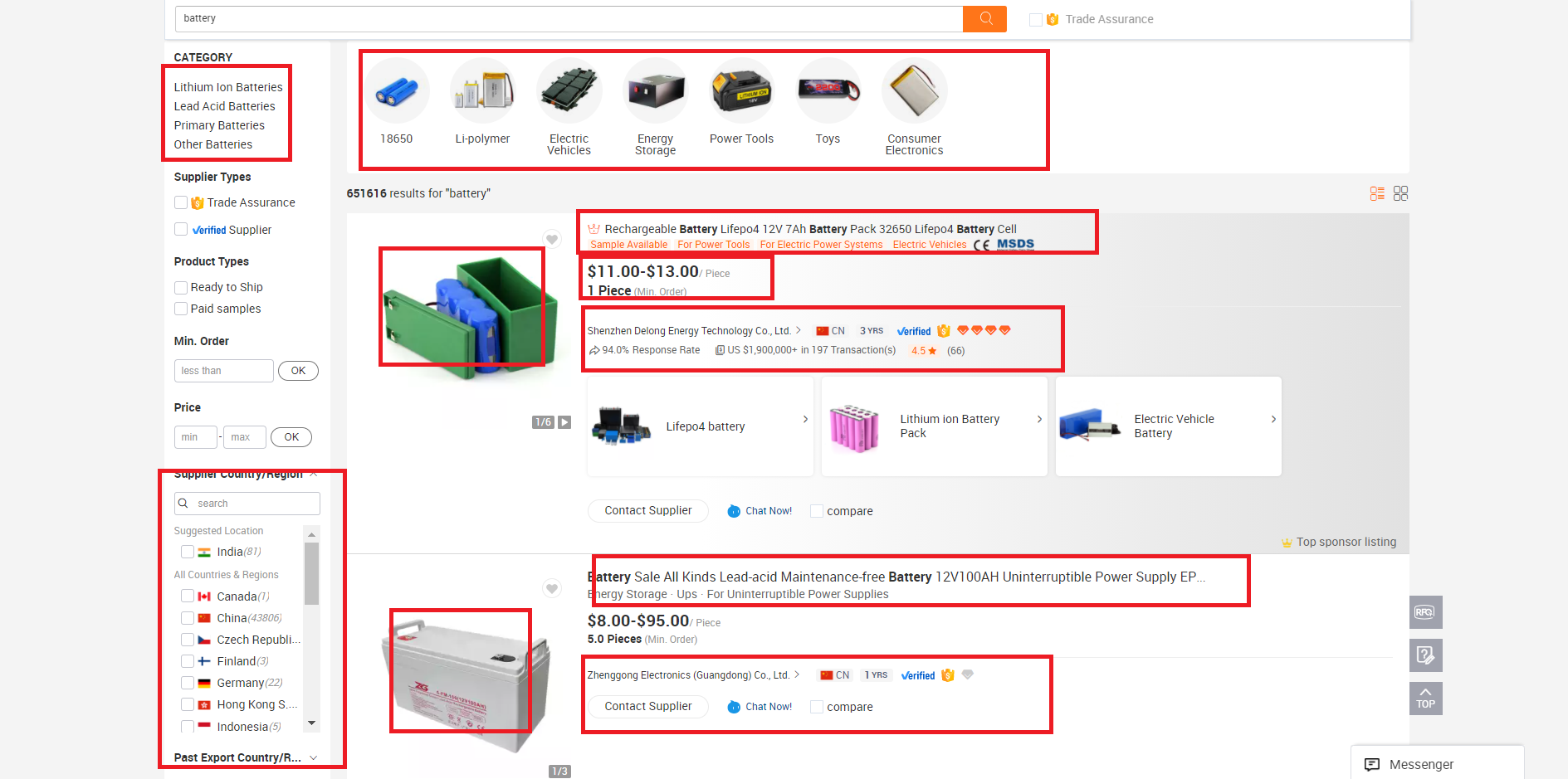 Formats available
You can download the extracted data in the following file formats:
CSV
XML
XLSX
JSON
Upon downloading you can see all extracted elements.

{
  'company-id': '200714301',
  'currency': 'USD',
  'description': 'Powerwall Home LiFePO4 48V 200Ah 10KWh Lithium Battery Pack.... ',
  'image': 'https://sc01.alicdn.com/kf/H4fcaf2c58116482cabe506a0c0242e3cn.jpg',
  'name': 'Home LiFePO4 48V 200Ah 10KWh Lithium Battery Pack for Off Grid ''Hybrid Inverter Solar Energy System',
  'price': '1,430',
  'price-standard': '1,520',
  'product-id': '1600060191474',
  'quick-details': 'Application: Power Tools, Home Appliances, Consumer ....',
  'rating': '4.3',
  'url': 'https://felicity.en.alibaba.com/product/1600060191474-218337531/Home_LiFePO4_48V_200Ah_10KWh_Lithium_Battery_Pack_for_Off_Grid_Hybrid_Inverter_Solar_Energy_System.html'
}