Our prebuilt Costco web scraper lets you extract data like product information, price, brand, image from numerous product listings quickly and easily, without having to write any code.
Why should you consider scrapping Costco?
Costco is one of the leading online retailers in the world. A storehouse of data just waiting to be analysed. With over a thousand transactions taking place on it daily, Costco is a great place to start and boost your e-commerce business.
The insights scraped from Costco can give you an edge in the market and keep you a step ahead of the competition. It can also reveal new business opportunities and business models.
The market and consumer trends are fast changing. To keep up with the latest trends and even predict the upcoming ones in the e-commerce industry, web scraping Costco is the way to go.
But why choose Webautomation?
It's great that Costco has a plethora of data. But how do you get your hands on it? Getting it manually is nearly impossible.
That's where our predefined web scrapers come into play. These web scrapers have been designed to extract data from any product page on Costco. Within minutes you will have a plethora of product information at your disposal.
And the best part? Our web scraper is completely free to try!
What can our data help you with?
Strong data-driven insights are the backbone of any successful market strategy. And good insights come from a wide variety of data. They can help you position your brand in the market and give you a competitive edge.
Pricing is one of the most important parts of any business. Web scraping can open up opportunities for competitive pricing, ensuring you hit the sweet spot between profit and consumer appeal.
Consumer sentiment plays a strong role when it comes to e-commerce. If you can ensure a great customer experience, half the battle is already won. Web scraping can help you gain a good understanding of your target audience, you can boost your business by gaining credibility in the market.
How to use it.
Firstly you will need to sign up for a FREE TRIAL account or be signed in. All our web scrapers are easy to use and free to try.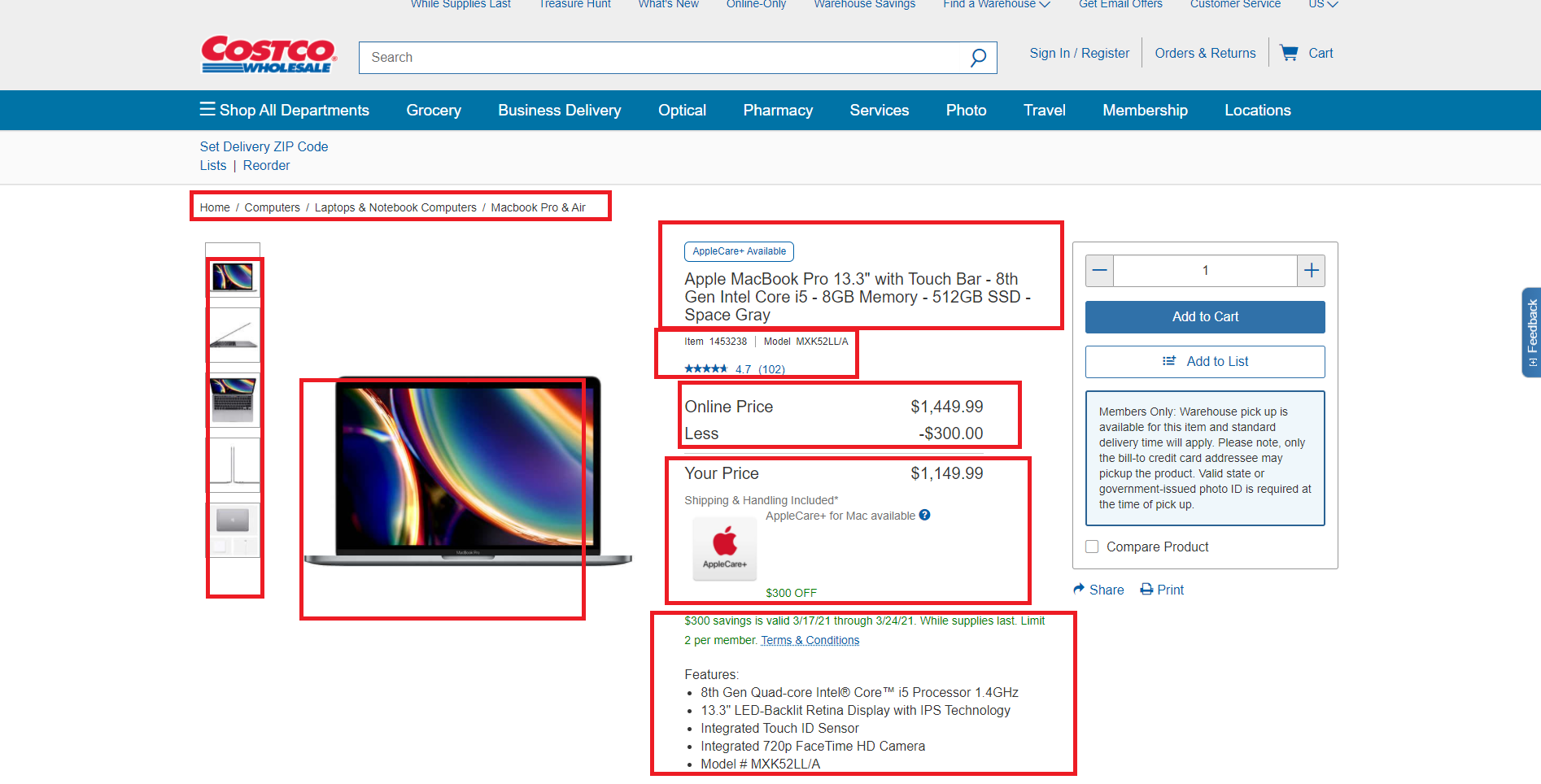 Step 1: Click on "Use For Free"
Step 2: Assign the Pre-Defined extractor by clicking the "Assign PDE button"
Step 3: Enter your starter URLs.
Enter a list of search URLs to start the web scraping. It must be a search URL including the query string for filters.
Please use Costco advanced search to filter your search and copy the start URLs.
For best results, we advise that you use precise search criteria and filters while scraping the data; otherwise, Costco could restrict the search result.
Step 4: Click "Run Now".
Formats available
You can download the extracted data in the following file formats:
CSV
XML
XLSX
JSON
Upon downloading you can see all extracted elements.
One product data includes following columns:

{
  'Body (HTML)': '<p></p><p>Now you can stick your notes practically anywhere. ''Post-it Super Sticky Notes have an enhanced adhesive which ''holds stronger and longer to vertical and difficult surfaces, ''removing cleanly after use. Ideal for brainstorming and ''process mapping on meeting. The bright Neon Rainbow colours ''ensure that your notes stand out so the most important ''messages will never be missed. They come in 2 x Neon Pink, 1 ''Limeade, 1 Ultra Yellow, 1 Neon Orange and each pad is square ''76 mm x 76 mm.</p><p>3M have designed these notes to adhere ''to almost any surface and to stay there longer than standard ''sticky notes. With this pack of Post-it neon notes you can ''also be sure that you are looking after the environment, as ''the sticky notes are PEFC certified with environmentally ''friendly adhesive.</p><ul><li>Post-it Super Sticky Notes have ''an enhanced adhesive which holds stronger and longer to ''vertical and difficult surfaces, removing cleanly after ''use.</li><li>Ideal for brainstorming and process mapping on ''meeting room walls and meeting charts</li><li>5 pads with 90 ''Sheets per pad</li><li>76mm x 76mm</li><li>Colours: 2 Neon ''Pink, 1 Limeade, 1 Ultra Yellow and 1 Neon ''Orange</li><li>Ruled: No</li><li>Made from 100% recyclable ''materials</li></ul><p></p>',
  'Body (TEXT)': 'Now you can stick your notes practically anywhere. Post-it ''Super Sticky Notes have an enhanced adhesive which holds ''stronger and longer to vertical and difficult surfaces, ''removing cleanly after use. Ideal for brainstorming and ''process mapping on meeting. The bright Neon Rainbow colours ''ensure that your notes stand out so the most important ''messages will never be missed. They come in 2 x Neon Pink, 1 ''Limeade, 1 Ultra Yellow, 1 Neon Orange and each pad is square ''76 mm x 76 mm. 3M have designed these notes to adhere to ''almost any surface and to stay there longer than standard ''sticky notes. With this pack of Post-it neon notes you can ''also be sure that you are looking after the environment, as ''the sticky notes are PEFC certified with environmentally ''friendly adhesive. Post-it Super Sticky Notes have an ''enhanced adhesive which holds stronger and longer to vertical ''and difficult surfaces, removing cleanly after use. Ideal for ''brainstorming and process mapping on meeting room walls and ''meeting charts 5 pads with 90 Sheets per pad 76mm x 76mm ''Colours: 2 Neon Pink, 1 Limeade, 1 Ultra Yellow and 1 Neon ''Orange Ruled: No Made from 100% recyclable materials',
  'Handle': 'post-it-super-sticky-76-x-76mm-pack-of-5-neon-rainbow-blank-notes',
  'Image Alt Text': 'Post-it Super Sticky 76 x 76mm Pack of 5 Neon Rainbow ''Blank Notes Image',
  'Image Position': 1,
  'Image Src': 'https://www.costco.co.uk/medias/sys_master/products/hab/h23/10031657648158.jpg',
  'Option1 Name': 'Title',
  'Option1 Value': 'Default Title',
  'Option2 Name': '',
  'Option2 Value': '',
  'Option3 Name': '',
  'Option3 Value': '',
  'Published': 'FALSE',
  'Status': 'draft',
  'Tags': 'Paper & Mailing',
  'Title': 'Post-it Super Sticky 76 x 76mm Pack of 5 Neon Rainbow Blank Notes',
  'Type': 'Post-it Notes',
  'Variant Barcode': '',
  'Variant Compare at Price': '',
  'Variant Fulfillment Service': 'manual',
  'Variant Grams': 230.0,
  'Variant Inventory Policy': 'continue',
  'Variant Inventory Qty': '1',
  'Variant Inventory Tracker': '',
  'Variant Price': '13.99',
  'Variant Requires Shipping': 'TRUE',
  'Variant SKU': '134698',
  'Variant Taxable': 'TRUE',
  'Vendor': 'Post-it',
  'product_specifications': 'Type ~.~ Desktop Stationary ~.~ Paper Size ~.~ ''Pack ~.~ Pack Size ~.~ Pack of 5 ~.~ Manufacturers ''Part Number ~.~ 654-SN ~.~ Weight ~.~ 0.23kg ~.~ ''Colour ~.~ Neon ~.~ Brand ~.~ Post-it ~.~ Number ''of Notes per Pad ~.~ 90 ~.~ Width ~.~ 76mm ~.~ ''Self-Adhesive ~.~ Yes ~.~ Ruling ~.~ No ~.~ Super ''Sticky ~.~ Yes ~.~ Shape ~.~ Square',
  'z_availability': 'InStock',
  'z_currency': 'GBP',
  'z_features': '',
  'z_image_0': 'https://www.costco.co.uk/medias/sys_master/products/hab/h23/10031657648158.jpg',
  'z_image_1': '',
  'z_image_2': '',
  'z_image_3': '',
  'z_image_4': '',
  'z_price_unit': '£2.80 per pad',
  'z_promotion': '',
  'z_rating': '',
  'z_review_count': '0',
  'z_shipping': 'Shipping Included',
  'z_url': 'https://www.costco.co.uk/Business-Office-Supplies/Paper-Mailing/Post-it-Notes/Post-it-Super-Sticky-76-x-76mm-Pack-of-5-Neon-Rainbow-Blank-Notes/p/134698',
  'z_variants': ''
}