Our pre-built Home Depot web scraper lets you extract data like product information, price, brand, image from numerous product listings quickly and easily, without having to write any code.
Why should you consider scrapping Home Depot?
The one-stop-shop for everything related to home decor. Whether you are looking for DIY furniture, painting supplies, redoing your garden or installing your dream barbecue setup, Home Depot is your place to be.
With Home Depot being one of the pioneers in the category, it is a gold mine of information for anyone looking to make it big in the e-commerce business. While it is a highly specialised website, their expertise in all things decor makes them a perfect example to learn from.
With the market changing at a rapid pace, it's practically impossible to keep a track of all the changes. Web scraping websites like Home Depot can help you modify your business model and stay ahead in the game.
But why choose Webautomation?
It's great that Home Depot has a plethora of data. But how do you get your hands on it? Getting it manually is nearly impossible.
That's where our predefined web scrapers come into play. These web scrapers have been designed to extract data from any product page on Home Depot. Within minutes you will have a plethora of product information at your disposal.
And the best part? Our web scraper is completely free to try!
What can our data help you with?
Web scraping allows you to keep an eye on the changing market trends. It opens up opportunities by giving you a holistic picture of not only the market but also your competitor. This can help you with competitive price monitoring and find the sweet spot between profit and pricing.
In every e-commerce business, the customer is the king. And if you understand your customer very well, chances are you are doing really good. And if not, well web scraping is just what you need to understand the consumer preferences. You can even open up business opportunities by analysing the gap between product offering and consumer expectation.
Inventory management is the backbone of any product business. By gaining an insight into the current demand and supply, one can boost their business by making smart decisions about their inventory.
How to use it.
Firstly you will need to sign up for a FREE TRIAL account or be signed in. All our web scrapers are easy to use and free to try.
Step 1: Click on "Use For Free"
Step 2: Assign the Pre-Defined extractor by clicking the "Assign PDE button"
Step 3: Enter your starter URLs.
Enter a list of search URLs to start the web scraping. It must be a search URL including the query string for filters.
Please use Home Depot advanced search to filter your search and copy the start URLs.
For best results, we advise that you use precise search criteria and filters while scraping the data; otherwise, Home Depot could restrict the search result.
Step 4: Click "Run Now".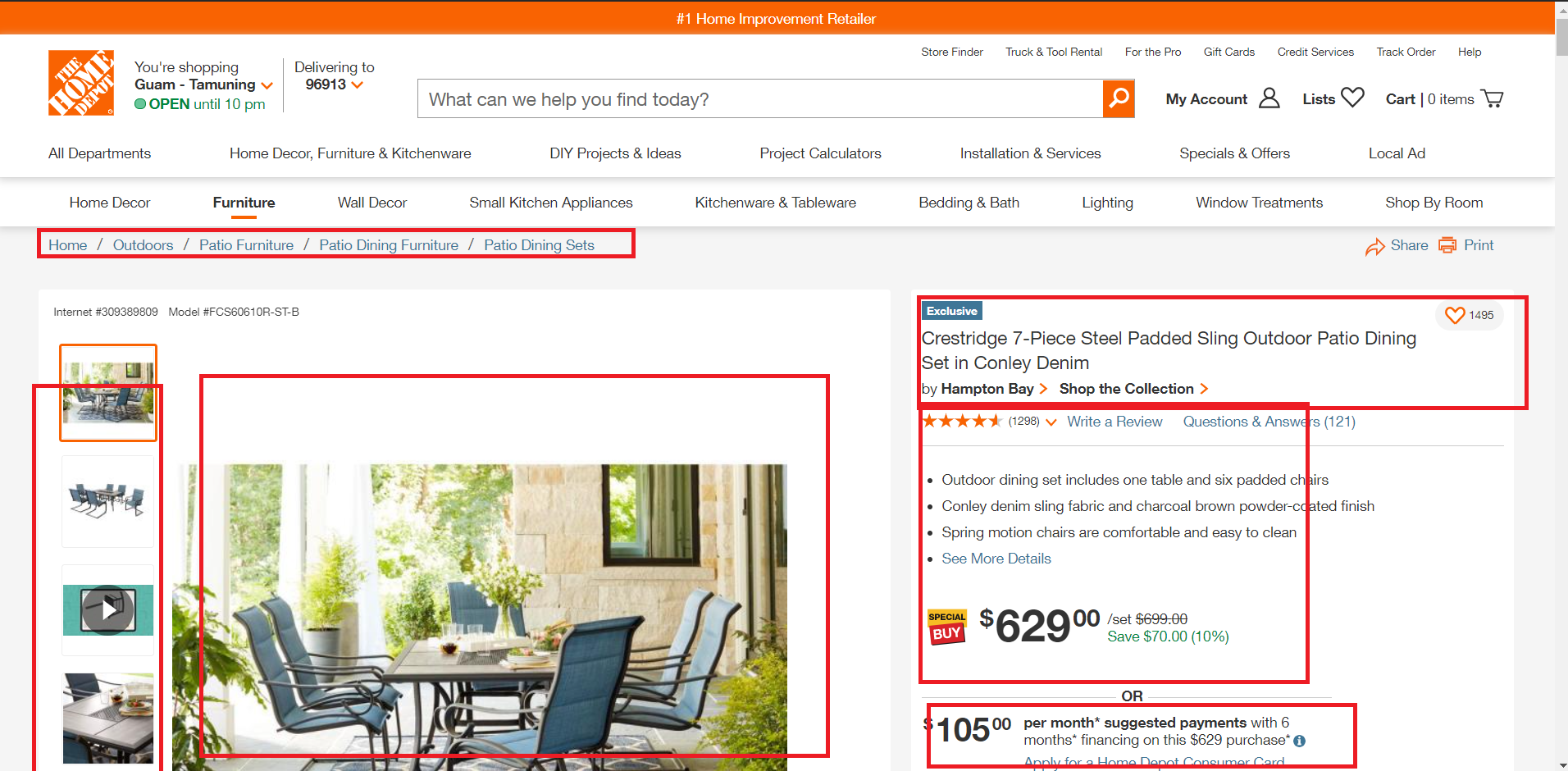 Formats available
You can download the extracted data in the following file formats:
CSV
XML
XLSX
JSON
Upon downloading you can see all extracted elements.
What does the output data look like?
This data consists of up to 6 lines of which each one represents a single (unique) page's information such as its brand, category, currency, description, image, name, price, url, etc from homedepot.com.
*** Data below was extracted on Jul 29, 2021 @17:22